I love to spend time out in the garden but it may surprise you to learn that I don't have a garden shed full of tools, fertilizer, and other gardening items.
Full Disclosure: I USED to! As a garden influencer, companies send me their newest tools and fertilizers in hopes that I will recommend them to my followers. As a result, my garage was overflowing with so much stuff!
And you know what? I found that I only need a few must-have items. As a result, my shed is much cleaner with only my go-to items that I use in the garden.
With the holidays fast approaching, I'm here to help you make your gift list easier with seven items that I use for my own desert garden. Perhaps you'll find some helpful gift ideas or items to add to your own wishlist!
*Disclosure: Some of the links below are affiliate links, meaning, at no additional cost to you, I may earn a commission if you click through and make a purchase.
I often use my bare hands when I work in the vegetable garden and with my container plants. Most garden gloves are bulky garden gloves that make it hard to handle smaller planting tasks. That's why I love my new Foxglove Original Garden Gloves. They keep my hands clean yet allow me to 'feel' what I'm doing when I handle plants or plant seeds. Of course, I love that they come in gorgeous colors – I have a pair of periwinkle blue.
Got weeds? Okay, who doesn't? Three years ago, I was introduced to the CobraHead Hand Weeder and I love it! This tool is unique as it's easy to use and works well at removing weeds. The handle is made from recycled plastic and the blade is made of forged steel. Its curved shape is ergonomic and it really does make weed removal so much easier. I use it for weeds that sprout up in the garden as well as in my vegetable garden. There are several sizes – I use the 'mini' and the long-handled' ones.
Here is the tool that I use most often in my garden as it's always on hand when I need to do smaller pruning tasks. These Compact Hand Pruners FIT IN MY POCKET, which means that I can put them in my back pocket whenever I need to use both hands for other garden tasks. How many times do you lay down hand pruners only to forget where you put them? Dramm makes great garden products and their hand pruners are sharp and work well for cutting stems up to 1/4″ in diameter. I love that they come in a variety of bright colors – I have the purple ones!
Here is a new product that I used for the first time this year. I like to prune, but I hate having to clean up afterward. I was asked to test out this Garden Clean-Up Canvas Tarp, and afterward, I was hooked! The tarp is relatively large and sturdy. It lays flat, and you put your garden clippings on it (branches, lawn clippings, etc.). Once you finish, you grasp the corners with their green rubber handles and haul it to the curb (or trash can). I'm not the only one happy it – my husband is too as he doesn't have to clean up after me once I've finished pruning.
Whether I need to read the tiny print on a packet of seeds or identify a bug, I rely on my readers. I can't see much without them. So, if I have to wear glasses, I want them to be colorful or have a pretty floral pattern. I love these Classic Floral Readers, which come in three pairs cause let's face it – they can be misplaced. I love the compliments that I get on my glasses, and I'm sure you'll love these too.
My mother introduced me to this useful tool on my shelf several years ago. Soon after, I ditched all my other hand shovels because this one was far superior. The narrow shape of this Ergonomic Alumunium Hand Transplanter/Shovel makes it great for adding flowering annuals into pots. I also use it in my vegetable garden for transplants, as well as creating furrows for seeds. Another bonus is that its handle is comfortable on your wrist and comes in other bright colors – I have a blue one.
Here is a new product from the folks at Botanical Interests, who are famous for their beautifully decorated seed packets. For the first time, they have released Botanical Art Prints from selected seed packets! This summer, I had the opportunity to tour their facility and meet the owners. One of the stops on our tour was their art department and I was blown away by the beauty and artistry of their botanical drawings. There several to choose from, ready for framing. I confess that I don't have one yet, but hope to soon! I can just picture them in my office or kitchen. *I encourage you to check them out to see the different botanical art prints available.
I love to travel and much of that involves garden travel. One of my go-to items that I bring with me is my Baggallini Journey Crossbody Purse. I like to carry a smaller purse when I'm on the road and this one has served me well for over 7 years! Despite its compact size, I'm amazed at how much it fits – phone, sunglasses, reading glasses, chapstick, tissues, pen, business cards, and a granola bar. I like that it has slots for my drivers license and debit/credit cards as well as a zipper pouch for money – it rids you of the need to bring a separate wallet. This is a well-made product and I am a huge fan of Baggallini products! It comes in a variety of colors.
I hope that my must-have list inspires you. I use all of these products and highly recommend them. Hopefully, you will find inspiration as to what to add to your list or buy for friends and family.
**Need MORE ideas? Check out my store page on Amazon.
HAPPY HOLIDAYS!

/
0 Comments
/
by arizonaplantlady@gmail.com
https://www.azplantlady.com/wp-content/uploads/2019/11/Noelle_Johnson-AZ-Plant_Lady_Gift_Guide.jpg
586
904
arizonaplantlady@gmail.com
http://www.azplantlady.com/wp-content/uploads/2018/10/favicon.png
arizonaplantlady@gmail.com
2019-11-29 12:30:45
2020-01-23 09:31:09
AZ Plant Lady's Must-Have Items for the Desert Gardener
For those who live in the western half of the United States, water has always been a precious resource. In recent years, this has become especially true during a long-term drought has made its impact felt.
As a result, many of us find ourselves looking for ways to save water. The first place you should start is your landscape as that is the largest percentage of your water consumption.
Today, I'd like to show you examples of three different low water landscape options: 


Option #1
Drought Tolerant – This landscape is characterized by lush green, semi-tropical flowering plants. These include bougainvillea, lantana, oleanders, and yellow bells. All these do well in hot, arid climates in zones 9 and above. While most aren't native to the Southwest, they are considered moderately drought tolerant and suitable for those who want more a lush look for the desert garden.  
For best results, deep water approximately once a week in summer and every 2 weeks in winter.
Option #2
Moderately Drought Tolerant – Native, flowering plants make up this type of landscape.  Plants like chuparosa, damianita, penstemon, Texas sage, and turpentine bush are examples of this.
Because these plants are native to the Southwestern region, they need infrequent watering to look their best – a good guideline is to water deeply approximately every 10 days in summer and every 3 weeks in winter.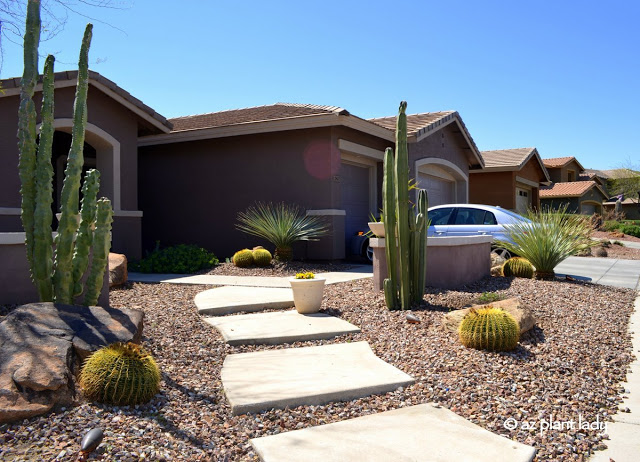 Option #3
Extremely Drought Tolerant – For a landscape to exist on very little water, a collection of cacti and succulents are the way to go. Columnar cacti such as Mexican fence post, organ pipe, saguaro, and totem pole add height to the garden. Lower growing succulents like agave, candelilla, and desert milkweed can be used for mid-level interest.  
Golden barrel, hedgehog cacti and mammillaria fill in smaller spaces and look great next to boulders. Once established, they do best with watering approximately every 3 weeks spring through fall.
It's important to note that shrubs should be watered deeply to a depth of 2 ft., which promotes deep root growth, and the soil stays moister longer. Succulents do well at 12″ depth. 
**Watering guidelines can vary from region to region within the desert Southwest, so it's wise to consult with your local city's landscape watering guidelines.
Whichever option you select, creating an attractive water-saving landscape is within your reach that will thrive in our drought-stricken region.

/
4 Comments
/
by arizonaplantlady@gmail.com
https://www.azplantlady.com/wp-content/uploads/2015/11/water_saving_landscape_Southwest-002.jpg
534
640
arizonaplantlady@gmail.com
http://www.azplantlady.com/wp-content/uploads/2018/10/favicon.png
arizonaplantlady@gmail.com
2019-11-21 07:00:00
2019-11-03 14:15:10
Water Saving Landscapes: 3 Options