Gardeners have long known about white flowering plants and the beauty that they bring to the garden.
The color white is seen by many as a bright, clean color that makes surrounding colors 'pop' visually.  Others like how white flowers seem to glow in the evening and early morning hours in the landscape.
Thankfully, there are several white flowering plants that do very well in the Southwestern landscape. In Part 1, I showed you four of my favorites, which you can view here.
Today, let's continue on our white, floral journey…
Disclosure: Some of the links below are affiliate links, meaning, at no additional cost to you, I may earn a commission if you click through and make a purchase.
White Evening Primrose (Oenothera caespitosa)
The arrival of spring transforms the low-growing green foliage of White Evening Primrose with the appearance of beautiful white flowers. What makes these flowers somewhat unique is that as the flowers fade, they turn pink.
White Evening Primrose looks best when used in a landscape with a 'natural' theme or among wildflowers.
The flowers appear in spring and summer on 10″ high foliage.  Hardy to zone 8 gardens, this small perennial is native to Southwestern deserts.
White Globe Mallow (Sphaeralcea ambigua 'White')
This is a shrubby perennial that is in my own landscape.  While the most common color of Globe Mallow is orange, it does come in a variety of other colors including red, pink and white – all of which I have.
The white form of Globe Mallow shares the same characteristics of the orange one – it thrives in full sun and can even handle hot, reflected sun.  The foliage is gray and looks best when cut back to 1 ft. high and wide after flowering in spring.
I pair white Globe Mallow alongside my pink ones for a unique, desert cottage garden look.
See what I mean about white flowers helping other colors to stand out visually?
Hardy to zone 6, Globe Mallow grows to 3 ft. tall and wide.  It does best in full sun and well-drained soil.
To learn more about this beautiful desert native, click here.
Blackfoot Daisy is another perennial that looks great in a natural desert-themed landscape.  This ground cover produces sunny, white daisies in spring and fall in desert climates – it flowers during the summer in cooler locations.
Hardy to zone 5, Blackfoot Daisy can handle extreme cold when planted in full sun.  I like to plant it near boulders where it can grow around the base for a nicely designed touch. It 
grows to 1 ft. high and 24 inches wide.
I have several in my front garden and I love their beauty and low-maintenance. They need very little maintenance other than light pruning with my Felco Hand Pruners in late spring to remove dead growth.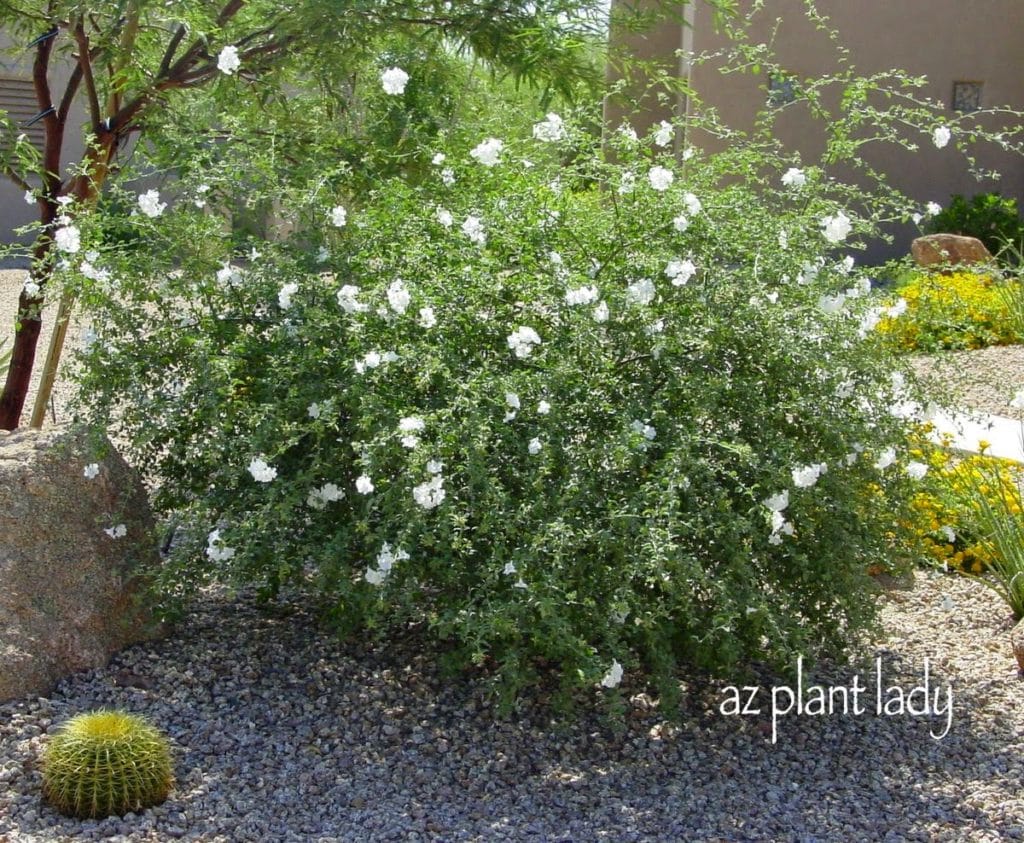 Little Leaf Cordia (Cordia parvifolia)
This white flowering shrub is not used often enough in the Southwestern landscape in my opinion.  It has beautiful flowers, needs little pruning if given enough room to grow, is extremely drought tolerant and evergreen.
Little leaf cordia can grow 4 – 8 ft. tall and up to 10 ft. wide. Unfortunately, some people don't allow enough room for it to grow and shear it into a 'ball'.
You can go 2 – 3 years or more between prunings. It's best when left alone to bear its attractive, papery white flowers spring into fall.
Hardy to zone 8, little leaf cordia does great in full sun and well-drained soil.
'White Katie' Ruellia (Ruellia brittoniana 'White Katie')
During a visit to a nursery some time ago, I noticed a white flowering variety of the more commonplace purple 'Katie' ruellia and I immediately decided that I liked the white color better.
'White Katie' ruellia grows to 8 inches tall and 1 1/2 ft. wide in zone 8 gardens and warmer.  It looks great when planted in groups of 3 or more.  You can plant it alongside the purple variety for fun color contrast.  It does suffer frost damage when temps dip below freezing but recover quickly in spring.  
This white flowering perennial does best in morning sun or filtered shade in desert gardens.
I hope you have enjoyed these white flowering plants and decide to add them to your garden!  

/
6 Comments
/
by arizonaplantlady@gmail.com
https://www.azplantlady.com/wp-content/uploads/2014/11/Oenotheradeltiodesandberlandieri-1.jpg
795
1200
arizonaplantlady@gmail.com
http://www.azplantlady.com/wp-content/uploads/2018/10/favicon.png
arizonaplantlady@gmail.com
2019-11-14 07:00:00
2019-10-30 21:59:28
White Flowers for the Southwest Landscape: Part 2
Do you use white flowering plants in your landscape?
I do.
However, some people tend to overlook white flowers in favor of flashier colors such as yellow, orange or red.  But did you know that white flowers can help show off the other colors in your landscape by providing color contrast?
In addition, white flowering plants also have a visually cooling effect in the garden, which is a welcome sight in the Southwest where summers are hot.
I'd like to share with you some of my favorite white flowers, all of which do well in the Southwestern landscape.
Disclosure: Some of the links below are affiliate links, meaning, at no additional cost to you, I may earn a commission if you click through and make a purchase.
Bush Morning Glory (Convolvulus cneorum)
Pretty white flowers with yellow centers are just one of the reasons people love Bush Morning Glory. Its silvery foliage is another great color that it adds to the landscape.
In the desert, the flowers appear for several weeks in spring before fading away. However, the silvery foliage is evergreen and will add great color contrast when planted nearby plants with dark green foliage.
Do you have an area that gets full afternoon sun and reflected heat?  Bush Morning Glory can easily handle it while looking great.
Hardy to zone 8, bush morning glory grows approximately 2 ft. tall and 4 ft. wide.  Prune back in spring, after flowering has finished by 1/2 its size.
White Gaura (Gaura lindheimeri)
White Gaura is a flowering perennial that has a prominent place in my landscape. It has small flowers, shaped like small butterflies, that start out pink and turn white as they bloom.
This lovely perennial does best in filtered sun and flowers in spring and fall. It requires little maintenance other then shearing it back in spring to 1/2 its size.
White gaura is related to the pink variety 'Siskyou Pink', but has a bushier appearance and grows larger – approximately 2 1/2 ft. wide and tall. This native perennial is hardy to zone 6 gardens.
'White Cloud' Texas Sage (Leucophyllum frutescens 'White Cloud')
While most of us are more familiar with the purple flowering Texas sage shrubs, there is a white variety that is well worth adding to your landscape.  
'White Cloud' Texas Sage can grow large, 6+ feet tall and wide, if given enough space. It thrives in full sun and in summer and fall, periodic flushes of white flowers cover the silvery green foliage.
Avoid the temptation to excessively prune this shrub, which decreases the flowering and is not healthy for this type of shrub.  Hardy to zone 7, this shrub looks great when used as an informal hedge or against a wall.
Hedgetrimmers aren't needed for pruning Texas sage. My Corona Compound Loppers are what I've used to prune mine for over 10 years with some hand pruning as needed for wayward branches.
For guidelines on how to (or how NOT to) prune flowering shrubs, click here.
Texas Olive (Cordia boissieri)
This Texas native is a huge favorite of mine – Texas olive is a large shrub or small tree, depending on how you prune it. It has dark green, leathery leaves, and beautiful white flowers, which appear spring through fall on evergreen foliage.
Whenever I see this shrub, I always take a moment to admire its beauty, since it isn't used often in the landscape – but it should be!
Small fruit, resembling an olive is produced, which are edible. They thrive in full sun. Allow plenty of room for it to grow as it gets 25 ft. tall and wide. Hardy to zone 9, the only drawback of this white-flowering beauty is that it can be a little messy, so keep away from swimming pools.
All of these white flowering plants are drought tolerant and do well in hot, arid climates.  
Do you grow any of these in your garden? Which is your favorite?
As beautiful as these plants are, I have more to show you next time in Part 2 next week!

/
5 Comments
/
by arizonaplantlady@gmail.com
https://www.azplantlady.com/wp-content/uploads/2014/11/BushmorninggloryConvolvuluscneorum-1.jpg
1019
1200
arizonaplantlady@gmail.com
http://www.azplantlady.com/wp-content/uploads/2018/10/favicon.png
arizonaplantlady@gmail.com
2019-11-07 07:06:00
2019-10-30 21:55:09
White Flowering Plants for the Southwest Landscape: Part 1