Winter is a beautiful time of year in the desert landscape with bright blue skies, fresh cool air, and the plants in the garden add subtle beauty.
This particular garden was the backdrop for a video shoot by the horticultural filmmaker, PlantPop this past December. They asked me to be the subject of their first video shoot in Arizona, and I was thrilled to do so.
Shooting the film in my garden wasn't possible as my backyard is undergoing renovation. So, I asked one of my clients if we could film in her landscape instead. Thankfully, she said yes!
We met at her house early in the morning with the filmmaker who set up the cameras and microphones. Our host is one of the most gracious people I know and kept us warm with the outdoor fireplace and feeding us donuts 🙂
We spent about 3 hours there with me talking about the unique challenges and possibilities of gardening in a hot, dry climate. During the filming, I walked around the garden, highlighting different areas throughout the garden. This garden has many 'rooms' and corners that display the beauty of winter in the desert.
The video has come out, and I'm so happy at how well the folks at PlantPop condensed our visit into a 4-minute video so nicely.  I hope you enjoy it and come away inspired by what you can do in your own desert garden!

/
2 Comments
/
by arizonaplantlady@gmail.com
https://www.azplantlady.com/wp-content/uploads/2020/02/desert_garden_arizona_Phoenix_AZ_Plant_Lady_Noelle_Johnson_PlantPop_Video-1.jpg
455
601
arizonaplantlady@gmail.com
http://www.azplantlady.com/wp-content/uploads/2018/10/favicon.png
arizonaplantlady@gmail.com
2020-02-06 13:59:27
2020-03-04 11:55:41
A Desert Garden's Winter Beauty on Display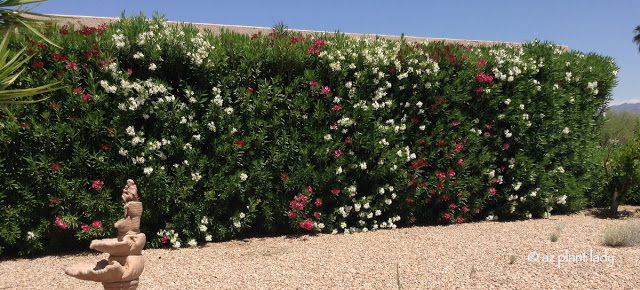 No matter where you live, you will see the same shrubs being used over and over again in countless landscapes. While the shrubs may be attractive, their overuse throughout neighborhoods creates a boring appearance because they are so common.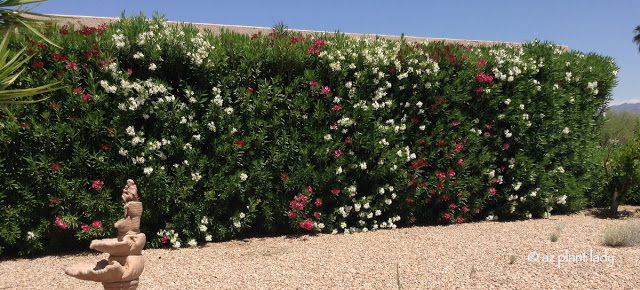 In California, Nevada, and Arizona, oleanders have held a prominent spot in the landscape for years. Their popularity is due to their lush evergreen foliage, ability to withstand intense heat, and their pretty flowers.
However, their overuse in many areas makes their beauty less impactful and frankly, almost forgettable.
At a recent conference, this point was put quite succinctly by the head of horticulture for Disneyland who said,
"When things are expected (in the landscape), they become less powerful and impactful".
His statement sums up what happens when we use the same plants over and over.
In the case of oleanders, there is another problem.
Oleanders are susceptible to a fatal disease called, oleander leaf scorch. This disease has come from California into Arizona where it is popping up in neighborhoods in Phoenix and also Lake Havasu. I have consulted with several cases affecting large, mature oleanders in Arcadia, Biltmore, and Moon Valley areas in Phoenix. 
This bacterial disease is spread by leaf-hopper insects and there is currently no known cure or control available. Infected oleanders slowly decline over 2-3 years before dying. To date, dwarf oleanders have not shown signs of the disease, only the larger forms. But, that could change sometime in the future.
Objectively, there's a lot to like about oleanders; they thrive in hot, dry climates with minimal fuss, have attractive dark green foliage, and add color to the landscape when in flower. However, their
 overuse in the landscape makes them less impactful and coupled with their susceptibility to oleander leaf scorch, people want an alternative. 
You can learn more about this disease that affects oleanders here.
Hop Bush:
When asked for another option for the large, tall forms of oleanders, I recommend Hop Bush (Dodonaea viscosa), also known as Hopseed Bush.
This native desert shrub has attractive, evergreen foliage and a similar growth habit to oleander. They grow up to 12 feet tall or prune to a shorter height.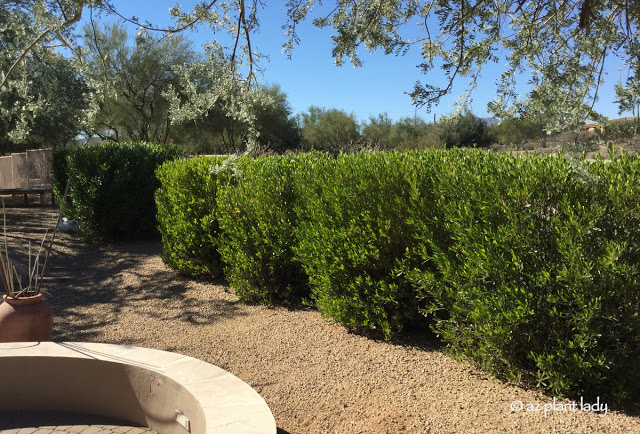 Use Hop Bush in the same ways as oleanders to provide a nice green hedge or privacy screen.
Hop bush flower
While they don't have colorful flowers; they have lovely foliage that is only mildly poisonous as opposed to oleanders which are highly toxic.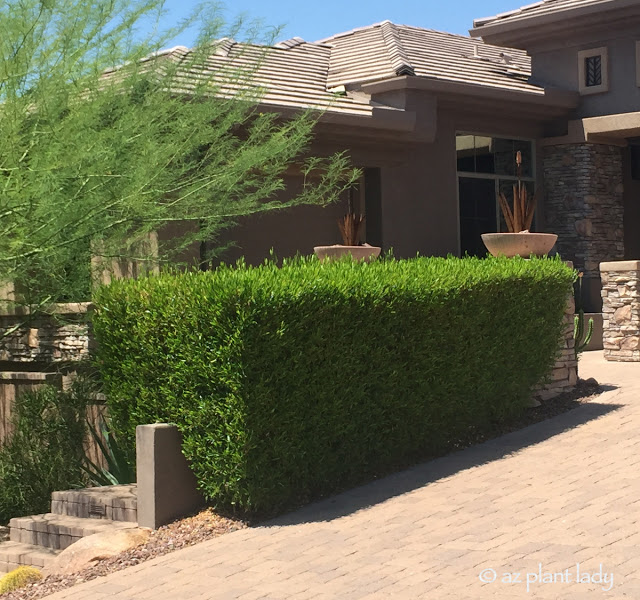 Hop bush has a lovely natural shape or prune as a formal hedge.
Want to learn more about this oleander alternative? In my latest Houzz article, I share what types of plants look nice next to hop bush, how to care for them and show a purple-leaf form.
I hope that you find a spot for this lovely shrub in your landscape.
Have you ever seen hop bush growing in the landscape?  

/
23 Comments
/
by arizonaplantlady@gmail.com
https://www.azplantlady.com/wp-content/uploads/2016/02/oleander_hedge_Arizona.jpg
290
640
arizonaplantlady@gmail.com
http://www.azplantlady.com/wp-content/uploads/2018/10/favicon.png
arizonaplantlady@gmail.com
2020-01-31 12:30:00
2020-03-04 11:55:41
Hop Bush: The Alternative to Oleanders