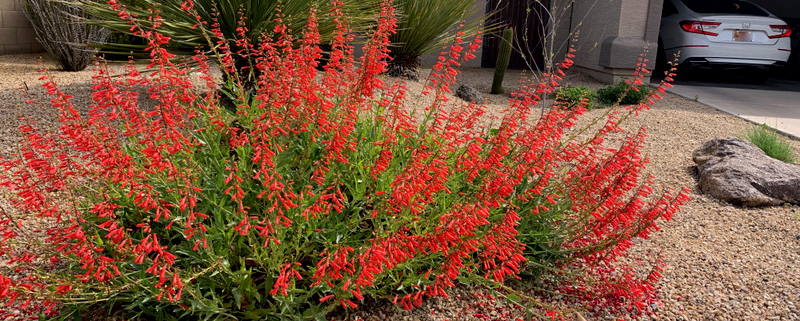 Have you ever noticed that spring has a way of surprising you in the garden? That is indeed the thought that I had earlier this week as I walked through my front landscape.
After spending a week visiting my daughter in cold, wintery Michigan, I was anxious to return home and see what effects that a week of warm temperatures had done – I wasn't disappointed.
I want to take you on a tour of my spring garden. Are you ready?
Penstemons play a large part in late winter and spring interest in the desert landscape, and I look forward to their flowering spikes.
One of the most dramatic blooms that grace my front garden are those of my Echinopsis hybrid cactuses. I have a variety of different types, each with their flower color. This year, 'Ember' was the first one to flower and there are several more buds on it.
Moving to the backyard, the gray-blue foliage of the shrubby germander is transformed by the electric blue shade of the flowers. This smaller shrub began blooming in the middle of winter and will through spring.
This unique shrub was a purchase that I made several years ago at the Desert Botanical Garden's spring plant sale. If you are looking for unusual plants that aren't often found at your local nursery, this is the place to go. This is a lush green, tropical shrub that is related to the more common Baja Fairy Duster. However, it only flowers in spring and has sizeable red puff-ball flowers. It does best in east-facing exposures.
I am trialing a new self-watering hanging container that was sent to me free of charge by H20 Labor Saver for my honest review. I must say that I am very impressed. Growing plants in hanging containers is difficult in the desert garden as they dry out very quickly. But, this is a self-watering container, which has a reservoir that you fill, allowing me to have to water it much less often.
In the container, I have Million Bells growing, which are like miniature petunias. They are cool-season annuals that grow fall, winter, and spring in the desert garden.
Not all of my plants are flowering. My yellow bells shrubs have been pruned back severely, which I do every year, and are now growing again. This type of severe pruning keeps them lush and compact, and they will grow up to 6-feet tall within a few months.
This past fall, my daughters took over the vegetable garden. I must admit that it was fun to watch them decide what to grow and guide them in learning how to grow vegetables. They are already enjoying the fruits of their labor and onions will soon be ready to be harvested.
My Meyer lemon tree hasn't performed very well for me and has produced very little fruit in the four years since I planted it. I realized that it wasn't getting enough water, so I corrected that problem, and it is covered in blossoms – I am so excited!
Moving to the side garden, chocolate flower adds delicious fragrance at the entry to my cut flower garden. It does well in full sun and flowers off and on throughout the warm season.
In the cut flower garden, my roses are growing back from their severe winter pruning. Although the roses aren't in bloom yet, my California native verbena is. This is a plant that I bought at the Santa Barbara Botanical Garden – I don't remember the exact name, but it does great in my garden.
I have some fruit trees growing in the side garden including peaches! I can just imagine how delicious these will taste in May once they are ripe!
While the peaches are already forming, my apple trees are a few weeks behind and are still flowering. It surprises people that you can grow apple trees in the desert garden and they will ripen in June – apple pie, anyone?
I hope that you have enjoyed this tour of my spring garden. All of these plants are bringing me joy.
*What is growing in your garden this spring that brings you joy?

/
12 Comments
/
by arizonaplantlady@gmail.com
https://www.azplantlady.com/wp-content/uploads/2019/03/firecracker_penstemon_arizona_garden.jpg
600
800
arizonaplantlady@gmail.com
http://www.azplantlady.com/wp-content/uploads/2018/10/favicon.png
arizonaplantlady@gmail.com
2019-03-27 21:50:34
2019-03-27 21:50:34
Tour of My Spring Garden
For my longtime followers, you may have noticed that I haven't been blogging as regularly as before. Well, I am excited to tell you the reason why.
But first, a little background. I help desert gardeners in my work as a landscape consultant where I meet with my clients and give them the knowledge and tools that they need to create, grow, and maintain a beautiful outdoor space that thrives in a hot, dry climate.
Many of you know that gardening in the desert can be challenging and it is hard to find resources to help you to learn the "right" way to do things. As a result, my phone was ringing off the hook with people who needed my help. Unfortunately, there aren't enough hours in the day to help everyone, and I soon became overwhelmed with work and exhausted.
So, I began looking for a way that I could reach more people to give them the help they needed. All winter long, I worked hard on my 'new project' and debuted it in January to a limited number of desert gardeners. I hoped that they would give me feedback so I could make sure that my new project was what they needed.
What I wasn't prepared for was their overwhelmingly positive response! I can't tell you how much that meant to me. I achieved my goal of reaching more people and helping them on their desert garden journey, and it is working!
And now, I'm finally ready to draw back the curtains and share it with you!
Desert Gardening 101 is a way that you can learn how to create, grow, and maintain a beautiful garden that thrives in the desert. I've combined my 20+ years as a horticulturist, certified arborist, and landscape consultant into this class.
Here are the topics covered in the class:
Live group coaching from me is included!
And there are bonuses for students including…
Here is what some of my current students have to say about Desert Gardening 101:
"This class has been very informative. We recently moved into a home in AZ with no landscaping in both the front and back yards. Having no experience in desert gardening and spending a lot of time online researching this subject. I came across the AZ Plant Lady and was happy to see there was an upcoming class on Desert Gardening. We signed up immediately.
This class is very helpful, and I'm sure it will keep us from making expensive mistakes in our new landscape and saving many hours of research. We can't wait to start planting. Thank you for sharing your knowledge." – Laurie Wolf
"I have really enjoyed Desert Gardening 101 and have learned so much! Talk about a learning curve! Everything about gardening here is a complete 180! Yikes. I have killed more plants in the past three years, that I ever did in the many, many years I gardened in Milwaukee! I wish that I would have had the opportunity to learn all that I am learning now before we hired a landscape firm to landscape our yard.
We had a clean slate – a brand new construction with nothing but dirt surrounding our home! I knew very little about the desert, the plants and trees that grow best here and how to plant and care for them, soil to use, the watering "issue," let alone design. We are now in the process of fixing the problems, thanks in large part to the knowledge I am gaining through Desert Gardening 101! I still have a ton to learn, but I'm making lots of progress with the weekly modules!
Thanks, Noelle for making this a very informative and worthwhile course for all of us trying to learn the ins and outs of desert gardening! – Barb Terschan
"A Phoenix resident for many years, I recently moved from downtown to a house on the mountain preserve and wanted to flow into the desert with native and low water desert plants. That is when I found AZ Plant Lady and started learning. This class has been a huge help in this transition. I have learned I've been planting my new plants too deeply and watering way too much. The pruning session was an eye opener, also. Now I know when and how to prune my shrubs. The many plant suggestions provided have narrowed my search when visiting nurseries and has kept my focus on what really thrives in the desert. I am gardening with more confidence thanks to this course. Highly recommend!" – Linda Yowell
Desert Gardening 101 is an online course that teaches proven landscape strategies that I use myself, and I've taught hundreds of my clients who have gone on to succeed in their own landscape goals.
The course spans 8-weeks, and you can access it anytime online and view the content at your convenience. Most importantly, you will have lifetime access to the course, so you revisit the classes at any time in the future.
I am currently accepting new students for my next class session for a LIMITED time. I close the doors for new student sign-ups on Thursday, March 21st and I won't be offering the class again until this fall!
I would be honored to come alongside you on your garden journey! Click here for more information and to register.
*This is by far the most affordable way to work with me at a fraction of the price of my private consultations.

/
0 Comments
/
by arizonaplantlady@gmail.com
https://www.azplantlady.com/wp-content/uploads/2019/03/desert-landscape-lantana-prickly-pear-cactus.jpg
768
1024
arizonaplantlady@gmail.com
http://www.azplantlady.com/wp-content/uploads/2018/10/favicon.png
arizonaplantlady@gmail.com
2019-03-18 06:00:59
2019-03-17 22:32:43
Exciting News! New Resource for Desert Gardeners