I love the Olympics…
Actually, my entire family loves to watch them. We eagerly await the opening ceremony and then spend the next 2 weeks glued to our television sets, rooting for our favorite athletes.
Now, you may think that since we like the Olympics so much, that we must all be athletes ourselves.
While a few of us are quite athletic – most of us aren't so much (including me).
But, that didn't stop us from preparing for the 'Smith Family Summer Olympic Games'.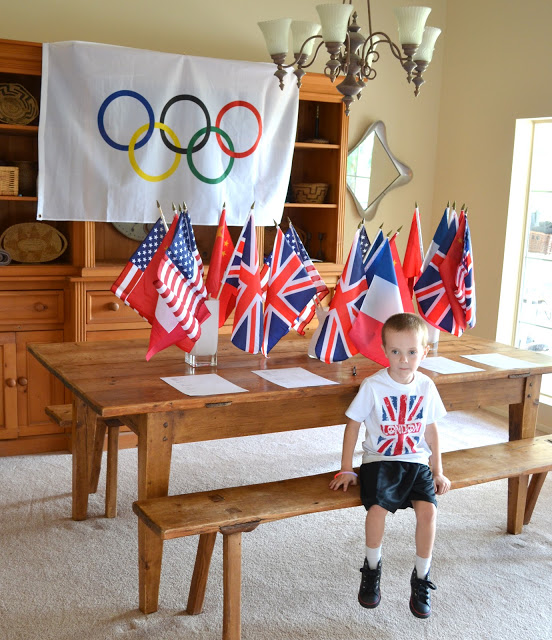 Family Olympic Games
Our athletic event was to be held at Double S Farms, where my mom and sister (and her family) live.
My mother, who organizes this entire event, assigned to teams a few weeks ago and my sisters and I had fun making the t-shirts for our teams.
As we arrived for the big day, in our 'nifty' new Olympic t-shirts – it was time for face painting by my sister, Jennifer.
My nephew, opted for an American flag on his nose…
Now, it was time for the team pictures.
Team Great Britain
Team USA
(Channeling the 70's)
Team China
(Four members of our extended family are adopted from China).
And…
Team France
To keep everyone 'honest', we had two Olympic judges (my daughter and my mom) and three 'Official Observers' (my granddaughter Lily and twin nephews Danny & Dean).
Now, it was time for the Olympic events!
Our first event was the 'Mustache-Straw' relay.
The photo below explains it all…
If you dropped the straw, you had to stop and put it back up, run to the end and then run back to your team. (I was terrible at this game).
Our next event was what my daughter referred to as the 'SpongeBob' relay. The goal was to take a yellow sponge full of water and run to an empty container and squeeze out the water.
The first team that filled up their container with water, won.
My mother, one of the judges, kept an eye on everyone, making sure we were following the rules.
My sister, Grace, had great form…
The third event was the 'Water Balloon Shot-Put'.
My mom explained the rules. Whoever threw their water balloon furthest, won.
To make it fair – she broke up the competition into two parts; one for the kids and the other, for the adults.
My brother-in-law, gave his son, pointers on how to throw the balloon.
At this point, we heard thunder and saw storm clouds gathering fast. We only had a little while left before the monsoon storm hit.
I had so much fun taking pictures of this event because I was able to capture everyone's great 'form' 😉
My sister, Grace, had a great throw.
My sister-in-law, Marisue, did great while my brother looked on.
My brother-in-law, Jason, decided to go with 'granny-style'.
Now, it was the kid's turn and we had to hurry, because it was beginning to rain and lightening wasn't far off.
I love how my son, Kai, puts his all into his effort.
Next, it was my nephew, Oliver's, turn.
(Can you see the Gatorade on his t-shirt 😉
We just barely finished the event and then it started to pour down rain. Thankfully, our last few events were indoors.
Now, it was time for Shooting.
My daughter, Rachele, was up first.
Then it was Gracie's turn.
My brother gave my sister pointers on shooting.
Then it was my turn – I hit one of the targets.
Finally, it was my husband's turn….
My husband is the expert shooter in the family.
But, I beat him! To be fair though, I taught me how to shoot years ago 😉
Our last event was Diving.
We had to throw a sponge ball into a container of water.
All too soon, the events were over and the scores tallied.
Now it was time to eat!
We had Cornish 'pasties' for dinner and English trifle for dessert – delicious!
Then it was time for our medal ceremony.
My mom had created our Olympic medals from ribbon and large metal washers from the hardware store.
We had to sing the national anthem from each country.
It was a fabulous day and I can hardly wait for the Smith Family Winter Olympic Games in 2 years!
**How about you? Do you find yourself glued to the television, watching the Olympics?
Have you ever had an Olympic party?
The Thrill of Victory and the Agony of Defeat

https://www.azplantlady.com/wp-content/uploads/2012/07/Smith_Family_Olympics.jpg
511
640
arizonaplantlady@gmail.com
http://www.azplantlady.com/wp-content/uploads/2018/10/favicon.png
arizonaplantlady@gmail.com
2012-07-31 04:52:00
2021-02-02 02:29:45
Family Olympic Games