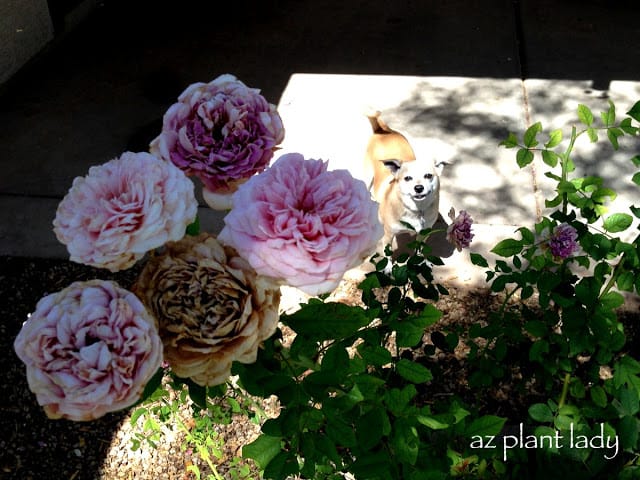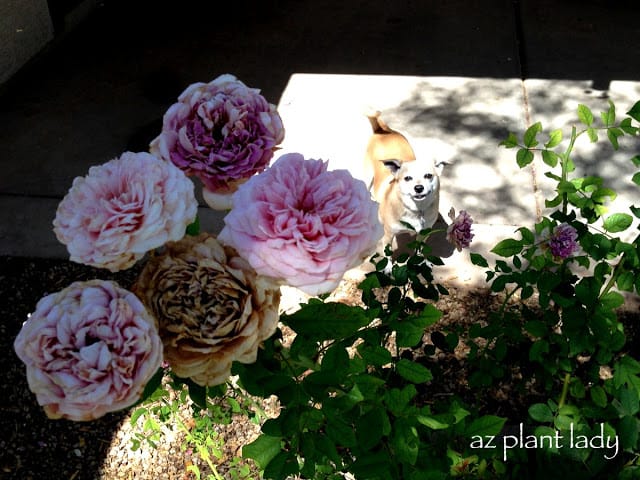 My Abraham Darby shrub rose and my little dog, Tobey.
If you live in a hot arid climate like me, chances are that your roses are feeling the heat and aren't looking their best right now. While gardeners in cooler climates celebrate summer with beautiful rose blooms, the opposite is true for those of us who live in the desert. 
Roses actually grow quite well in hot, southwestern zones, and even though mine has a somewhat sunburned appearance – I'
m not worried because this is normal.
You see, roses that are grown in the low desert regions, don't like the intense sun and heat that summer brings.

As a

result,

 
the flowers become smaller, and the petals burn in the sun and turn crispy.  By July, you will likely not see any new roses appearing until October once the weather cools.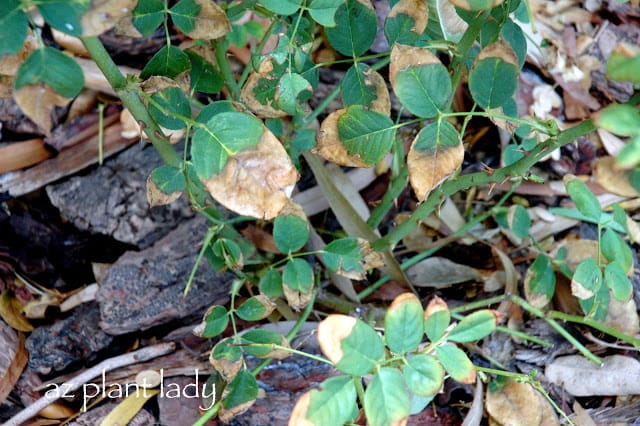 The rose blooms themselves aren't the only parts of the roses affected by the summer heat – the leaves can come away sunburned as well.
When faced with brown crispy petals and leaves, you may want to prune away the damaged leaves, but don't.  
There are two reasons why you shouldn't prune your roses in the summer.  The first is that pruning will stimulate new growth that will be even more susceptible to sunburn damage.  Second, the older branches and leaves will help to shade the growth underneath the sun.
I know that it is very hard not to prune away the browning leaves, but once September comes around, you can get out your pruning shears and prune back your rose bushes by 1/3. This will remove the sun-damaged flowers and leaves, stimulating new growth. 
Before you start lamenting the less than stellar appearance of your summer roses and feel that it is easier to grow roses in other regions, you would be wrong. 
Oh, certainly, we have to deal with our roses not looking their best in the summer.  But, compare that with gardeners in other areas who have to deal with the dreaded Japanese beetle that shows up every summer and eats their roses. Or, how about those people who live in more humid climates and are having to deal with severe cases of blackspot or powdery mildew (white spots on the leaves).  
And lastly – we are fortunate to enjoy two separate blooming seasons for our roses.  In fall, when many other gardeners are putting their roses to bed for the winter, ours are getting ready to bloom a second time that year.
And so, I will ignore my less than beautiful roses this summer, because I know that they will look fantastic this fall 🙂

/
26 Comments
/
by arizonaplantlady@gmail.com
https://www.azplantlady.com/wp-content/uploads/2013/06/IMG_1702.jpg
480
640
arizonaplantlady@gmail.com
http://www.azplantlady.com/wp-content/uploads/2018/10/favicon.png
arizonaplantlady@gmail.com
2020-07-01 07:00:00
2020-06-30 20:45:34
Are Your Roses Feeling The Heat?
"Where do you recommend I go to buy plants?" This is one question that I'm often asked by desert dwellers.
The choices that people have for purchasing plants range from a locally owned nursery, a nursery chain, or a big box store.  
So which is best? Well, that depends on the situation. So, I am going to give you my recommendations based on different factors.
Local Nursery
You have just moved into a new house and want to add some plants, but you have no idea what kind of plants do well in your new region, how to care for them, or what type of exposure is best.
I would highly recommend visiting a locally owned nursery, which employs people who are knowledgeable about plants. Also, the types of plants they carry are most likely well-adapted to the growing conditions of your area as well.  
Local nurseries also sell a greater variety of plants.
The mature size of a plant often depends on what climate they are grown in.  So your local nursery professional can tell you how large the plant will become in your zone, what type of exposure it needs along with watering and fertilizer requirements the plant will require.
You will pay a little more at a locally-owned nursery or a small chain, but you will save money due to the excellent advice and the fact that they usually only stock well-adapted plants for the region.
Big Box Store Nursery
Situation #2:  
You have a list of plants that you need for your garden, are familiar with the plants that do well where you live and how to care for them. Also, your budget for purchasing new plants is small.
When you exactly what plants you need and are dealing with a tight budget, you may want to check out your big box store's nursery
Another important thing is to be familiar the plant's needs because, while their nursery personnel may be helpful, not all of them are knowledgeable about plants.
The biggest benefit for shopping at a big box store's nursery is that plants are often less expensive than at your local nursery.  Many also offer an excellent plant warranty as well.
One important thing to remember about shopping at a big box store nursery is that just because you see a plant there, does not necessarily mean that it will do well in your area.

  I have seen quite a few plants available in my local big box store that is sold out of season or very difficult to impossible to grow where I live.
So where do I shop for plants?
Well, it depends on several factors.
For flowering annuals, I shop at the nearby big box store as it's hard to beat their variety and amount plants available.
When I need perennials, shrubs, succulents, or trees, you'll find me at my favorite local nursery. They grow most of their nursery stock, so I know that it is adapted to the climate.
While traveling to areas with similar climates to mine, I take time to see if they have any specialty nurseries and take time to visit.

I do need to confess that my favorite place to find plants is not at a nursery, but at my botanical garden's seasonal plant sale. They have hard to find plants, and I know that whatever plants I come home with will do well in my garden.
 Regardless of where you shop for your plants, I highly recommend researching plants ahead of time.  
Learn how big they get, what type of maintenance they require, watering needs and how it will do where you live.  You can find most of this information easily online by doing a simple search using the plant name + where you live, which
will give you links on the plant and how it does in your area.
SaveSave

/
3 Comments
/
by arizonaplantlady@gmail.com
https://www.azplantlady.com/wp-content/uploads/2015/07/DSC_0483.jpg
465
640
arizonaplantlady@gmail.com
http://www.azplantlady.com/wp-content/uploads/2018/10/favicon.png
arizonaplantlady@gmail.com
2020-06-08 07:00:00
2020-06-07 20:27:25
How Do You Choose a Plant Nursery?