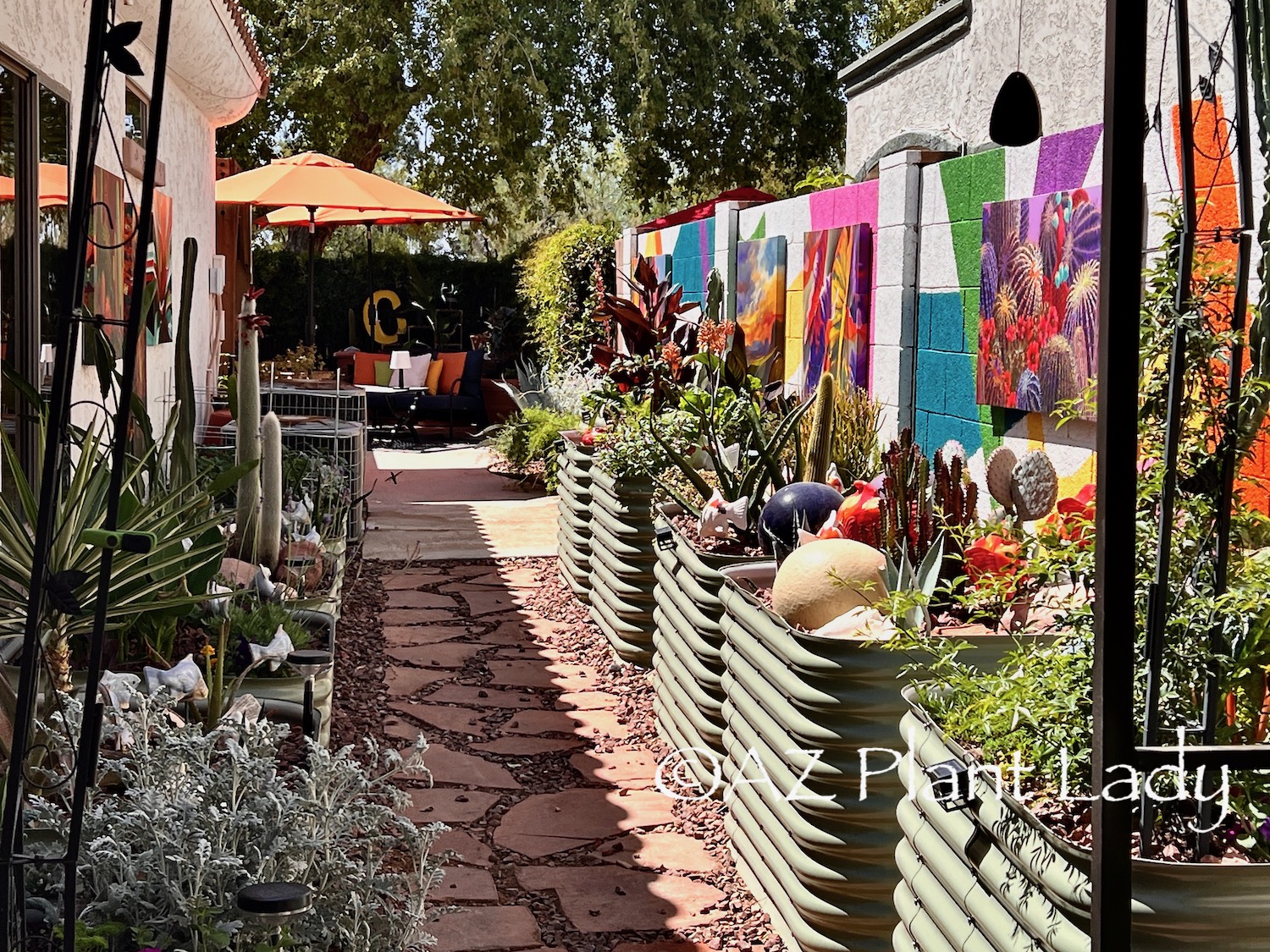 Elevate Your Side Yard with Creative Solutions
Side yard art in the form of a garden? Yes please! Do you have a side garden or perhaps an empty stretch of landscape along the side of your house?
Many of my clients do, and they desire something attractive to look at when they look outside their windows. Because let's face it – staring at a bare block wall is boring!
1. Outdoor Side Yard Art: Adding Colorful Flair to Your Walls
It could be that your side yard is narrow or super shady, which makes growing plants difficult.
Well, I'm here to share ample inspiration for your side yard with three ideas for you to consider.

Bring Your Garden Views Up to Eye Level
Imagine being able to add colorful art to your outdoor walls!
My friend Shawna Coronado has done that in her side garden with colorful prints specifically made to handle the outdoors. If you have boring walls and no space to add plants, an all-weather canvas is an excellent option for adding colorful interest. Or perhaps as a backdrop for lower-growing plants.
Make Side Yard Art Creative
I love visiting her garden and how she uses her artist's eye to create vibrant vignettes throughout her backyard. Shawna is a noted gardener and author who moved from Chicago to the deserts of Arizona several years ago. I've had the privilege to witness how she has embraced desert gardening, and she brings her unique style to her outdoor space.

2. Maximizing Space with Artful Raised Beds
Shawna loves plants as much as I do and has added galvanized steel raised beds along her entire side yard. The beds are powdered coated with a nice sage-green color which blends well with the desert garden palette.
A combination of succulents, perennials, and vegetables make their home in her raised beds. The narrow space can limit the sunlight plants receive for many side yards when planted in the ground. Using raised beds increases the amount of sunlight they receive.
I love this combination of agave, aloe, mangave, prickly pear, and yucca, which is low water and attractive. Ceramic garden fish appear to swim among underwater plants – I love whimsy like this in the garden!

3. Expanding Possibilities in Wide Side Yards
Reimagine your side yard as a canvas of possibilities. If you have a spacious side yard, seize the opportunity to transform it into a flourishing garden oasis with side yard art. Consider the practical elegance of raised beds lining both sides of this often-underutilized space, allowing you to make the most of your gardening potential.
With raised beds, you can cultivate a variety of herbs, vegetables, and flowers, turning your previously overlooked area into a vibrant green haven. But don't stop there; infuse personality and charm with whimsical garden art, injecting life and creativity into every corner.
Your side yard has the potential to become a harmonious blend of artistry and agriculture, a true testament to the transformative power of outdoor spaces.
Click here to learn more about Shawna's side garden gallery and where to purchase canvas prints, raised beds, and ceramic fish.

https://www.azplantlady.com/wp-content/uploads/2023/04/Artist_Garden_Shawna_Coronado_Desert.jpg
1125
1500
arizonaplantlady@gmail.com
http://www.azplantlady.com/wp-content/uploads/2018/10/favicon.png
arizonaplantlady@gmail.com
2023-04-25 11:17:37
2023-09-19 14:37:07
Transforming Your Side Yard: Three Inspiring Ideas