The past couple of days have been filled with the normal things that make up my life….taking care of my family, landscape consults, blogging, etc. But, one of the things that I love and sometimes don't love about life are the unexpected things that sometimes cross my daily path.
First the unexpected things that I enjoy…
Blue Hibiscus (Alyogyne huegelii)
The beautiful flowers on this Blue Hibiscus (Alyogyne huegelii), stopped me in my tracks as we were entering the house at Double S Farms.
This Australian native is a big favorite of mine because of the large purple flowers that are produced in the spring. To be honest, I am not sure why someone decided to give it the common name of 'Blue Hibiscus', because the flowers are always purple. I am not a huge fan of common names in general – especially the ones that don't make sense.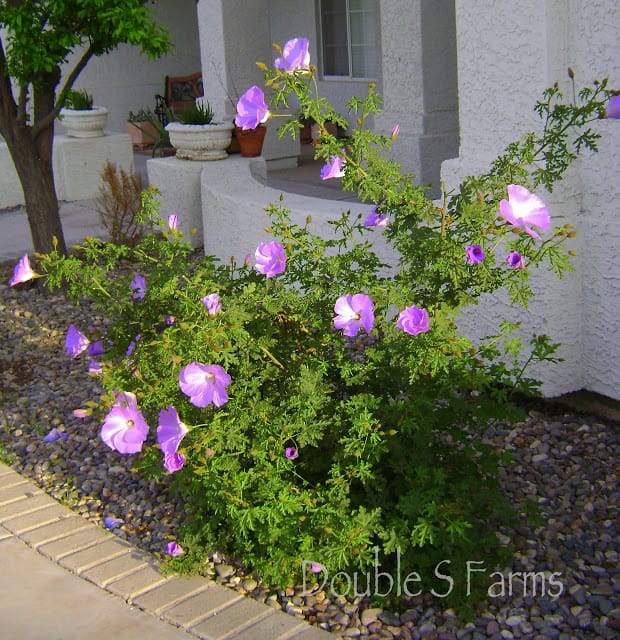 Blue Hibiscus (Alyogyne huegelii)
Blue Hibiscus does well in our desert climate and grows 4 – 6 ft. high and wide. Some gardeners report that it is hardy to 15 degrees F, so this shrub hold up well under the frosts we experience. Prune lightly after the first flush of flowers to help produce a second flush. Supplemental fertilizer is not needed, but regular irrigation is. It does not do well in an area with reflected sun, so place in a north, south or east facing exposure.
Okay, here is one last look at one of the gorgeous flowers just beginning to open….
Other instances when I enjoy the unexpected is when I see a plant that does something different then the norm – grow larger, produce different colored flowers, foliage, etc.
Yesterday, I was called to a client's home to look at his sick Magnolia tree (yes, Magnolias grow in the desert). The prognosis on the Magnolia tree was good and the client was happy. I offered to look at the rest of his landscape to see how things looked when we walked up to the largest lemon tree that I have ever seen…
This picture really does not accurately show how large this lemon tree was. The fragrance coming off of the tree was amazing….the scent of the lemons along with the smell of the lemon blossoms was intoxicating.
**My clients are soon quickly convinced that I am somewhat of a crazy plant lady because I get so excited when I see something out of the ordinary. They in turn are tickled pink by the knowledge that they have a special plant in their very own garden.
Well, the client with the lemon tree was a retired doctor who was pleased to show off his tree that was planted over 20 years ago. He said that he had more fruit then he knew what to do with and offered to pick me some lemons and ended up picking me 2 bags full. I was very touched because he was an older gentleman and it was not easy for him, but he insisted on picking them for me himself.
Now for the unexpected things that I do not enjoy at all….
I was on my way home from this consult when my husband called me to say that my 7 year old son may have broken his arm. So I rushed home and took him to the doctor. X-rays were not clear as to whether there was a break or not, so his arm was put into a black brace for a couple of weeks until they could check it again.
You know at first, how it can be kind of fun for a kid to have a cast and/or brace? That is until they realize how restrictive it is. I was asked, "Do I have to wear this all the time? Even when I sleep?" This morning, he asked me if he had to wear it when he played his video game 😉
Yesterday, I received very unwelcome AND unexpected news…
It was the beginning of a beautiful day and I was getting ready to leave to go on a landscape consultation when I got a call from my oldest daughter, who was just sobbing into the phone.
You know that dropping feeling in your stomach that you get sometimes when you know you are going to hear something awful? Well, that is exactly what I felt as soon as I heard her voice.
Well, she had fallen down the stairs as she left her apartment and she was pretty sure that she had broken both of her feet. Somehow, she was able to crawl back up to her apartment where she called her husband, who was at work, to come and get her. Then she called me.
As a mother, it is so hard when your child is in pain. I spoke to her trying to help her stay calm while her husband rushed as fast as he could to get home. But her voice would break with cries of pain. I woke up my husband, who works at night, and we rushed to be at her side.
Firefighters were called to carry her down the stairs of her apartment and then we met her and her husband at the hospital. As she was checking in, the clerk asked her if she had ever been there before and my daughter said "No". I then stepped in to remind her that she had been there before….23 years ago when she was born. Surprisingly, they still had her medical records from back then.
Well, it turns out that she broke her right foot AND her left ankle. She is definitely laid up for a while and will not be able to teach (she is a high school history teacher). Her husband is wonderful and very supportive. I will be going to 'babysit' her today so that he can attend an important meeting for a little while. So, I am gathering my magazines, DVD's and bringing them dinner.
And so in closing, I am hopeful that the coming days bring only unexpected good things for both my family and yours 🙂

https://www.azplantlady.com/wp-content/uploads/2010/03/DSC03161.jpg
407
640
arizonaplantlady@gmail.com
http://www.azplantlady.com/wp-content/uploads/2018/10/favicon.png
arizonaplantlady@gmail.com
2010-03-26 15:30:00
2021-02-27 03:03:14
The Unexpected…In the Garden and in Life