Do you visit your local botanical garden?


I try to make it to my local garden at least 2 – 3 times a year, which just happens to be the world-renown, Desert Botanical Garden.


Last week, I visited twice – once for their spring plant sale and again with my kids. Spring break is a great time to visit when the garden is in full bloom. The kids were excited to go, so we made the 30 minute trip.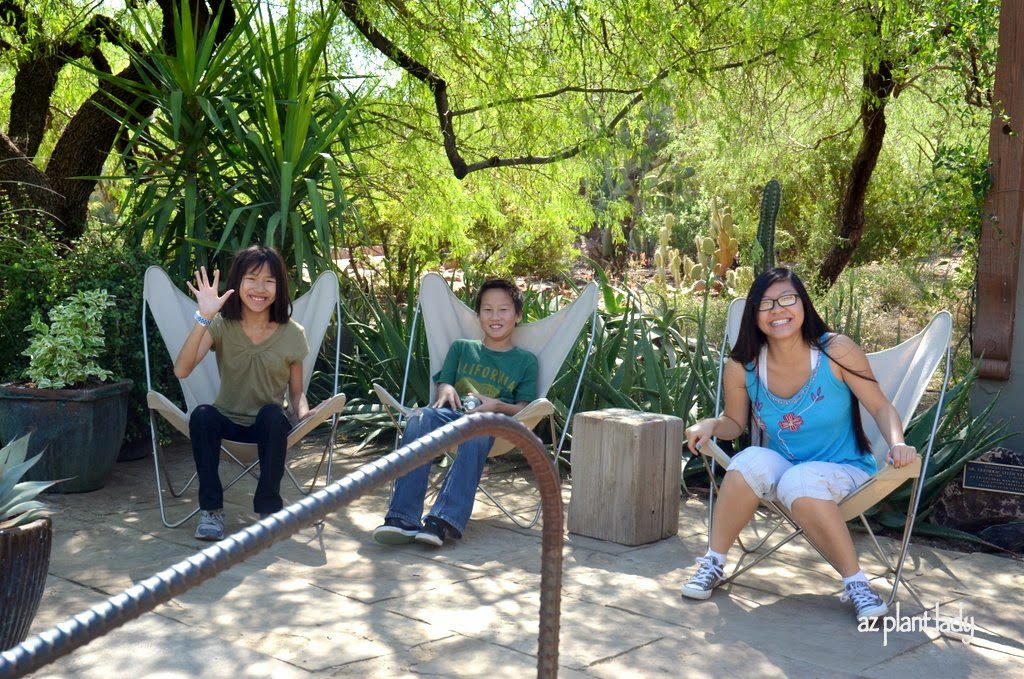 I must admit that they were getting a little cabin fever over their spring break. The problem is that spring is my busiest time of year for landscape consultations (spring for a horticulturist is like tax season for an accountant), so we can't go out of town. So, we try to carve out outings throughout the week.
The kids enjoy visiting the garden and one thing that we like about visiting the garden several times a year, is that it never looks the same. Each season brings a different look as different plants take center stage as they flower or show off their foliage.
Gray-Foliage and Spiky Plants
One part of the garden that really caught my eye was a bed filled with plants with gray foliage interspersed with spiky plants.
As you can see, there are layers of plants in this area, most of which have fine-textured, gray foliage. They are interspersed with greener spiky succulents for a great color and texture contrast.
In this area, the garden enjoyed filtered shade from a Texas honey mesquite (Prosopis glandulosa), including the aloe vera in the background.
The feathery foliage of artemisia 'Powis Castle' filled the back spaces of the garden. This is a great choice for gray-blue color in the garden. It appreciates filtered shade in the Arizona desert.
The spiky plants in the center are two young yucca – I'm not sure of the species (I must confess that I'm not a fan of yucca, but I'm in the minority). Young yucca are often mistaken for agave.
At the base of the yucca was moss verbena (Glandularia tenuisecta formerly Verbena tenuisecta). I love the carefree nature of this trailing ground cover with its purple flowers and bright green foliage.
The next section of the garden was filled with Caribbean agave (Agave angustifolia 'Marginata'), lavender cotton (Santolina chamaecyparissus) and the small black-spined agave (Agave macroacantha) in the front.
Along the side of this garden bed were Agave ocahui, which is a nice small agave that looks great in this staggered arrangement.
These were just a few of the beautiful plants that have gray-toned foliage that we saw that day. Introducing the plants with shades of gray that range from green to blue tones of gray, create a cooling effect and contrast nicely with the darker greens in the landscape.
Next time we will look at some of my favorite plants with shades of gray.
******************************
For now, I need to get my 3 youngest kids ready for school, which starts tomorrow. Just 2 more months until summer!
On another note, my second-oldest daughter, Rachele, returns to work after 2 months off for maternity leave. I remember how hard it was to go back to work after she was born – especially those first 2 weeks.
Rachele and baby Eric are back on her Navy base and I can't wait to go and visit them in a few weeks!

https://www.azplantlady.com/wp-content/uploads/2015/03/DSC_0135-1.jpg
679
1024
arizonaplantlady@gmail.com
http://www.azplantlady.com/wp-content/uploads/2018/10/favicon.png
arizonaplantlady@gmail.com
2015-03-23 13:00:00
2022-10-29 06:11:52
Made in the Shade: Gray-Foliage and Spiky Plants