This day of our road trip proved to be the most activity-filled of all.
Our hotel in Pacific Grove, The Butterfly Grove Inn.
We spent the night in a place that holds special memories from my childhood. Pacific Grove is a town that is located next to the city of Monterey. My grandparents would spend their summers there each year and we would venture up the coast to visit them.
We would take the short walk from the house to the beach, which was filled with rocks to climb on and tidal pools filled with anemones and hermit crabs. Small sea shells were plentiful as well.
So, while planning our itinerary for this trip, Pacific Grove was one of the first places we chose to visit.
Pacific Grove , Monarch Grove Sanctuary.
As we got ready to leave our hotel in the morning, we drove by the Monarch Grove Sanctuary.
While many Monarch butterflies head south to Mexico, those that live west of the Rocky Mountains head to the coastal areas of California where they winter in the pines.
Pacific Grove is called "Butterfly Town, USA" and it residents are proud of its seasonal visitors. In fact, if you purposely cause injury to the butterflies, you could be faced with a $1,000 fine.
The main street is filled with colorful Victorian homes that have been converted into businesses.
A handmade furniture store located in one of the older masonry buildings had this sign up in their window, reminding us that earthquakes are a part of life in California.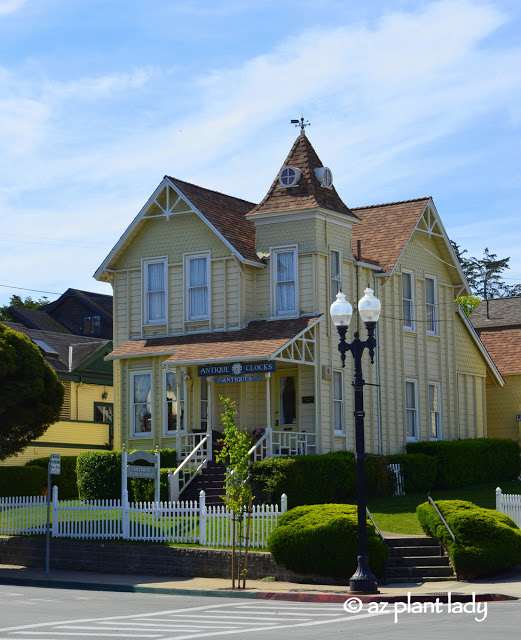 Years ago, in the 80's, we were walking downtown and saw an old, white Victorian house that was for sale for $1.00
Of course, there were stipulations that the city would require for renovating the house without sacrificing its historical character.
We never forgot that house, but after 30+ years, we couldn't recognize which house it was.
One of my favorite stores on the main street was a little garden shop. Two friendly dogs welcomed visitors as they walked up the steps to an outdoor area filled with unique containers filled with combinations of succulents.
Vintage glass containers filled with succulents.
I have always had an affinity for recycling old items and turning them into containers for plants.
I have seen chairs planters filled with colorful annuals, but this is the first one with succulents. I like it, don't you?
After shopping downtown, I couldn't wait to get to the beach and explore the tidal pools and the beaches.
While I was taking pictures of the sea, my mother was taking a photo of me.
And I took one of her.
I decided that at 50, I was still young enough to climb over the rocks to explore.
As I turned to walk back to the car, where my mother was patiently waiting, I was pleasantly surprised at how far I had come. I could just imagine my 14-year-old son scrambling over the rocks with me.
When I spotted my mother in the car, I noticed that she had made some new friends.
She had taken some of our whole wheat sourdough bread and was sharing some with the birds.
Once I reached the edge of the beach, I was greeted by a little friend who was undoubtedly hoping that I was generous like my mother.
Well, it turns out that I was willing to share some bread, so my little friend invited some of his friends.
This Canada goose also wanted some too.
After feeding both birds and squirrels, my bread was gone.
However, this was not to be our only encounter with wildlife this day.
As we drove down the coast toward Lover's Point, we noticed a group of people gathered next to a temporary fence with binoculars and cameras.
Curious, we parked our car and joined them.
This is what they were looking at.
Can you see the two animals in the center of the rocky shore?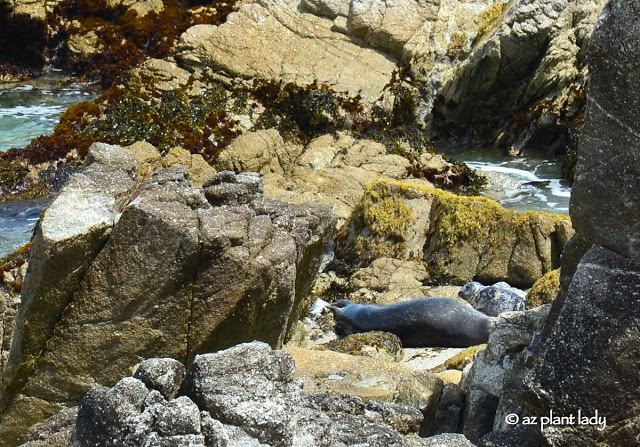 Here is a closer view. This is a harbor seal with her baby, which is only about a week old.
This particular beach in Pacific Grove is a very popular place for harbor seals to give birth and raise their pups. From March to May, they give birth and care for their babies for about a month before leaving them to fend for themselves.
The people we joined in viewing the seals, were volunteers, who observe the seals and note their size and activity. Some volunteers keep track of how many babies are born each season. So far, there had been 35.
As we were watching the seals swimming along the shore, a mother and her pup came up on the sand so that her baby could nurse. What a special moment to have been able to see!
Carmel Mission
After we had spent some time with the seals, we drove to the nearby city of Carmel-by-the-Sea, which is a small beach city that is famous for its beautiful mission, picturesque downtown and fairytale cottages.
If you have followed our road trip, then it shouldn't surprise you that we found ourselves at the Carmel Mission. I had first visited this mission back in 2000. Known as the "crown jewel of the missions" for its beauty, the Carmel Mission opened in 1793.
The gardens surrounding this mission were absolutely lovely.
Wooden gates were flanked by large beds filled with a combination of flowering perennials and shrubs.
For entry into most missions, you pay a small fee, usually at the gift shop before entering.
Within the walls of the mission were smaller structures with a colorful mixture of geraniums, roses, Jupiter's Beard (Centranthus ruber), sea lavender (Limonium perezii) and Santa Barbara daisies (Erigeron karvinskianus).
The branches of a Lady Banks rose adds beauty to the side of this mission building.
A large cork oak tree adds beauty to this inner garden of the mission.
Santa Barbara Daisy (Erigeron karvinskianus)
You often see Santa Barbara daisy, with its small white and pink daisies, growing throughout many coastal areas of California. I grew it as well in the garden of our home in Phoenix in filtered shade.
This is a part of the cemetery where native American graves are edged with abalone shells.
The significance of the abalone is explained with this sign.
After touring the garden and other structures, we headed into the church.
As you can see, the interior is beautiful. The metal rods that run through the ceiling help to provide stability.
At the front of the church, the crucifix along with other statues add to the beauty of the church.
For those of you, like me, who learned the history of California in school, this grave will interest you. Father Junipero Serra, the founder of many of the California Missions is buried right here, where his picture rests.
Besides the having the "crown jewel" of California Missions, Carmel is also know for its fairytale cottages.
Our House Cottage
These small cottages were built in the 1920's, by Hugh Comstock and they look like they stepped straight out of a fairytale.
I'm not sure which one this is.
He created the homes for his wife's rag dolls that she made and sold. The cottages came with unique names such as Birthday House, Hansel, Gretel, Fables and Storybook Cottage, just to name a few.
Fables
The Birthday House
The size of the homes are quite small and people really do live in them.
To get to them, you have to hike up some hilly streets – (my feet still hurt) while being respectful of the occupants privacy.
Hansel
To learn more about the imaginative cottages, click here.
Toward the end of the day, we headed toward adjoining Monterey and The Old Monterey Marketplace and Farmers' Market, which takes place on Tuesday evenings, beginning at 4:00.
Three city blocks are filled with vendors selling delicious organic produce, baked sweets as well as handcrafted items.
We bought some food for our dinner before heading off to our next destination of Santa Cruz.
Walking toward our car, we passed by this vendor displaying his wares…
If that doesn't scream California to you, then I don't know what does.
I wanted to take a moment to thank you for your kind comments on both my blog and facebook page. It has been so fun sharing our experiences with you!

https://www.azplantlady.com/wp-content/uploads/2016/04/DSC_1293-001.jpg
640
494
arizonaplantlady@gmail.com
http://www.azplantlady.com/wp-content/uploads/2018/10/favicon.png
arizonaplantlady@gmail.com
2016-04-22 02:50:00
2022-10-15 06:06:07
California Road Trip: Day 6 – Butterflies, Baby Seals, Fairytale Cottages and a Crown Jewel