If someone asked you what your favorite food was, what would you tell them?
My daughter, Gracie, would answer by saying "anything chocolate".
My husband would say "pizza".
But my favorite food is a warm slice of sourdough bread with melted butter. My idea of heaven is being surrounded with loaves of French bread and plenty of Irish butter without the carbs or calories 😉
Because I like to make things using produce from my garden, I decided to try making herb butter using the herbs that I grew and dried earlier this summer.
Just for fun, I decided to make my own butter using some leftover heavy whipping cream (did you know that if you beat heavy whipping cream long enough that you will get butter)?
When we were kids, my mom would teach us how to make butter this way using her antique butter churn. It was a lot of work, but it was fun.
Most of the time, I just use regular butter to make herb butter.
I beat the whip cream until it became thick and continued until it looked like this…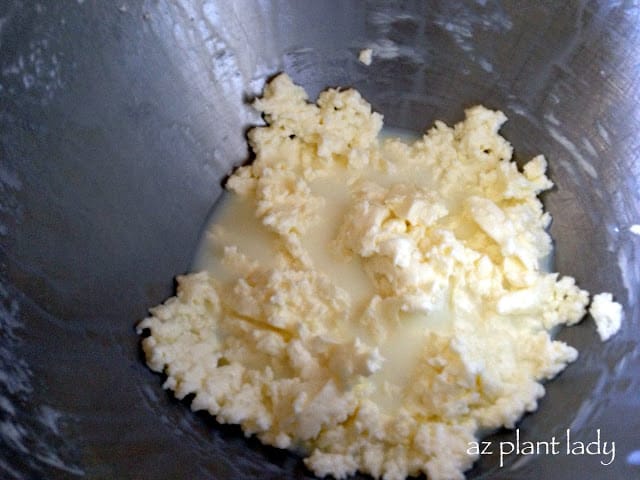 Your butter will start to solidify with a little buttermilk liquid left.
Drain the buttermilk and you are left with butter! You can salt it to your taste at this point.
1. You will need a 1/2 cup of softened butter. (Store bought works just as well as butter you made yourself).
2. Add a 1/2 teaspoon of your favorite herb. Dried basil, chives, dill, oregano, rosemary, sage or thyme work well for herb butter. You can also use a 1/2 teaspoon of poultry or Italian seasoning instead if you like.
3. I also added 2 cloves of minced garlic, also from my garden, to the herb butter.
4. Mix it all together using a rubber spatula.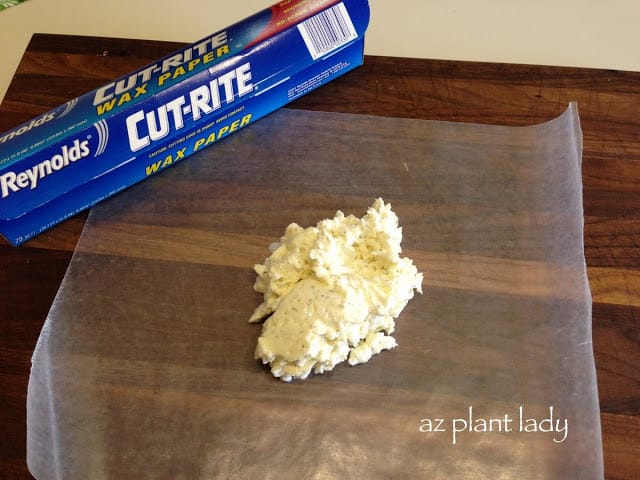 5. Place your butter mixture onto wax paper and begin to form it into a roll by folding over the wax paper and using your hands to mold the herb butter.
6. Twist the ends of the wax paper and place your herb butter into a plastic freezer bag.
7. Freeze until 2 hours before using. You don't have to use it all at once. Simply cut off a few sections at a time.
You can freeze herb butter up to 6 months.
So, get started now and preserve the taste of your summer herbs by making your own herb butter.
Make some for yourself and give some away to friends.
I must say, that I was going to take a picture of my herb butter melting over a hot slice of sourdough bread.
But, I ate it before I remembered to take the picture…
**You can use your own herbs that you have dried or you can use herbs from the grocery store.
To learn how to dry herbs, check out my earlier post – "How to Grow and Dry Your Own Herbs"
What herb(s) would you add to herb butter?

https://www.azplantlady.com/wp-content/uploads/2013/08/IMG_1674.jpg
517
640
arizonaplantlady@gmail.com
http://www.azplantlady.com/wp-content/uploads/2018/10/favicon.png
arizonaplantlady@gmail.com
2013-08-14 16:38:00
2021-01-21 02:45:55
Got Herbs? Make Your Own Herb Butter