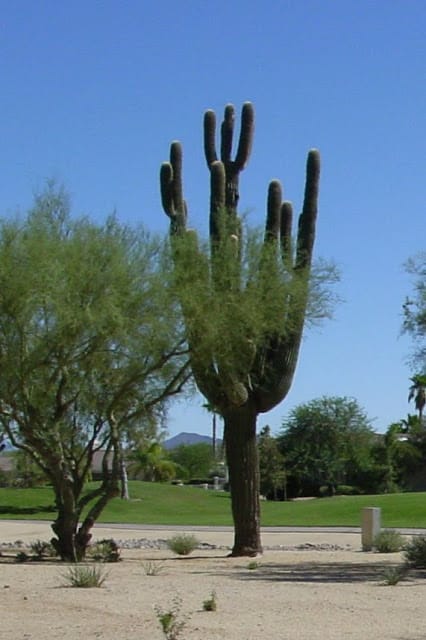 Saguaros can be affected by high winds and heavy rain just as trees are. During windy weather, I love to observe saguaros swaying gently in the breeze. In the summertime in Arizona, we have a monsoon season. The word "monsoon" means "wind shift" or "season". This shift in the wind brings warm, moist air from Mexico which causes brief, intense storms. Heavy rain, lightning, and high winds are a common occurrence during this time. Sadly, this saguaro, (above), did not survive the latest monsoon storm of that summer.
This large giant fell in a landscape area in the community where I worked as a horticulturist. This was one of my favorite saguaro cacti. There had been a few consecutive days of heavy rain and wind, which caused this beautiful saguaro to fall.
*To get an idea of how large this saguaro was, the man walking in front of it is over 6 ft. tall.
There were two other casualties besides the saguaro cactus itself. As many of you may know, some types of birds make their homes in saguaros. This particular saguaro was home to a Cactus Wren and her babies.

https://www.azplantlady.com/wp-content/uploads/2011/09/Large-Saguaro.jpg
640
426
arizonaplantlady@gmail.com
http://www.azplantlady.com/wp-content/uploads/2018/10/favicon.png
arizonaplantlady@gmail.com
2011-09-14 11:38:00
2021-02-12 10:45:58
Death of a Saguaro