For those of you who have been fortunate to have visited the 'Emerald City', you know how beautiful and vibrant Seattle is.


Both my mother and I have been here numerous times and decided to spend most of our time in other parts of the Northwest, but we couldn't just pass Seattle by. We had to spend at least a little while enjoying the sights and sounds.


So where do you go in Seattle when you only have a few hours to spare?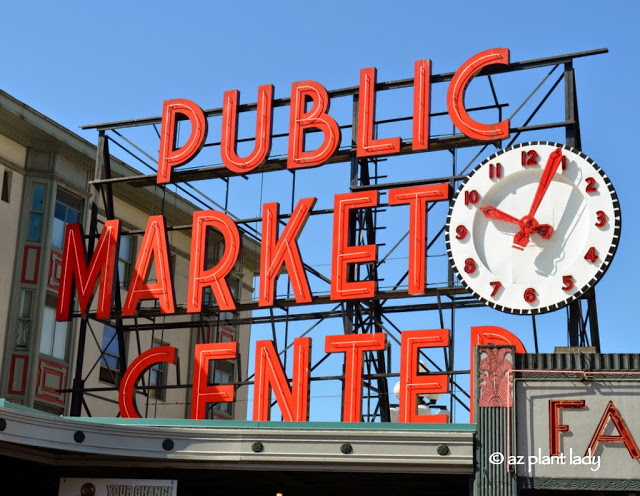 Over 100 years old, Pike Place Market has been described as "Heaven on Earth" and "a browser's heaven".
I like how AAA describes this iconic place in their guidebook: "The sights, the smells, the sidewalk musicians, the seafood-tossing fishmongers and the ambling crowds all make it a sensory experience of the highest order."
Of course, the fish mongers are perhaps, the most popular attraction as they toss large pieces of fish in order to fill orders.
Fish mongers interact with visitors and help them find the perfect seafood for their table.


I must admit that it was fun to watch them yell and toss large fish to each other.
While I don't eat large amounts of seafood, I do like to see the different kinds available.
Pike Place Market has so many different types of fresh fish and other seafood available.
In addition to the fresh seafood, Pike Place Market is also known for their fresh produce and flowers, which was more up my alley.
The produce was so bright and colorful and looked absolutely delicious.
I love berries and grapes! Once I get home, I plan on making some jam from my own blackberry bushes.
Farmers markets are great places to see vegetables that may not make it to your local supermarket.
Of course, I always tend to find myself spending a lot of time next to the flower stalls.
I decided that if I were ever to get married again that I would have my bouquet made up of peonies.
Just a note – I have been happily married almost 29 years and have no plans on walking down the aisle again.
Pike Place Market is also filled with shops and a large variety of ethnic food places.
You can easily buy a baguette at a French bakery, pick up some fresh cheese and some fruit for a delicious lunch.


There is one place where there is always a line of people eager to get a certain beverage…
Pike Place Market is where the first Starbucks opened in 1971.
People happily wait in line for their favorite Starbucks beverage so that they can say that they visited the first one.


In addition to the seafood, fresh produce, flowers and great places to eat are a variety of shops carrying souvenirs, clothing and just about everything else.
'Rachel' is the mascot of Pike Place Market and is a large piggy bank. The money she collects is used to benefit social services. People say if you rub her snout after giving a donation that you will have good luck.


The marketplace is big and ideal for walking and people watching. There is no 'secret' method for seeing everything. Simply walk into one of the many entrances and just stroll throughout.


I came away with several flavored pastas, including chocolate, habanero chili pasta and garlic chives, which I will share with my family once I get home.


After leaving the market and Seattle, we headed up north toward Canada. Along the way, we decided to visit the town of Sequim, which is famous for the lavender that is grown there.


I was surprised to learn that they produce the most lavender in the United States.


We decided to visit one of the lavender farm, called Purple Haze Lavender.
The sight of the cute farm house greeted us as we drove into the parking lot for the small store onsite.
Small lavender plants were available to buy right outside of the store.
While the lavender won't be in bloom until summer, it was still beautiful.
This spot in Washington, is relatively dry, receiving only 17 inches of rain per year, which makes it a great area to grow lavender, which don't like soggy soils.
Among the grounds were blooming clematis climbing over an arbor.
Chickens, a peacock and an orchard filled with fruit trees were located alongside the lavender fields.
The store had just about any type of lavender product, including lavender ice-cream.
Who wouldn't love a view like this?
We left the farm with a new appreciation for lavender.


You can visit Sequim for their annual Lavender Festival in July.


Our journey resumed toward Port Angeles, Washington. Tomorrow, we will tour the Olympic National Forest before leaving for Victoria, Canada.

https://www.azplantlady.com/wp-content/uploads/2015/05/DSC_0427.jpg
496
640
arizonaplantlady@gmail.com
http://www.azplantlady.com/wp-content/uploads/2018/10/favicon.png
arizonaplantlady@gmail.com
2015-05-19 05:12:00
2022-10-24 05:59:47
Road Trip Day 4: The Ultimate Farmers Market and a Lavender Farm