Well, we have been home and it is still taking a little while to get settled. This also extends to my blogging….I am running a little behind.
I have enjoyed putting together posts about our recent trip to the east coast and one of my favorite destinations was the colonial town of Williamsburg, Virginia.
Colonial town of Williamsburg, Virginia.
I had visited Williamsburg when I was 12 years old and couldn't wait to experience it again as an adult and through my children's eyes. The weather was perfect and I could hardly wait to see my kids experience a living history or our country.
Before we even made it into the town, the kids and I visited the fabulous gift shop to get some ideas of what type of souvenirs we would want to purchase on our way out. Gracie and Kai loved the hats.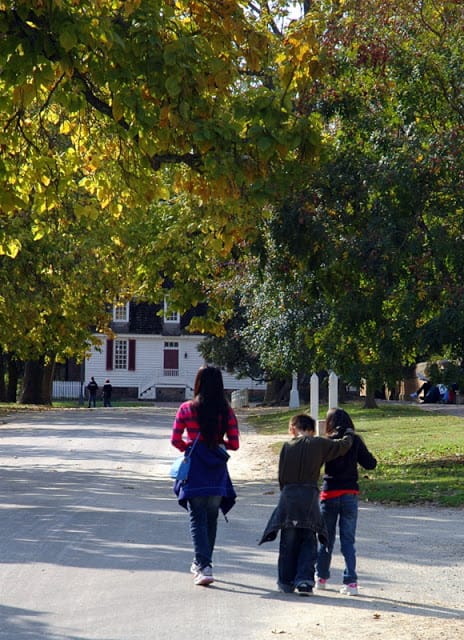 It makes me happy to see how well the kids get along with each other. Kai was walking with his arm around Gracie.
The kids were eager to get started and our first stop was to a special orientation that they had especially for kids.
The boys had to line up across from the girls and learn how to bow….
The girls had to learn how to curtsy….my curtsy was a little rusty 😉
One destination that I was very excited to see was the colonial garden and nursery.
My mother, Pastor Farmer, also loves to garden and my husband knew we would be exploring the colonial gardens for a while 😉
Bell jars to protect plants from the cold and a reproduction of an old bird feeder were on display.
I was happy to find some plants that I recognized at the entrance…..Bush Lantana.
Plants such as Beauty Berry above are not familiar to my southwestern eyes, but I did recognize it because I had seen it in my fellow bloggers gardens in more temperate areas.
It was so cool to see the gardener in colonial garb. They had a myriad of different vegetables, herbs and flowers growing, using old fashioned methods.
Now there were some plastic markers used for the vegetables and I did see some California varieties of broccoli being grown, so I'd see this garden was a blend of both the old and the new.
As my mother and I got ready to drag ourselves away from the gardens, we discovered two surprises that my mother hastened to point out to the kids….
Two caterpillars that will turn into beautiful Swallowtail butterflies.
We went on to the local church and the kids got to sit in George Washington's reserved pew. He attended the church back when he was a General, before he became president.
I think the best part of the day for the kids was getting to ring the old church bell…
Ruthie and Kai loved to stop and pet the horses. But I think that Kai's favorite part was seeing all of the guns stored in the town's magazine.
We stopped by the courthouse and then had fun showing the kids where people were punished once they were sentenced….
Afterwards, the kids had a new respect for 'time out' 😉
Colonial town of Williamsburg, Virginia.
We had a fabulous day and took one last picture before we loaded up into the minivan on our way to Washington DC.
Now we were off to Washington DC……a great place to visit, but I literally walked my feet off there ….more later 🙂
I appreciate you letting me share my trip with you!

https://www.azplantlady.com/wp-content/uploads/2010/11/DSC_0077.jpg
640
481
arizonaplantlady@gmail.com
http://www.azplantlady.com/wp-content/uploads/2018/10/favicon.png
arizonaplantlady@gmail.com
2010-11-02 23:59:00
2021-02-19 10:24:46
Adventures in Williamsburg and a Colonial Garden