Gardeners have long known about white flowering plants and the beauty that they bring to the garden.


The color white is seen by many as a bright, clean color that makes surrounding colors 'pop' visually. Others like how white flowers seem to glow in the evening and early morning hours in the landscape.


Thankfully, there are several white flowering plants that do very will in the Southwestern landscape. Last time, I showed you four of my favorites, which you can view here.


Today, let's continue on our white, floral journey…


Desert Primrose (Oenothera deltoides)
The arrival of spring transforms the low-growing green foliage of desert primrose with the appearance of beautiful white flowers. What makes these flowers somewhat unique is that as the flowers fade, they turn pink.
Desert primrose looks best when used in a landscape with a 'natural' theme or among wildflowers.
The flowers appear in spring and summer on 10″ high foliage. Hardy to zone 8 gardens, this small perennial is native to Southwestern deserts.
White Globe Mallow (Sphaeralcea ambigua 'White')
This is a shrubby perennial that is in my own landscape. While the most common color of globe mallow is orange, it does come in a variety of other colors including red, pink and white – all of which I have.
The white form of globe mallow shares the same characteristics of the orange one – it thrives in full sun and can even handle hot, reflected sun. The foliage is gray and looks best when cut back to 1 ft. high and wide after flowering in spring.
I pair white globe mallow alongside my pink ones for a unique, desert cottage garden look.
See what I mean about white flowers helping other colors to stand out visually?
Hardy to zone 6, globe mallow grows to 3 ft. tall and wide. It does best in full sun and well-drained soil.
To learn more about this beautiful desert native, click here.
Blackfoot Daisy (Melampodium leucanthum)
Blackfoot daisy is another perennial that looks great in a natural desert themed landscape. This ground cover produces sunny, white daisies in spring and fall in desert climates – it flowers during the summer in cooler locations.
Hardy to zone 5, blackfoot daisy can handle extreme cold when planted in ful sun. I like to plant it near boulders where it can grow around the base for a nicely designed touch.
Blackfoot daisy grows to 1 ft. high and 18 inches wide.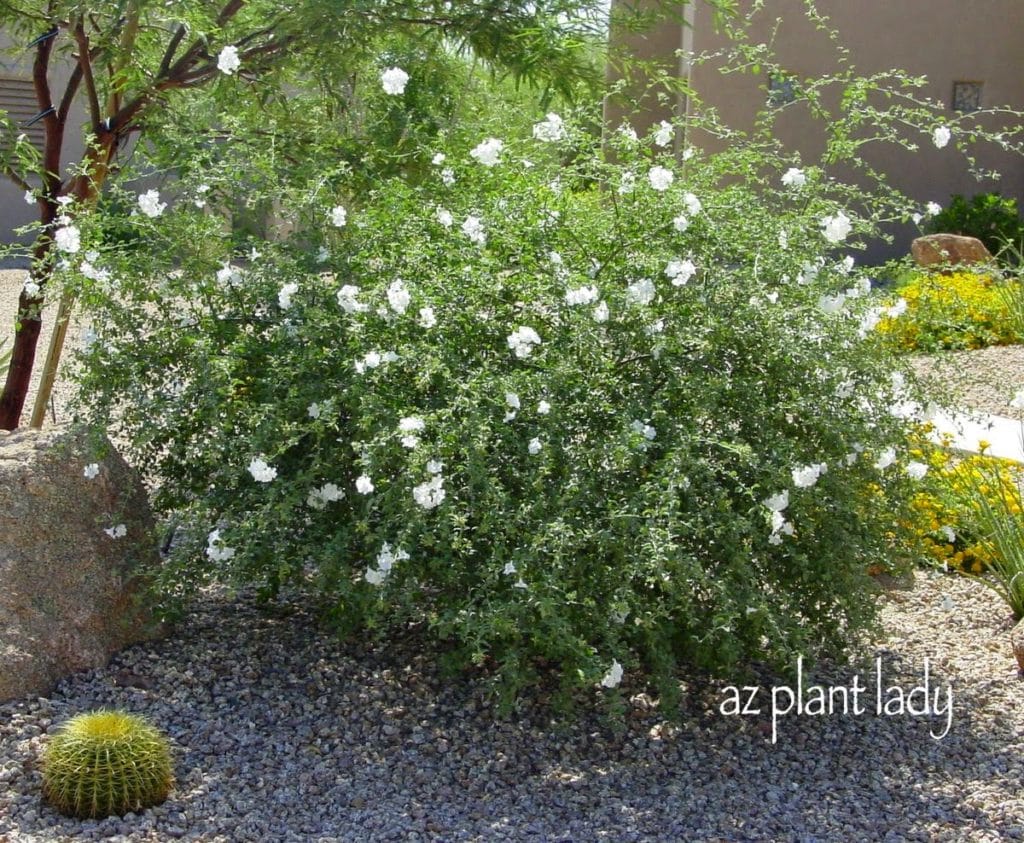 Little Leaf Cordia (Cordia parvifolia)
This white flowering shrub is not used often enough in the Southwestern landscape in my opinion. It has beautiful flowers, needs little pruning if given enough room to grow, is extremely drought tolerant and evergreen.
Little leaf cordia can grow 4 – 8 ft. tall and up to 10 ft. wide. Unfortunately, some people don't allow enough room for it to grow and shear it into a 'ball'.
You can go 2 – 3 years or more between prunings. It's best when left alone to bear its attractive, papery white flowers spring into fall.
Hardy to zone 8, little leaf cordia does great in full sun and well-drained soil.
'White Katie' Ruellia (Ruellia brittoniana 'White Katie')
During a visit to a nursery some time ago, I noticed a white flowering variety of the more commonplace purple 'Katie' ruellia and I immediately decided that I liked the white color better.
'White Katie' ruellia grows to 8 inches tall and 1 1/2 ft. wide in zone 8 gardens and warmer. It looks great when planted in groups of 3 or more. You can plant it alongside the purple variety for a fun color contrast. It does suffer frost damage when temps dip below freezing, but recovers quickly in spring.
This white flowering perennial does best in morning sun or filtered shade in desert gardens.
I hope you have enjoyed these white flowering plants. Next time, I'll show you some plants that produce white flowers that also grow in the Southwest, but may be somewhat unexpected.

https://www.azplantlady.com/wp-content/uploads/2014/11/Oenotheradeltiodesandberlandieri-1.jpg
795
1200
arizonaplantlady@gmail.com
http://www.azplantlady.com/wp-content/uploads/2018/10/favicon.png
arizonaplantlady@gmail.com
2014-11-20 14:30:00
2016-10-26 14:35:43
White Flowers for the Southwest Landscape: Part 2