I want to share with you three amazing plants that I encountered on Saturday, each with pink flowers, yet each one so different from the other. I spent the afternoon at the Arboretum at Arizona State University (my alma mater). Many people are surprised to find out that they have a wonderful arboretum that encompasses the entire main campus. I had a wonderful time just walking around and taking pictures of beautiful trees and plants, my husband patiently trailing behind me with the kids.
OK, first the pretty…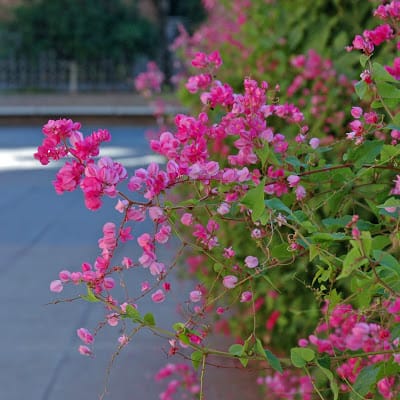 Queen's Wreath, Coral Vine (Antigonon leptopus)
Queen's Wreath is a beautiful vine that is native to Mexico and Central America. Stunning pink sprays of flowers appear in spring and last until the first frost. The most common variety has vibrant pink blossoms. However, there is a scarlet variety 'Baja Red' and also a rare white variety as well. Bees are attracted to the flowers, and the leaves are an attractive heart-shape.
Queen's Wreath can grow in full sun including areas of reflected heat. It will also grow in light shade although flowering will be reduced.
This beautiful vine will die back at the first frost, but it's roots are hardy to 20 degrees F. In the spring, it quickly grows back and requires a trellis, fence or an arbor for support.
**When we bought our first home in Phoenix, there was support made up of twine tied between two Palm trees. We had no idea why, but it sure looked ugly. Well, before we had time to remove it, beautiful, light green, heart-shaped leaves began climbing up the twine support and quickly covered it. Then gorgeous sprays of pink flowers promptly followed, which was a pleasant surprise.
Next, the amusing…..
Chinese Lantern Tree, Sickle Bush (Dichrostachys cinerea)
I had to laugh when I saw this flower. I think it looks like it is having a bad hair day. You can see why some people call it Chinese Lantern tree because the flowers do resemble them and it sounds better than calling it "Bad Hair Day Tree."
The tree itself is relatively unremarkable. The flowers are not distinct. It is native to the tropical areas of Africa, parts of Southeast Asia and Australia. It grows well in full sun or filtered shade. In wet, tropical areas, it can be invasive. However, in our dry climate, that is not a problem.
Seed Pods
**Okay, I have to admit, that I had to look up information on this Chinese Lantern tree – I hate admitting that. I do not profess to know about every type of plant; this is easily evidenced by my travels to colder climates where I know about only a fraction of what the plants are there. But this one was in my backyard. I had never seen this type of tree before and had never learned about it either. So, I went through my countless dry climate plant books hoping to find what type of tree this was, and only one book had it listed, (which made me feel better). It is not common here in Arizona, but I guarantee that I will never forget it.
Now finally, the unique…
Floss Silk Tree (Ceiba speciosa, formerly Chorisia speciosa)
The flowers of this tree make you stop in your tracks – they are that beautiful and unique. Unfortunately, the flowers were all gone except for the one above, which was almost ready to fall. The flowers are produced primarily in fall and winter months. Some trees will produce flowers once they drop their leaves in winter, while other varieties flower both with and without the leaves being present. Although the flowers are a striking feature, there is more…
Their trunk is covered with cone-shaped thorns.
This beautiful tree does well in full sun or part shade. They do grow quite large, up to 40 ft. Wide and 50 ft. Tall. Silk Floss trees are native to Brazil and Argentina.
**So, I was done for the day. I had two memory cards full of photos, sore feet, and a patient husband and kids, walking with me to the car. I was about to get in when I saw the Silk Floss tree next to the parking garage. So my husband, who knows me all too well, wordlessly unpacked the camera so I could take the last few photos. Occasionally see these trees around the Phoenix area, but rarely, so I was thrilled to get these pictures.
I hoped you enjoyed my visions of pink. I will post more of my expedition at a later time. I'm pretty sure it will take me a long time to catalog all of the photos I took.
Can You Over Water Your Plants in the Desert ?

https://www.azplantlady.com/wp-content/uploads/2009/10/Antigonon-leptopus-flowers-6.jpg
400
400
arizonaplantlady@gmail.com
http://www.azplantlady.com/wp-content/uploads/2018/10/favicon.png
arizonaplantlady@gmail.com
2009-10-26 15:19:00
2021-03-22 08:02:43
Visions of Pink – One Pretty, One Amusing and the Other Unique