For those who live in the western half of the United States, water has always been a precious resource. In recent years, this has become especially true during a long-term drought has made its impact felt.
As a result, many of us find ourselves looking for ways to save water. The first place you should start is your landscape as that is the largest percentage of your water consumption.
Today, I'd like to show you examples of three different low water landscape options:
Option #1
Drought Tolerant – This landscape is characterized by lush green, semi-tropical flowering plants. These include bougainvillea, lantana, oleanders, and yellow bells. All these do well in hot, arid climates in zones 9 and above. While most aren't native to the Southwest, they are considered moderately drought tolerant and suitable for those who want more a lush look for the desert garden.
For best results, deep water approximately once a week in summer and every 2 weeks in winter.
Option #2
Moderately Drought Tolerant – Native, flowering plants make up this type of landscape. Plants like chuparosa, damianita, penstemon, Texas sage, and turpentine bush are examples of this.
Because these plants are native to the Southwestern region, they need infrequent watering to look their best – a good guideline is to water deeply approximately every 10 days in summer and every 3 weeks in winter.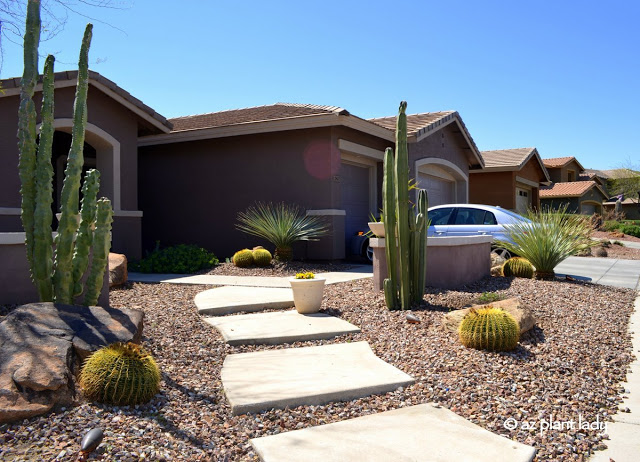 Option #3
Extremely Drought Tolerant – For a landscape to exist on very little water, a collection of cacti and succulents are the way to go. Columnar cacti such as Mexican fence post, organ pipe, saguaro, and totem pole add height to the garden. Lower growing succulents like agave, candelilla, and desert milkweed can be used for mid-level interest.
Golden barrel, hedgehog cacti and mammillaria fill in smaller spaces and look great next to boulders. Once established, they do best with watering approximately every 3 weeks spring through fall.
It's important to note that shrubs should be watered deeply to a depth of 2 ft., which promotes deep root growth, and the soil stays moister longer. Succulents do well at 12″ depth.
**Watering guidelines can vary from region to region within the desert Southwest, so it's wise to consult with your local city's landscape watering guidelines.
Whichever option you select, creating an attractive water-saving landscape is within your reach that will thrive in our drought-stricken region.
Gifts for the Gardener: Books for Water Wise Gardening

https://www.azplantlady.com/wp-content/uploads/2015/11/water_saving_landscape_Southwest-002.jpg
534
640
arizonaplantlady@gmail.com
http://www.azplantlady.com/wp-content/uploads/2018/10/favicon.png
arizonaplantlady@gmail.com
2019-11-21 07:00:00
2022-09-18 03:39:40
Water Saving Landscapes: 3 Options