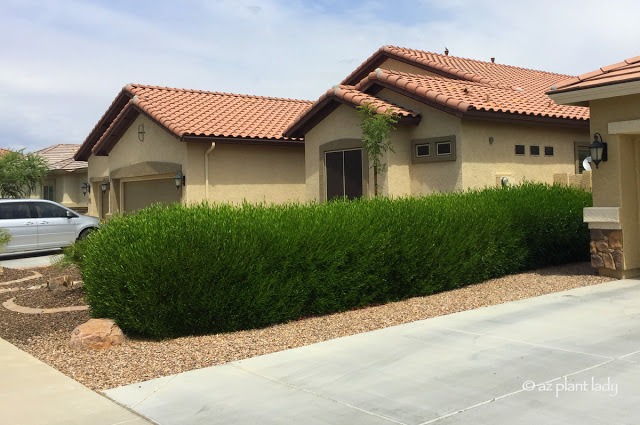 Beautiful Hop Bush Shrub (Dodonaea viscosa)
I am always on the lookout for great examples of plants in the desert landscape. In my work as a landscape consultant, I drive through countless neighborhoods, which allows me to see lots of ideas.
A few years ago, I drove by a house that had a beautiful Hop Bush shrub (Dodonaea viscosa).
This evergreen, drought-tolerant shrub does wonderfully in our southwestern climate, and it is a frequent addition to landscapes I design. 
It's versatility is one of the reasons it is near the top of my favorite shrub list.
Hop Bush is a great substitute for Oleander shrubs.
They can grow up to 12 feet tall or be maintained at a shorter height – basically you can decide how large it gets.
Their height makes them a great choice to screen out an unattractive view in spaces where a tree won't fit while providing shade for for windows.
Hop Bush can be allowed to grow into their natural shape or pruned more formally.
Native to the Southwest, Hop Bush is quite versatile and relatively fuss-free, especially if maintained by pruning every 6 months or so, as shown above. Here is another example of a hop bush shrub that has been pruned more formally, which it handles well.
Of course, you can always let it grow into its more natural form as a large shrub.
For more information on hop bush including what its flowers look like and why it's becoming a popular substitute for oleanders, you can read my earlier blog post – "Drought Tolerant and Beautiful: Hopbush the Alternative to Oleanders."

https://www.azplantlady.com/wp-content/uploads/2016/05/Dodonaea_viscosa_hedge_Hopbush.jpg
425
640
arizonaplantlady@gmail.com
http://www.azplantlady.com/wp-content/uploads/2018/10/favicon.png
arizonaplantlady@gmail.com
2016-05-19 13:30:00
2022-10-15 04:52:07
An Attractive, Drought-Tolerant Hedge for Southwestern Gardens: Hop Bush