Exploring the Charm of a Hidden Garden
Unearthing Beauty in the Encanto District
Have you ever discovered a hidden garden in a surprising place?

A few years ago, I found myself driving through the historic neighborhoods of the Encanto district in downtown Phoenix. I had finished up a landscape consultation in the area and decided to drive through the nearby neighborhoods in the historic district.
A Blooming Hidden Garden Oasis Amidst Urban Skyscrapers
My initial goal was to see if I could find the home my grandparents owned in the 1940's. While I didn't find the home, I did find a house that stopped me in my tracks.
What first drew my eye was this parking strip (also known as a 'hell strip') between the sidewalk and street, filled with a bounty of flowering annuals and perennials.
A Kaleidoscope of Colors
The dazzling hues of California poppies, red flax, and plains coreopsis captivated my senses. Against the backdrop of the Veteran's Memorial Coliseum, I marveled at the unexpected beauty thriving in the heart of downtown Phoenix.
And so, I whipped out my phone and started to take pictures. The bright colors of California poppies, red flax, and plains coreopsis caught my eye, while in the background I noticed the old, Veteran's Memorial Coliseum where the Arizona State Fair is held every fall.
As I made my way up the planting bed, I saw more colorful, annual flowers. They are intermixed with globe mallow, 'Thundercloud' sage and red yucca.
One flower that I did not expect to see in the desert garden, not to mention downtown Phoenix, was larkspur with its deep purple spikes.
Multi-colored bachelor's button flowers grew among scarlet flax and plains coreopsis.
A Backyard Hidden Garden Wonderland
Intrigued by the front garden, I met James, the homeowner's son, who shared the garden's transformation story. He sowed wildflower seeds in the parking strip, watched them flourish, and then graciously revealed the backyard's hidden wonders.
Last fall, James took three packs of wildflower seeds (multiple varieties) and threw them on the bare parking strip. Afterward he added some compost on the top and watered well. Over the months, he has watched them come up and was thrilled at how the hell strip had been transformed.
He then offered to show me what he had done to the backyard – a real hidden garden. I could hardly wait to see it after seeing what he has done on the outside.
(A few of the photos are a bit blurry. I'm not sure what went wrong with my phone's camera. You can still get a sense of the beauty in the backyard.)
Hollyhocks and Timeless Charm
The backyard features a divided lawn with enchanting hollyhocks that self-seed and bloom every spring. An old-fashioned patio set adds a touch of nostalgia. While a concrete pathway, artfully adorned with Bermuda grass, leads to the garage.
I love hollyhocks and have grown them in the past. They self-seed and flower for me every spring. All I give them is a little water – that's all they need.
Floral Edges and Green Delights in this Hidden Garden
The patio's edge bursts with the colors of blanket flowers, bachelor's buttons, and yellow daisies. A 20-year-old crown-of-thorns plant defies its small container, flourishing under James' care. Two Chinese elm trees provide dappled shade on sunny days, creating a tranquil oasis.
The small patio in the back of the house is filled with an old-fashioned table and chairs. They fit the age of the home perfectly!
The pathway separates the two lawn areas and leads to the garage in the back. It was created using concrete molded into geometric shapes.
Bermuda grass is allowed to grow into the cracks for an interesting look.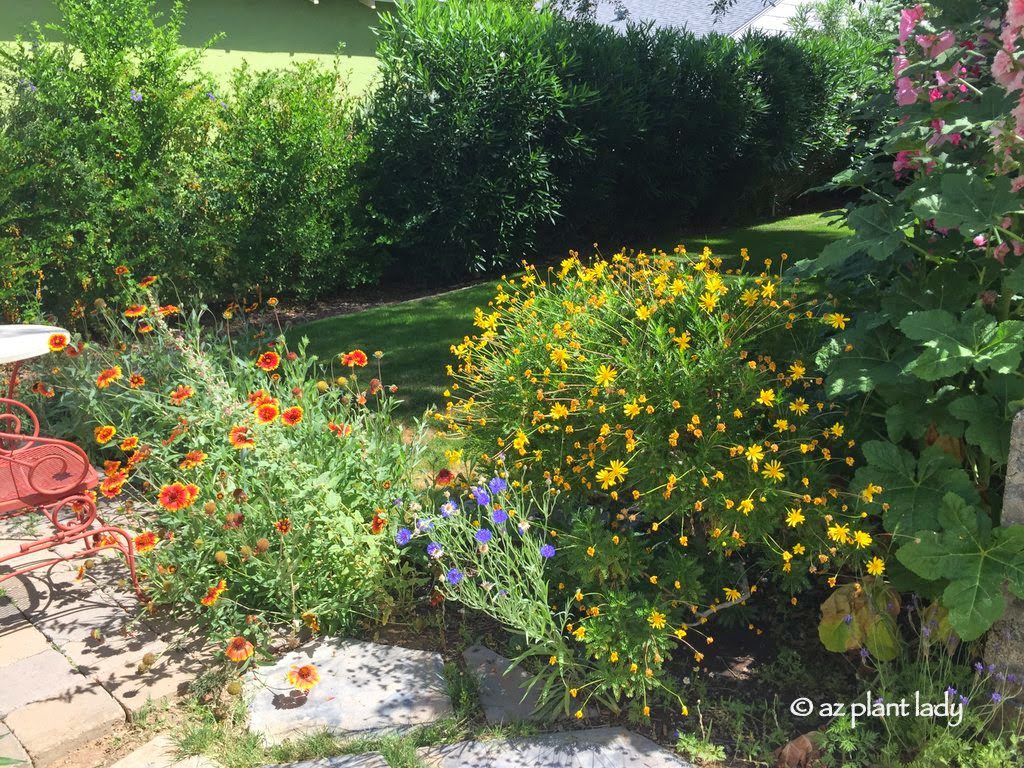 The patio is edged with flowering annuals such as blanket flower, bachelor's button, and yellow daisy (Euryops pectinatus).
In this blurry photo, a large crown-of-thorns plant was thriving in a tiny container. Believe it or not, it is 20 years old and thriving in a very small pot. According to James, he waters it twice a week in summer and weekly throughout the rest of the year.
Two Chinese elm trees provide dappled shade on a beautiful spring day.
A small potting bench stands in front of the wooden fence painted a greenish-chartreuse color. This blends well with the garden.
A Symphony of Water and Shade
A fountain graces the grassy expanse, infusing the air with the soothing sound of flowing water. Imagine the relaxation of enjoying this outdoor haven, even in the height of summer.
How relaxing would it be to enjoy this outdoor space? Even in the middle of summer with all of its shade?
A Final Flourish of Wildflowers
Before bidding farewell to this hidden gem, James revealed the wildflowers he'd planted near the detached garage. Bright pinks and vibrant oranges reminiscent of the '70s adorned the scene. This is a testament to the beauty that emerges from even old seeds.
Bright pink and vibrant orange – doesn't that remind you of the 70's?
These tall poppies were planted from 3-year-old seed that James was going to throw out. I'm certainly glad that he decided to plant them instead.
While old seed won't germinate as well as young seed, you'll often still get some seeds to sprout – just not as many.
Discovering Life's Unexpected Treasures
Life is full of delightful surprises, and this hidden garden is a testament to that. Though modest in size, it's a testament to the power of careful tending. This garden has unexpected beauty that can spring forth from a seed, even in the most unlikely of places.
Keeping America (and Phoenix) Beautiful

https://www.azplantlady.com/wp-content/uploads/2015/04/Hidden_Garden_in_the_Middle_of_Phoenix_Encanto-1.jpg
728
1024
arizonaplantlady@gmail.com
http://www.azplantlady.com/wp-content/uploads/2018/10/favicon.png
arizonaplantlady@gmail.com
2020-04-15 11:45:00
2023-09-27 08:44:39
A Hidden Garden in the Middle of Phoenix