Gather Flower Seeds, Red globe mallow (Sphaeralcea ambigua)
Did you know that some flowering, desert perennials are grown easily from seed? It's true. Many of the plants in my garden are volunteers that grew from seed from my established plants.
I have several 'parental' plants in my front garden along with their babies that have come up on their own with no assistance from me.
Pink globe mallow
My favorite perennials that grow from seed are my colorful globe mallow (Sphaeralcea ambigua). The most common color seen in globe mallow is orange. However, they also come in other colors such as red, pink, and white. You can purchase the less common color varieties, but they can be hard to find at your local nursery.
White globe mallow
When I first designed my garden, I bought pink, red, and white globe mallows. These plants are now over 17 years old and produce a large number of seeds once flowering has ceased. Because these colors can be hard to find, people ask me to sell them seeds that I harvest each year from my colorful perennials.
Light pink globe mallow
Harvesting seeds from spent flowers is easy to do. Once the flowers begin to fade in spring, I look for tiny, dried out seed pods, which is where the seeds are contained. I then pick them off and place them in a little bag. It's important to keep the colors separate so if someone wants red globe mallow, they won't be growing pink or white ones.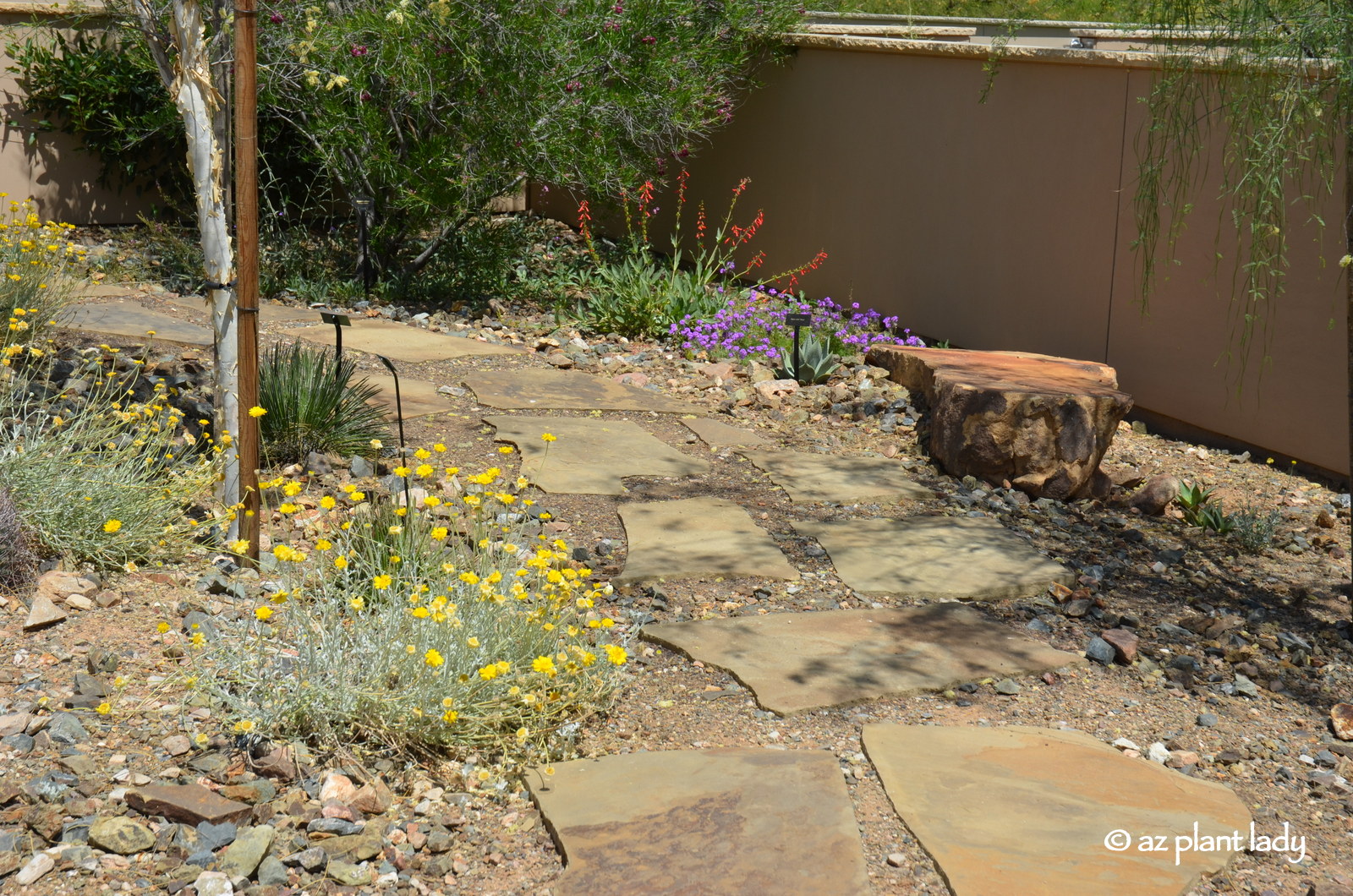 Desert marigold (Baileya multiradiata), firecracker penstemon (Penstemon eatonii), and verbena (Glandularia spp.)
There are other desert perennials that come up easily from seed, such as the ones pictured above in a garden I visited a few years ago.
So how do you grow these drought tolerant perennials from seed? Surprisingly, it's not hard to do, and if you go to a lot of trouble and fuss over them, they probably won't grow. So starting them in little pots and transplanting them isn't the best way to go about it. Instead, sprinkle the seed throughout the landscape, allowing some to fall a foot away from a drip emitter or near rocks. You want to mirror the natural conditions where they sow their seed in nature. Warning: this only works in areas where pre-emergent herbicides are NOT used.
Growing these perennials from seed is very inexpensive, but some patience is needed while you wait for them to sprout. Not all will come up, but those that do, will add beauty to your garden and before you know it, you may be harvesting seed to share with your friends.
What type of plants have you had come up in your garden from seed?
White Flowers for the Southwest Landscape: Part 2

https://www.azplantlady.com/wp-content/uploads/2017/04/red_globe_mallow_sphaeralcea_ambigua.jpg
1064
1600
arizonaplantlady@gmail.com
http://www.azplantlady.com/wp-content/uploads/2018/10/favicon.png
arizonaplantlady@gmail.com
2017-04-10 13:25:29
2020-12-23 09:47:57
Gather Flower Seeds and Spread the Beauty