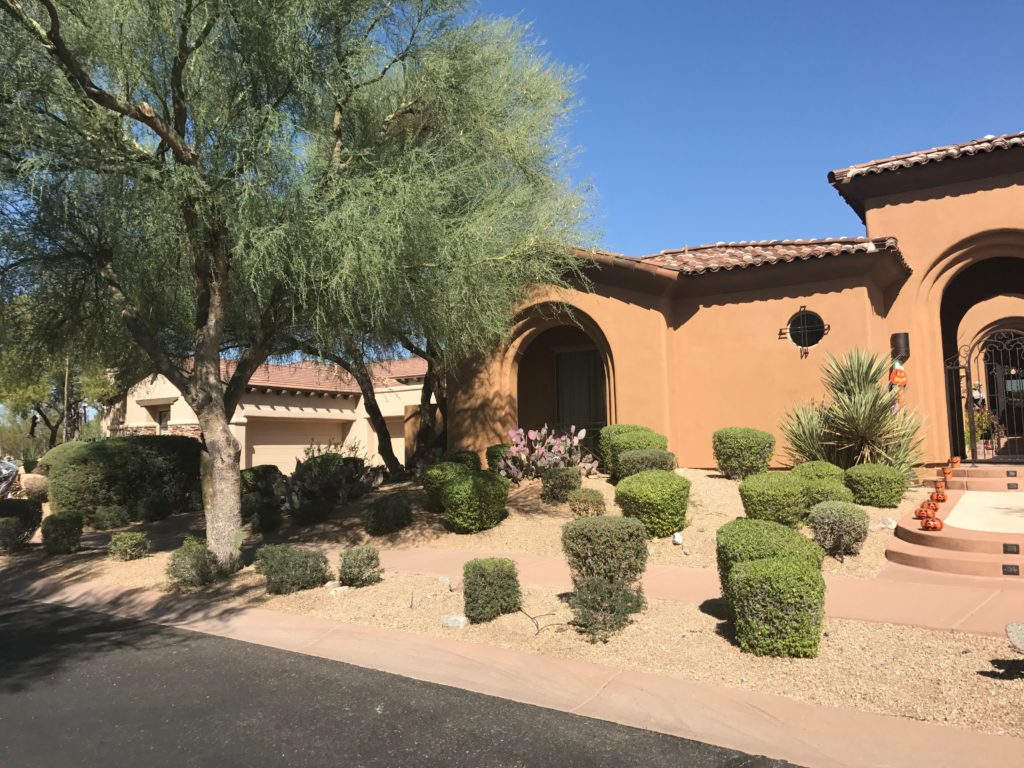 Photo: Landscape No-No
Addressing Issues in Landscaping: A Guide to Pruned Shrubs
Have you ever driven past a landscape that had some problems with it?  As a horticulturist and landscape consultant, my attention diverts whenever I see 'Landscape No-No's' like this one. In this article, we'll examine a landscape example and highlight the problems it presents.

Introduction: Identifying Landscape Problems
A while ago, I shared the photo of the landscape, above, on my Facebook page and invited people to identify three things wrong with the landscape. I received a lot of comments including "looks like Versailles by the inept" and "shrubs arranged like funny-looking ottomans spread across gravel."
It's essential to clarify that the purpose of showcasing landscapes like this isn't to shame homeowners. Instead, our goal is to help you identify common problems and provide straightforward solutions to correct or prevent them in your landscaping projects.
So, using this landscape as an example, let's look at the problems and later, focus on how to solve them: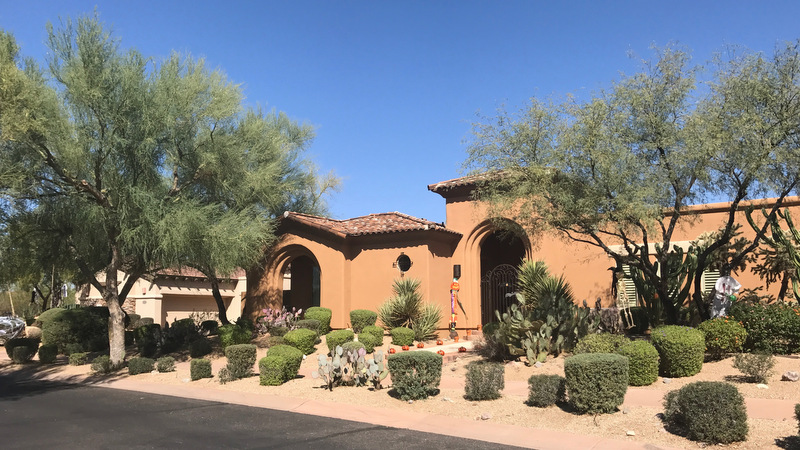 1. Overcrowded Shrubs
It's obvious that there are too many plants in this area and the mature size of the shrubs weren't factored in the original design.  The types of flowering shrubs in this area – desert ruellia (Ruellia peninsularis), Baja fairy duster (Calliandra californica), and 'Green Cloud' sage (Leucophyllum frutescens 'Green Cloud') are good choices. They are clearly spaced too closely together due to poor pruning.
2. Lack of Plant Diversity
As you can see, there is a tree, a couple of succulents (prickly pear cactus & yucca), and a LOT of shrubs. While there is a variety of plants in the landscape, there's an overabundance of shrubs compared to other types. The landscape lacks a balanced mix of different plant types, resulting in an imbalance that affects its overall aesthetics.
3. Incorrectly Pruned Flowering Shrubs
These lovely, flowering shrubs are contorted into anonymous, green blobs. They lack in beauty and character.  In fact, you would have to look closely to be able to identify what each shrub is. The problem is what is missing from this landscape. Primarily attractive shrubs which grow into their natural shapes, covered in colorful flowers. Other problems associated with maintaining flowering shrubs this way are that it is stressful for the plant, shortens their lifespan, causes them to use more water to regrow their leaves, and creates more maintenance.
Solutions: Correcting the Landscape
Now that we have identified the problems, we can now look at the solutions. I will use the landscape above as my example:
Remove excess shrubs. Remove 24 of the 32 shrubs. You will be then have eight flowering shrubs. To decide what shrubs to remove, learn what type of shrub they are and look up how large they are at maturity. Then, make sure that the ones that remain have enough room to grow. Place shrubs up near the house. This anchors the corners of the landscape, and flank an entry.
Severely prune back remaining shrubs. Many shrubs have a 'restart button' where much of the damage that has been done due to excessive pruning can be reversed. Severe renewal pruning entails pruning back shrubs to approximately 1 1/2 feet tall and wide in spring. You'll have nothing left but woody branches and little to no leaves. However, this stimulates plants to produce new, healthy growth. Do this pruning in spring. The key is to keep hedge trimmers away from your newly pruned shrubs forever. Prune with hand pruners, loppers, and pruning saws. This will work with most shrubs except for a few that were in declining health.
Photo: Which one would you rather have? Learn how to maintain shrubs the right way in the desert garden in my popular shrub pruning workshop
Incorporate lower-growing plants such as groundcovers and succulents. A well-designed landscape has plants with varying heights, including those at ground level. For the landscape above, I'd add a few boulders and plant some gopher plant (Euphorbia rigida) and twin-flower agave (Agave geminiflora) alongside them. Other ideas for low-growing succulents include 'Blue Elf' aloe, Moroccan mound, and artichoke agave. Flowering groundcovers would also look nice like angelita daisy (Tetraneuris acaulis), blackfoot daisy (Melampodium leucanthum), and sandpaper verbena (Glandularia rigida). I like to use damianita, trailing lantana, and penstemon for color at lower heights.
Photo: Attractive desert landscape with room for plants to grow
Achieving a Balanced and Beautiful Landscape
Here is a snapshot of a landscape area at the Desert Botanical Garden where plants have room to grow. They grow into their natural shape and form.
Transforming the problematic landscape shown earlier, and others like it aren't difficult, and the results are dramatic.  What a beautiful landscape filled with healthy plants that use less water and need little maintenance.
Are you tired of shapeless shrubs that look like green blobs? I invite you to learn more about how to prune the 'right' way. Attend my online Shrub Pruning Workshop.
DIY Natural Household Cleaner From Citrus Peels

https://www.azplantlady.com/wp-content/uploads/2017/01/badly-pruned-shrubs-002.jpg
3024
4032
arizonaplantlady@gmail.com
http://www.azplantlady.com/wp-content/uploads/2018/10/favicon.png
arizonaplantlady@gmail.com
2021-01-25 07:00:21
2023-09-26 16:14:10
Landscape No-No's and How to Fix Them: Over Planted, Poodle Pruned Shrubs and Lack of Variety