Well, it's that time of year again – time for our annual road trip. Each year, my mother and I dust off our suitcases and embark on a trip where we enjoy the culture, food, history and of course, the gardens of a different region of the U.S.
Each road trip takes 8 – 10 days to complete and we have a lot of fun planning the trip and the places we will see. I also blog daily during our road trip sharing our adventures.
In the past, we have traveled throughout many regions of the country, starting out in one state and ending up several states away at the end. We typically spend one day in each area before going on to the other. So, we pick out one of two things that we want to do in each place we visit.
This year we decided to visit our native state of California. Now, you may be wondering why we decided on going on a road trip through a state that we are intimately familiar with. Our thought was to visit some of our favorite places that we had not seen in years while also seeing new places.
Our first day began early – my alarm woke me up at 3:30. My dear husband got up to take my mother and me to the airport to catch an early flight to Los Angeles.
At this point, I must admit that it was very nice only to spend an hour on an airplane instead of 3, 4 or even 5. The first destination of our trip was to The Getty Center, which consists of a world-famous art museum and beautiful gardens.
As sculpture of a boy holding a frog greets visitors to The Getty Center, Los Angeles
Once you arrive, you park and wait to get on a 5-minute tram ride that takes you to the top of the hill where the large museum sits.
Once we made it to the top, the large white buildings stood before us, filled with all priceless art. Of course being a horticulturist, my attention was focused on the planting area filled with large London plane trees. At this point, my mother knew the likelihood of me stepping indoors to view art was remote, so she said "goodbye" and headed indoors to look at the art exhibits while I headed out toward the gardens.
The London plane trees that caught my attention were planted amidst star jasmine, also known as Confederate jasmine, (Trachelospermum jasminoides). In this area, it is grown as a groundcover instead of a vine.
Variegated elephant's food (Portulacaria afra 'Variegata') takes center stage in this part of the Stream Garden, Los Angeles
The first part of the garden is known as the Stream Garden and runs along the sides of a narrow water feature, which runs through the top of the garden.
Echeverias of all types showed off their assorted shapes, sizes, and colors that gave the space a distinctive, yet attractive look.
In this area of the garden, a 'Sticks on Fire' Euphorbia showed off its bright orange tips.
The water from the Stream Garden emerges out into the Central Garden, which consists of a shallow basin with a living mosaic design made out of neatly clipped shrubs.
Around the sides of this area of the garden are terraced beds that create the appearance of a 'bowl'.
Red and yellow kangaroo paw were starting to bloom, Los Angeles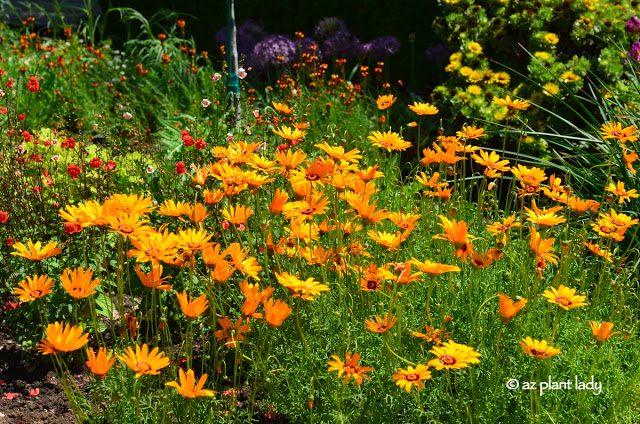 A lovely variety of shrubs and perennials grew within the terraced beds and pathways lead visitors through, allowing them to see the beauty up close.
Archways covered in a combination of potato and snail vine break up the pathways that line the terraced beds and frame vignettes of garden spaces left to be discovered.
Walking through the terraces, there were so many wonderful contrasts in both texture and color.
Purple leaf plum trees
Variegated nasturtium alongside the regular form of nasturtiums.
As you walk toward the top of the Center Garden, there is a more formal planting arrangement.
The top terrace is lined with trees underplanted with 'Silver Lace' society garlic (Tulbaghia violacea 'Silver Lace') whose purple flowers adds a nice cooling element to the garden.
Iconic towers made of rebar where bougainvillea grow up toward the blue sky.
Here is another view of the bougainvillea towers from up above.
Scattered throughout the wide expanse of the travertine tile-covered grounds stand groups of containers filled with creative combinations of drought tolerant plants.
My favorite was this one filled with pink gaura and echeveria.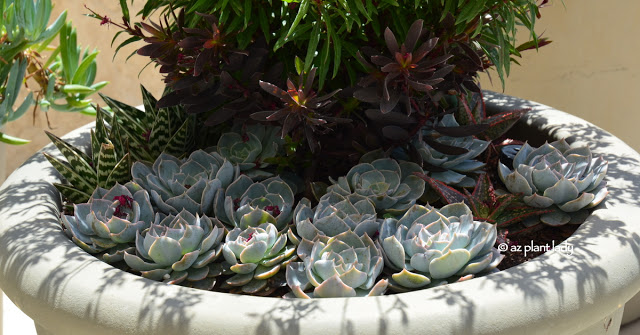 Many of the container plantings had succulents planted underneath the larger plants.
Located on a promontory, is a garden that inaccessible to visitors, but visitors can view it from above. Behind the garden, panoramic views of the city of Westwood and UCLA can be seen.
At this point, you may be wondering if I ever ventured indoors to view any art on display. While I do love gardens, I also enjoy looking at art. As a child, my parents would take us to art museums and I made sure that I had time to see some famous works of art at The Getty Center.
Now before you say that I shouldn't have taken pictures of these two paintings, shown below, I want to say that it was okay to take pictures as long as you didn't use flash photography.
Here were my two favorites – you will probably recognize them:
'La Promenade' by Renoir
'Irises' by Vincent van Gogh
After a wonderful time at The Getty Center, we continued on our journey through Los Angeles. On the way, we stopped off to look at the house where I spent the first ten years of my childhood.
The house looks much the same as when we lived there. The white picket fence is a newer addition, but the birch tree and large ash tree are still there.
There were roses growing in the garden, which made me remember those that my dad had always planted in that very same garden.
After leaving Los Angeles, we drove north to Ventura, which is about an hour away. Before heading to our hotel, we drove by a place where a momentous event occurred.
This is the church where my husband and I were married almost 30 years ago. My mother was a pastor there at the time and married us.
As you may have guessed, California is a very special place to me.
I can't wait to share our upcoming adventures with you tomorrow, which includes a visit to a VERY secret garden.
**I invite you to revisit some of our previous road trip adventures from the Midwest, Northeast, South and Northwest.

https://www.azplantlady.com/wp-content/uploads/2016/04/IMG_2507.jpg
480
640
arizonaplantlady@gmail.com
http://www.azplantlady.com/wp-content/uploads/2018/10/favicon.png
arizonaplantlady@gmail.com
2016-04-16 03:38:00
2022-10-16 03:59:07
California Road Trip: Day 1 – A Hilltop Garden, Art and a Trip Down Memory Lane