Spring in the desert Southwest is a busy time of year. While those that live in colder climates countdown the days until March 20th, the spring season often begins a full month earlier in the low to middle desert.
As a horticulturist / landscape consultant, my days are quite busy in spring assisting people with their gardens.
A Week in the Desert Southwest: Embracing Creative Containers
Today, I thought that I would show some glimpses of a typical week in spring filled with creative containers, new xeriscapes, cacti flowers and the heavenly fragrance of orange blossoms.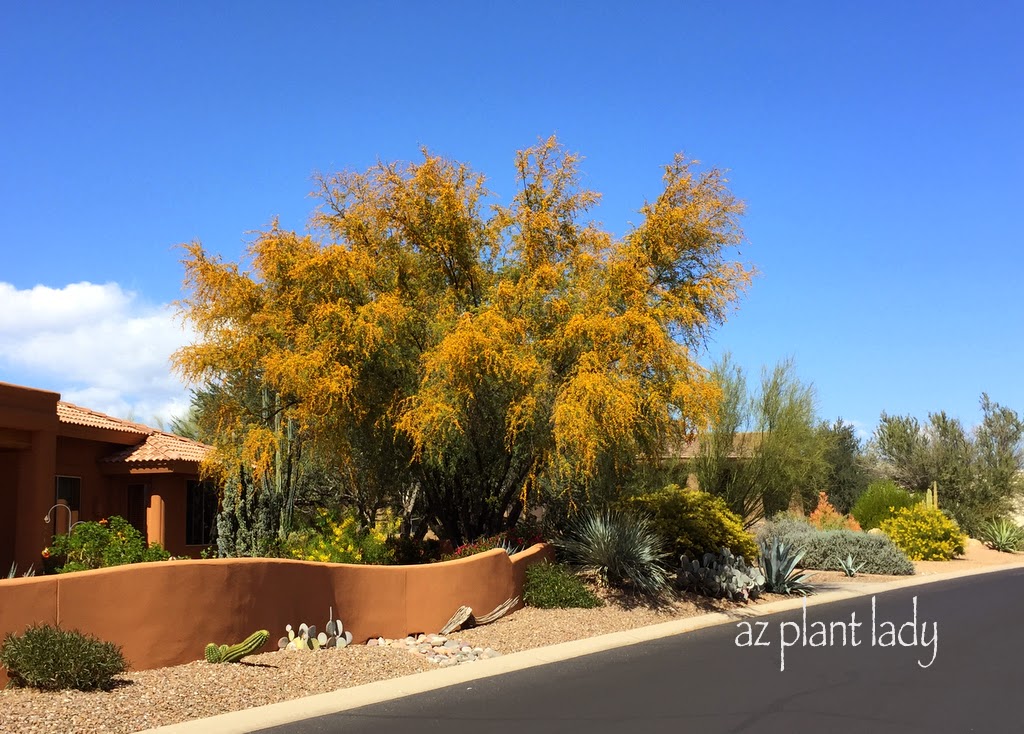 Showcasing Beautiful Xeriscapes
The weather this past week has been warm, in the low 80's. Spring-flowering plants were in full bloom such as this sweet acacia tree which produces small, golden, puffball flowers. I love how the deep yellow looks against the blue sky, don't you?
Often, in my travels assisting clients, I see some great examples of beautiful xeriscapes.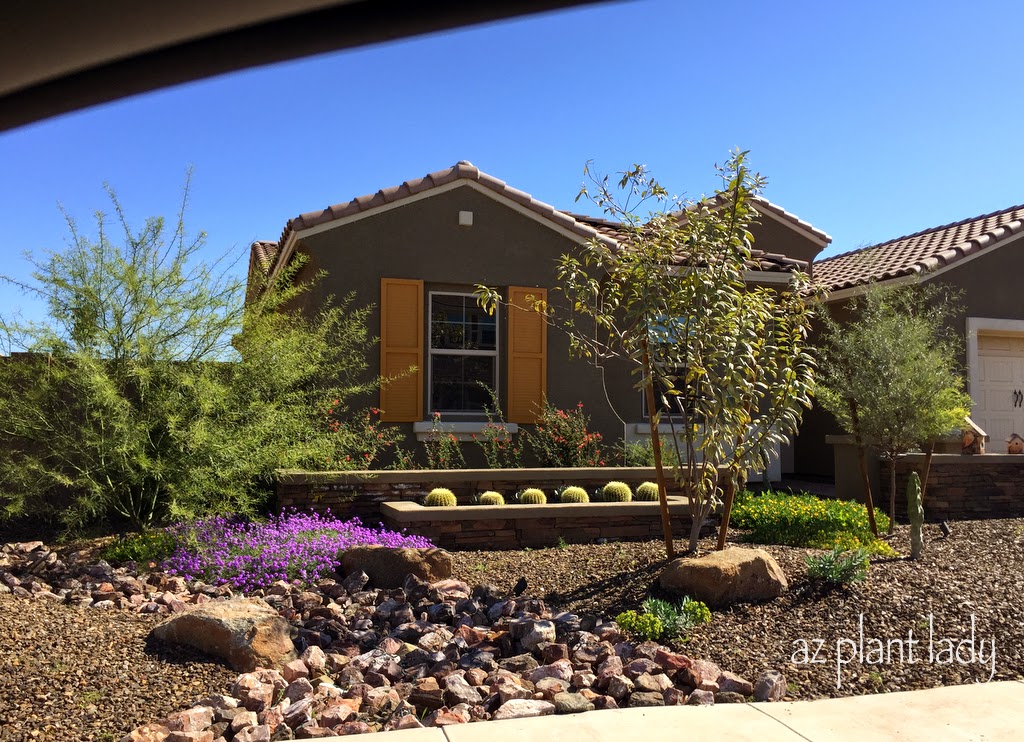 This is a newly planted landscape which stood out from the surrounded homes with its mature plants, the selection of desert-adapted plants and the nice design.
The vibrant purple flowers of the verbena (Glandularia pulchella) demanded attention from passersby. I also liked how the golden barrel cacti looked in the raised bed.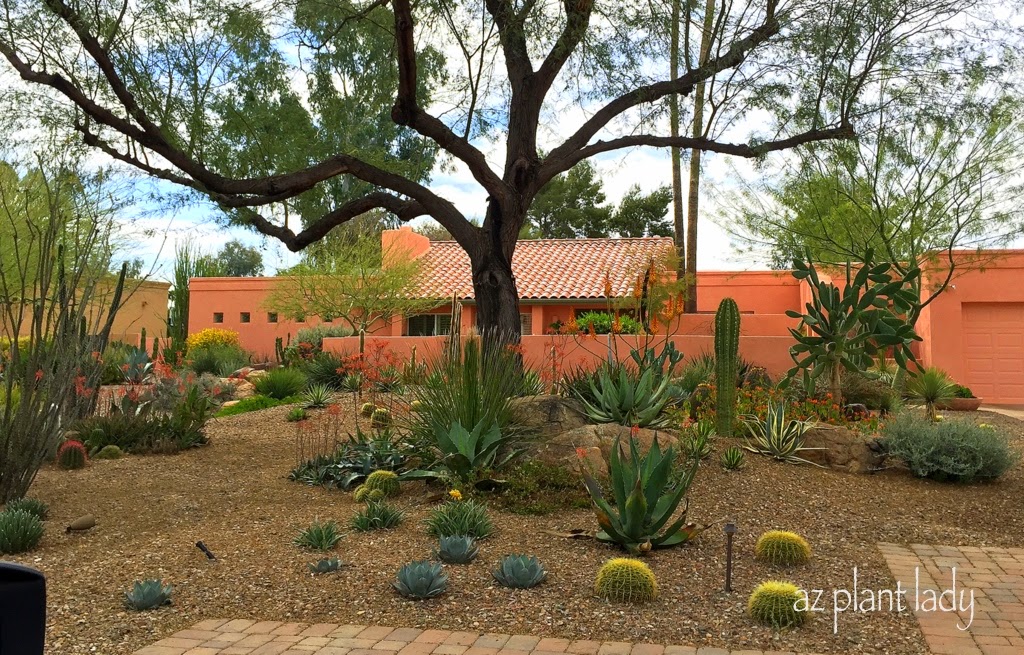 A Succulent Wonderland
Another landscape that I saw this week was filled with countless different types of plants. Often, when you have too many kinds of plants, the effect can appear 'messy' visually. But, not with this landscape filled with succulents of all sorts including aloe, artichoke agave and golden barrel cacti.
While driving by a church landscape that I had designed previously, I stopped to take this photo of the damianita (Chrysactina mexicana), which was in full bloom. I absolutely love this plant and have several in my own garden.
A Visit to Verde Valley Nursery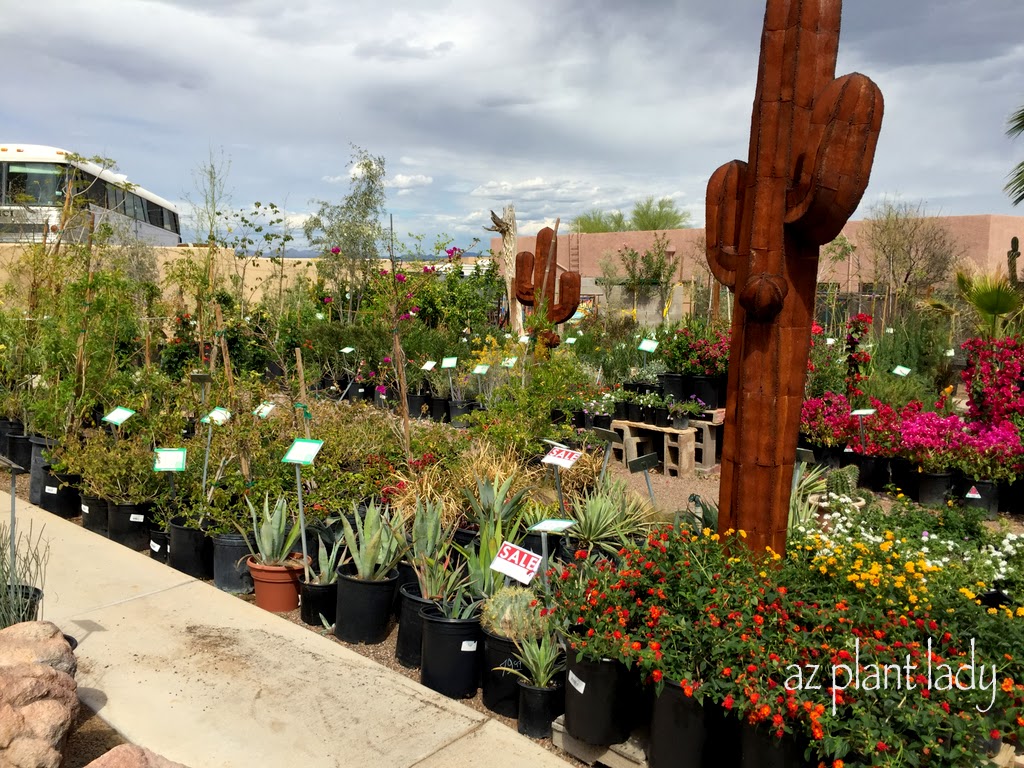 I took a few moments to stop by a small, local nursery in Fountain Hills, AZ – Verde Valley Nursery. My visits always last longer than I plan because I love looking at all the new plants in stock.
Creative Containers: A Splash of Color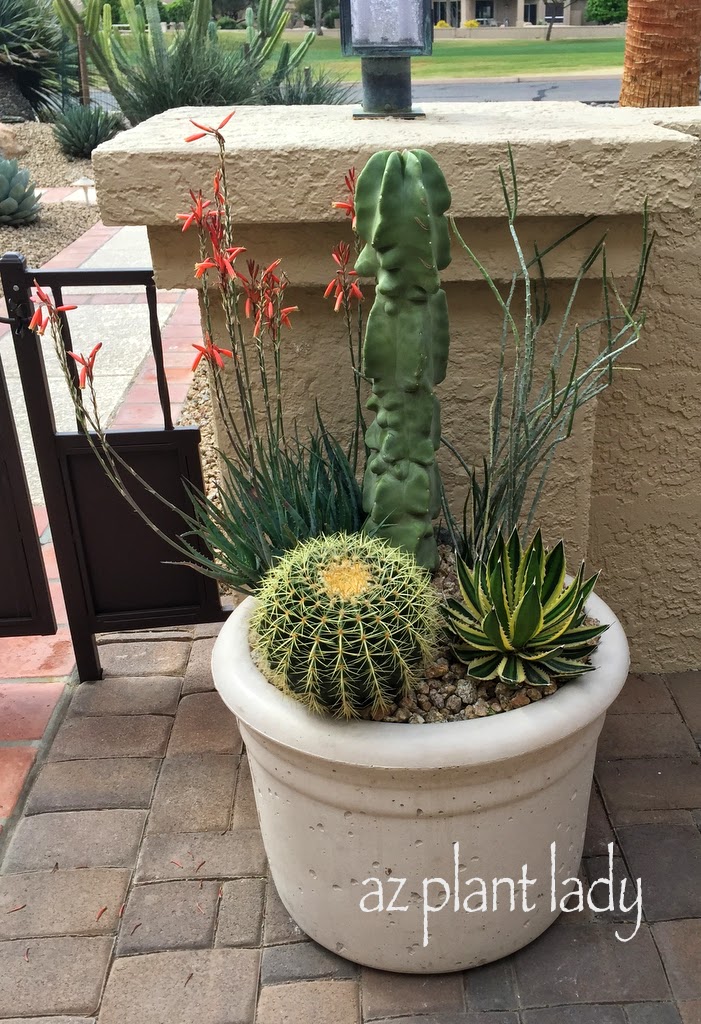 During visits to a few of my regular clients, who have me come by on an annual basis, I saw some great examples of container plants, including this one filled with Blue Elf aloe, golden barrel, small variegated agave and totem pole 'Monstrosus' cactus.
This looks so nice, it almost makes it easy to skip planting high-maintenance annual flowers.

I really liked this container. Many people have problems growing flowers in entryways where there is not enough sun. In addition, there is the burden of having to water frequently that can lead to stains on the concrete.
This colorful container is filled with dried, flowering agave stalks – I love it!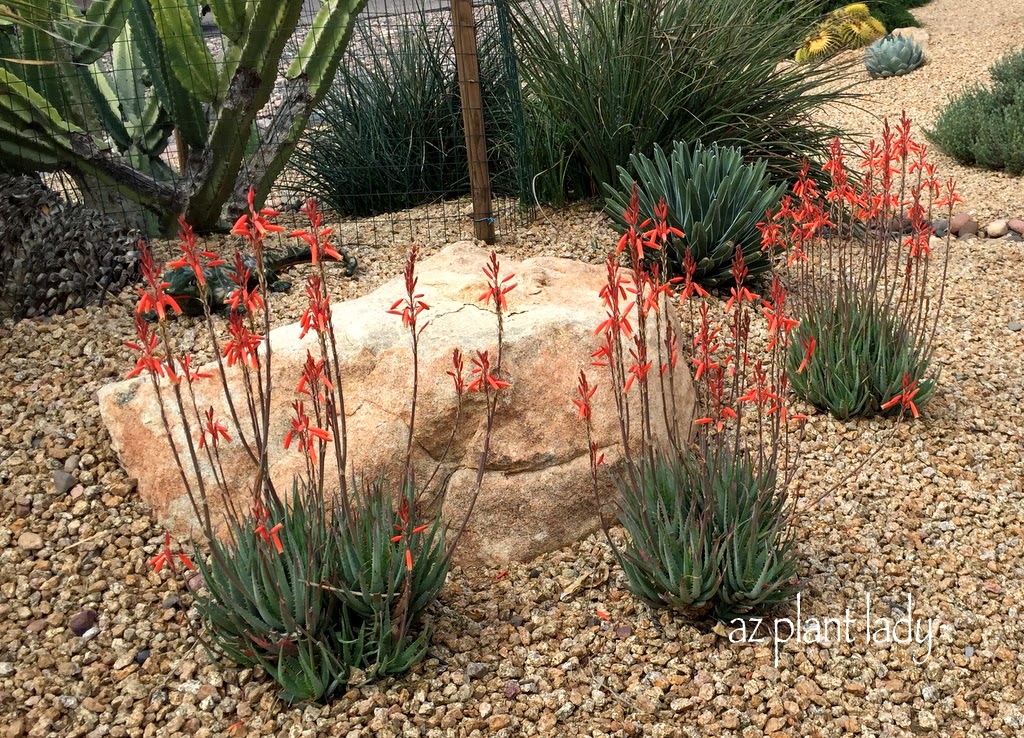 One of the joys of my job is when clients invite me back to see their landscape and sometimes recommend a few 'tweaks'. It was during one of these repeat visits that I saw this trio of Blue Elf aloe, which looks great when planted next to boulders, don't you think?
Unusual Sights in the Landscape
Sometimes, I see things that are somewhat unusual, like this Mexican fence post cactus (Pachycereus marinatus) that was forming flowers. They do not always flower in the low desert, so this was a really neat to see close up.
A Palette of Purple Flowers
Visions of purple-flowering plants filled my week. While on a date night with my husband, we strolled through our local outdoor mall and I saw these lovely sea lavender (Limonium perezii). They do best in areas with filtered sunlight in the desert garden.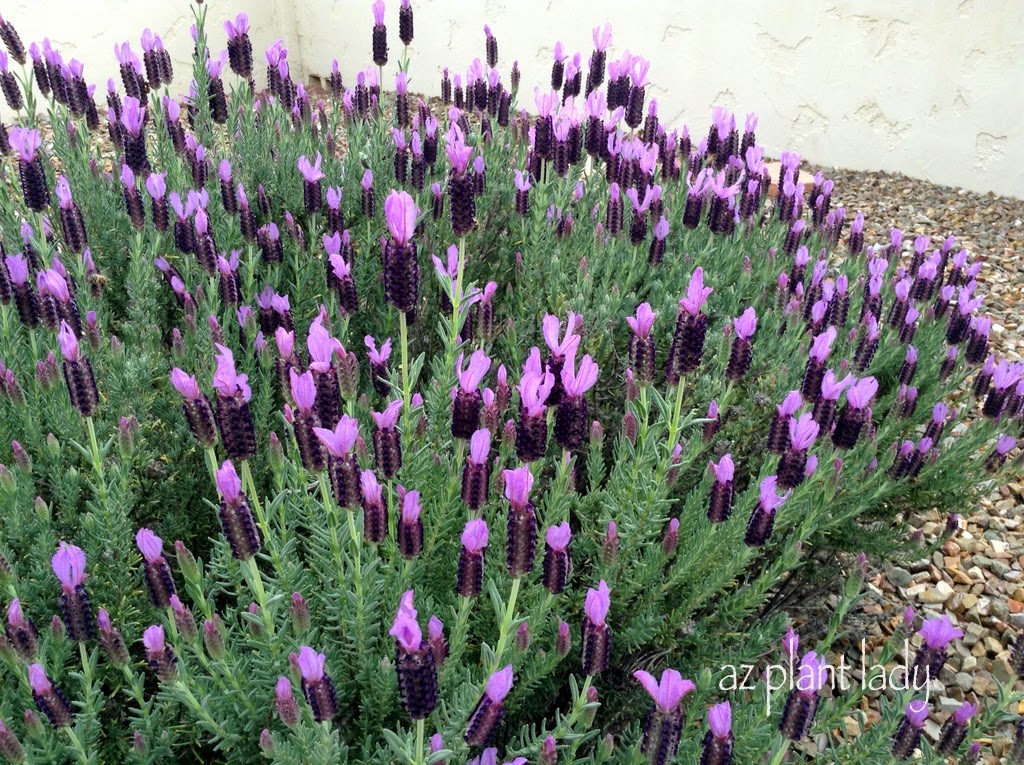 Although I do not have lavender in my garden, I enjoy seeing lavender in other people's gardens. This Spanish lavender (Lavandula stoechas) looked beautiful.
I came upon this gorgeous blue hibiscus shrub in an unlikely place – the supermarket parking lot.
Capturing Spring's Essence in the Landscape
While not quite purple, the dark pink of Parry's penstemon looks so beautiful in the spring landscape, as evident in a landscape as I drove by.
Today as I drove home from an appointment, I rolled down the windows so that I could smell the heavenly fragrance of the orange blossoms from the surrounding orchards.
After beautiful weeks like this, I feel so blessed to work outdoors…


https://www.azplantlady.com/wp-content/uploads/2015/03/Sweet_Acacia_tree_in_bloom-1.jpg
734
1024
arizonaplantlady@gmail.com
http://www.azplantlady.com/wp-content/uploads/2018/10/favicon.png
arizonaplantlady@gmail.com
2021-03-27 12:30:00
2023-09-25 16:13:27
Week In Review: Containers, Xeriscapes, Cactus Flowers & Orange Blossoms