Earlier this week, I have been sharing with you about our recent trip into the old, mining town of Bisbee, AZ.


From unique pieces of art, the friendly people, great food and endless stairways, our trip was so much fun.
What I haven't shown you in my earlier posts are the plants and gardens of Bisbee, which deserve their own post.
Bisbee is located in zone 8a, which is means that it gets about 10 degrees colder then Phoenix and Tucson areas. Because this historic town is also higher in the mountains, it doesn't get as hot in the summer months.
Much of the plants were the same of what you would see growing throughout central and southern Arizona. Missing were the more tropical plants such as bougainvillea, yellow bells and lantana, which struggle to survive the winters in this area.
The gardens in Bisbee often made use of old, antique pieces that intermingled almost seamlessly among garden plants.
In this garden, the homeowner added a splash of color by using brightly-colored bottles to form an informal border along her raised beds.
Up on her wire fence, she had an old miner's pan and soup pot hanging from a post.
The Historical Clawson House had a lovely planting arrangement that I particularly liked.
A large swath of flowering coreopsis contrasted beautifully with the gray/blue agave showing us that you don't need a lot of different types of plants to make a statement in the garden – sometimes less is more effective.
Walking along the main street, I saw the biggest star jasmine vine.
It grew up the metal fence and beyond, hugging this 3-story building. Needless to say, the fragrance was intoxicating.
A brightly-colored building had an unusual pair of container plants.
Spinless prickly pear (Opuntia ellisiana) looked great in half-whiskey barrels.
Continuing our walk through town, I saw a small cafe which had an adjoining garden that can only be described as a grotto.
Where else, but in the desert southwest would you see a prickly pear cactus growing along side a rose bush?
Speaking of roses, I spotted a hedge of pink Iceberg roses in full bloom.
*Iceberg roses are a typically used for providing an informal hedge and they do well in Arizona.
In front of the iconic courthouse, I spotted some flowering ocotillo, so I headed over for a closer look.
I never tire of seeing the vermillion-colored flowers of ocotillo year after year.
My little ocotillo produced its first flower earlier this spring, after 4 years in the ground! It can take while for newly planted ocotillo to flower, but 4 years was a little long to have to wait.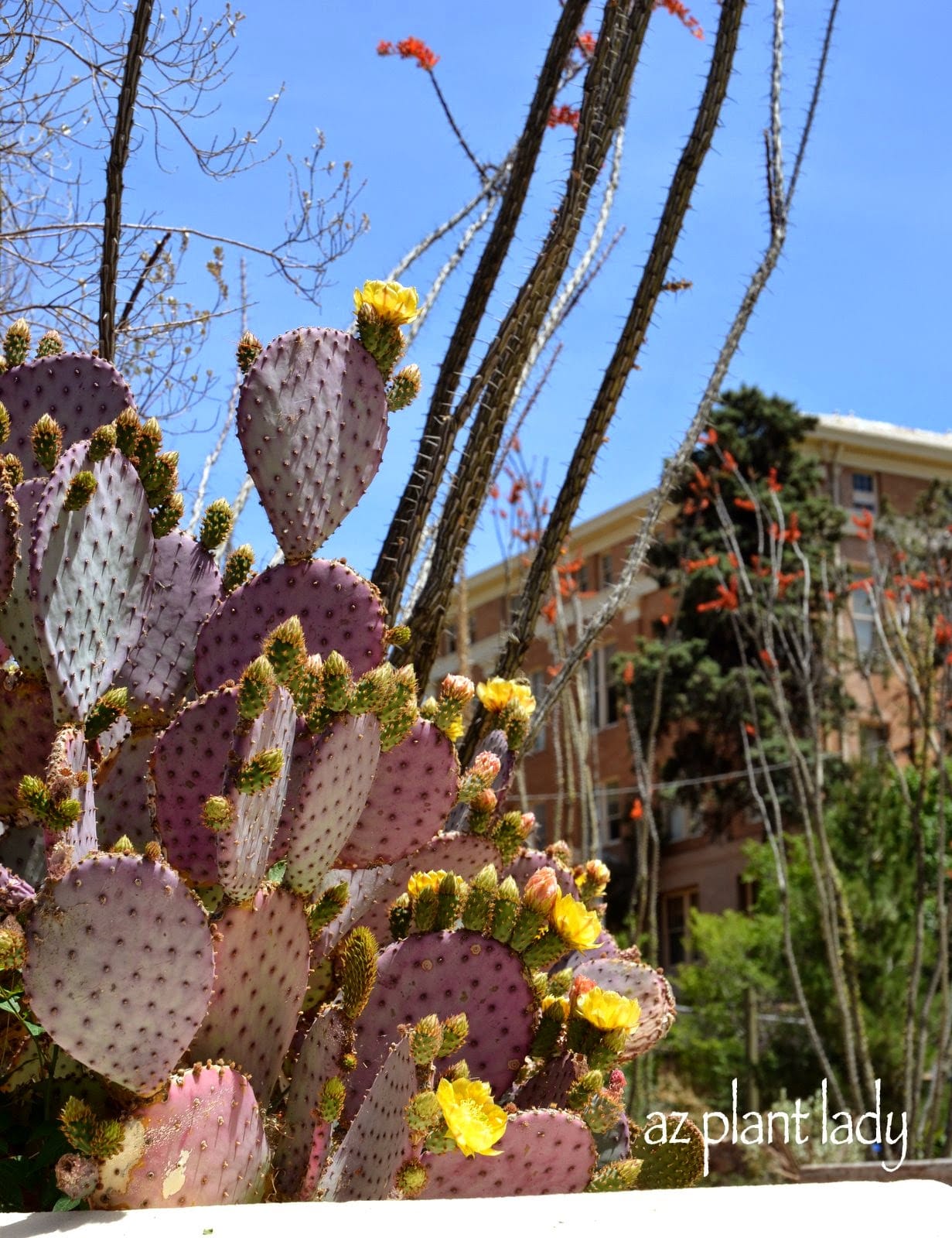 Alongside the ocotillo were santa-rita (purple) prickly pears in full bloom.
Continuing our walk through the historic downtown, I noticed murals painted along the Cochise County Cooperative Extension Building.
In the window of the building were some helpful plant tips.
What a great way to add 'plants' to an area where planting live plants isn't feasible.
This small front garden had a naturalistic planting theme using white achillea with Mexican evening primrose.
A local store did add some live plants by training a pair of vines over the doorway.
As I passed by these large metal doors, I wondered what lay behind them…
I peeked through a crack and noticed a lovely, little garden. I just wish that I could have seen more.
I have always liked small bungalows and their gardens. Maybe I can have one someday when the kids are gone and we need less room.
Here is another bungalow garden filled with purple prickly pear, a white Texas sage and autumn sage.
The city park had a two rain barrels, painted with rainy themes. It was a great way to demonstrate how homeowners can harvest their own rainwater.
**In closing, I would like to say that it isn't easy traveling with me. I am always stopping and taking small detours in order to take pictures of plants and landscapes.
My husband is always so patient and doesn't hesitate to carry my purse for me when my hands are busy holding my camera taking pictures.
Another common occurrence when traveling with a horticulturist is having to stop the truck after passing a lovely (or sometimes bad) landscape.
Again, my husband doesn't complain – he just pulls over and waits while I run out to take a picture.
In this case, it was a lovely metal fence that had small shelves for pots planted with red yucca, to rest on. There were figures sculpted out of metal as well. It was just lovely.
I hope you enjoyed this small tour of the gardens of Bisbee. I cannot wait to return again someday.

https://www.azplantlady.com/wp-content/uploads/2014/05/Bisbee-garden-1.jpg
949
1600
arizonaplantlady@gmail.com
http://www.azplantlady.com/wp-content/uploads/2018/10/favicon.png
arizonaplantlady@gmail.com
2014-05-30 12:30:00
2022-11-10 00:13:41
The Gardens of Bisbee