I am always on the lookout for beautiful landscapes that are well-designed and need minimal care. I like to call them sustainable or 'fuss-free' landscapes.


A week ago, my friend and fellow-blogger, Pam Penick came into town on a quest to see examples of gardens that use little water. So, I was more then happy to spend a day with her looking at some great examples of gardens around the greater Phoenix area.


The first part of our journey began with a visit to the beautifully-designed Arizona State Polytechnic Campus, which included cisterns, man-made arroyos and creative uses for urbanite. If you missed it, you can read about our visit, here.


The second leg of our tour took us to a butterfly/hummingbird demonstration garden along a golf course and a well-designed parking lot (yes, I said a parking lot).


First, was our visit to a butterfly/hummingbird demonstration garden.
Firecracker Penstemon (Penstemon eatoni)
I must admit that I was excited about seeing this garden, which is near and dear to my heart because I designed it.
In the beginning, this landscape area was rather unremarkable There were a number of foothill palo verdes, cascalote and ironwood trees in this area and a few over-pruned Valentine shrubs.
Pink Autumn Sage (Salvia greggii)
The golf course community wanted to create a demonstration garden to show residents how they can have a beautiful landscape that will attract butterflies and hummingbirds that consists entirely of drought-tolerant plants.
Coral Globe Mallow (Sphaeralcea ambigua 'Coral')
I want to showcase drought-tolerant shrubs and perennials that provided overlapping seasons of color.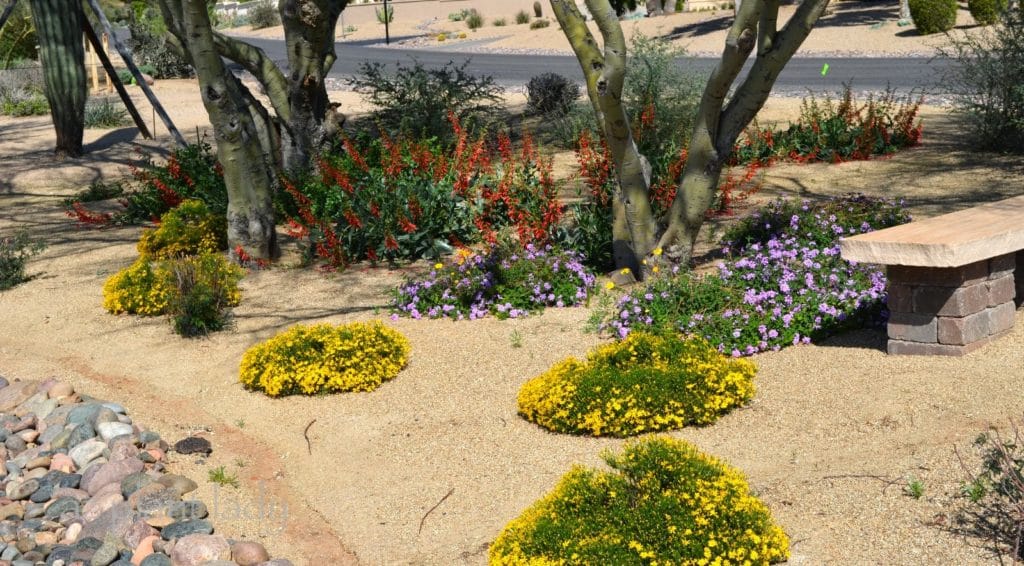 Firecracker Penstemon, Purple Trailing Lantana and Damianita.
Paths were created by using stabilized DG that blended seamlessly with regular DG placed around the plants.
While walking through the garden, we saw hummingbirds enjoying the flowers.
White Globe Mallow
The plants in this garden aren't only drought-tolerant – they don't require any supplemental fertilizer, soil amendments and need pruning once a year or less.
It doesn't get much better then that, does it? Our next stop was a park in the mountains of Scottsdale, called Cavalierre Park.
I must admit that I was surprised that my favorite thing about the park was its parking lot.
I realize that that may sound strange, BUT have you seen how ugly most parking lots are?
The majority of parking lot islands are over-planted and over-pruned. In addition, trees seldom thrive in the small islands in the midst of hot, reflected heat.
So, as we drove up to Cavalierre park, I was pleasantly surprised to see that there was no asphalt in sight.
Believe it or not, these parking lot islands get no supplemental irrigation and need little, if any pruning.
Each island was edged with rusted steel edging and filled with native rock from the site.
The fact that there is not a traditional asphalt parking lot reduces the amount of runoff from rainfall. This non-traditional parking lot created from stabilized DG (decomposed granite) doesn't heat up, thereby keeping the area a bit cooler since it doesn't contribute to the 'heat-island' effect that asphalt does.
During construction cacti and trees were salvaged from the site and replanted onsite once it was finished.
Trees too large to be removed were incorporated into the design with steel edging preserving their original grade.
This raised planter keeps the existing mesquite tree and saguaro cactus at their original grade while creating a beautiful, focal planting near the entrance of the park.
I am constantly amazed at how beautiful sustainable landscapes can be simply by using good design and arid-adapted plants that are maintained correctly.
I don't know about you, but I would much rather enjoy a parking lot like this instead of one surrounded by asphalt and over-pruned shrubs, wouldn't you?
I hope you have enjoyed this second installment of our tour of sustainable landscapes in the Phoenix area.
Be sure to come back for our last installment – I have saved the best for last…

https://www.azplantlady.com/wp-content/uploads/2014/04/Firecracker-Penstemon-eatonii.jpg
1600
1060
arizonaplantlady@gmail.com
http://www.azplantlady.com/wp-content/uploads/2018/10/favicon.png
arizonaplantlady@gmail.com
2014-04-11 13:30:00
2021-01-14 10:38:42
Tour of Southwestern Sustainable Landscapes: Part 2