I am talking about Agave babies, which are known as 'pups'.
Parry's Agave with small pup.
I knew that my Parry's Agave, above, had a little pup growing. I have been keeping my eye on it, letting it grow a little bit more before I take it and place it somewhere to grow on it's own.
Now, I don't meant to rub it in to my northern neighbors, but it was a beautiful day to be out in the garden so while I was taking pictures, I soaked up all of the warmth from the sun that I could. It has been rather cold lately (for us desert dwellers anyway) and today was a beautiful 68 degrees.
*I promise I will be envying your weather come August….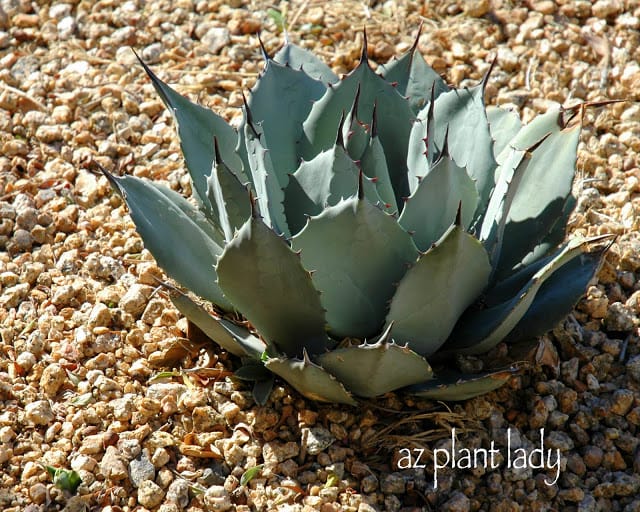 Little pup growing
Yesterday, on the other side of the same Agave, I had noticed the beginning of a little pup breaking through (in the far left corner of the photo). Well, as I was uploading the photo, I was in for another surprise. I noticed another pup growing right next to the Agave. I now have 3 Agave parryi pups to figure out where to place in my garden (what a wonderful problem to have). They are expensive Agave and do not produce a lot of pups as opposed to some other species of Agave.
Victoria Agave (Agave victoria-reginae) parent plant and pups.
This is another of my favorite Agaves. How many pups can you see coming up from the larger parent plant? I count 3 pups, but there is actually another that is not in the photo. This Agave is also highly prized and expensive. Victoria Agave do not often produce pups, so I am very thankful that mine has been nice enough to give me 4.
Agave lophantha with two pups.
Agave reproduce in two ways. One is by flowering at the end of their lifetime. The other way happens earlier in the Agave's life span and that is by producing offsets called 'pups'. The Agave sends out runners underground that produce the pups. The pups can be located right up next to the parent Agave or a few feet away.
Agave macroacantha with many pups growing around it.
To remove, carefully expose the runner and cut with pruning shears or a sharp knife works well too. Before planting, the Agave pup needs to form a callus on the bottom, so place in a shady, dry spot for at least a week before planting. Agave pups can be planted out in the garden or placed in a container. Even better, you can give some to your friends.
Personally, I would do this in the spring or fall and avoid the hot summer months as this can add more stress as the Agave pup is struggling to grow roots to absorb water. But, that being said, Agave pups can be planted year-round.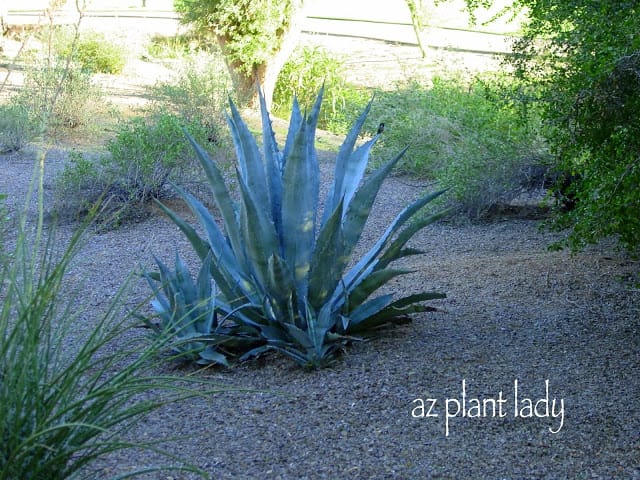 Agave americana with pups.
When most people think of Agave, they think of Agave americana (above). I do love the blue-gray leaves, but I stay away from using this particular Agave because they produce large amounts of pups. This leads to a lot of maintenance as the pups need to be removed frequently or they quickly become an overgrown mess. I have worked with many clients who have ended up pulling out their Agave americana for this very reason.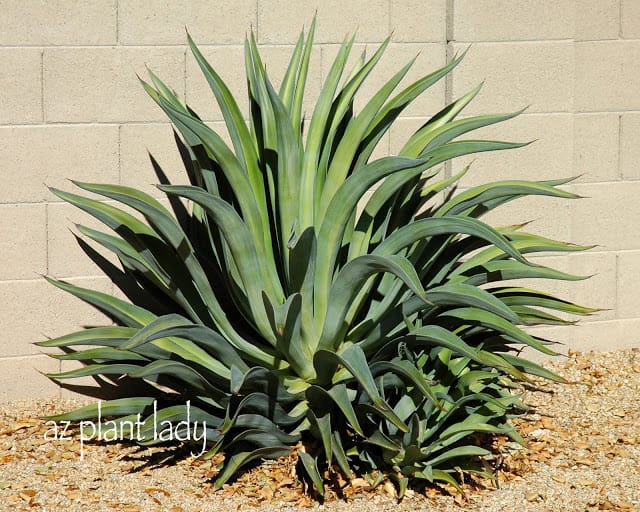 Agave desmettiana with two large pups. This Agave started life as a pup and was transplanted 4 years ago. It's parent Agave flowered 3 years ago and died.
Okay, I admit, I am not the most organized gardener. I should have taken these large pups (on the right) and transplanted them last year. But, I promise I will as soon as it warms up. So, please do not wait to do this as long as I did. Agave pups do best when planted when they are small.
Agave desmettiana, (above), is a nice alternative to Agave americana as it grows large, but does not produce too many pups. It also has smoother edges in contrast to Agave americana.
Now, this photo does not have anything to do with this post, but my dog, Missy, loves to take advantage of any photo opportunities.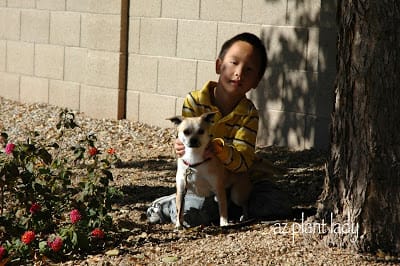 As does my son…
A Flood In The Garden….On Purpose

https://www.azplantlady.com/wp-content/uploads/2010/01/Agave-parryi-19.jpg
512
640
arizonaplantlady@gmail.com
http://www.azplantlady.com/wp-content/uploads/2018/10/favicon.png
arizonaplantlady@gmail.com
2010-01-02 16:45:00
2021-03-21 10:57:19
Pups In The Garden…Not The Soft, Cuddly Kind