Did you have the opportunity to get away for awhile this summer?


Our summer has been a bit tough this year. The reason is that my son, Kai, had hip surgery (his 5th) and was confined to a wheelchair this summer. He was in quite a lot of pain for the first few weeks, which thankfully subsided in July.


We were blessed to go on a family vacation toward the end of July before school started. Every year, we go on a trip with my mother, my siblings and their families. This year, we decided to go to Pinetop, Arizona.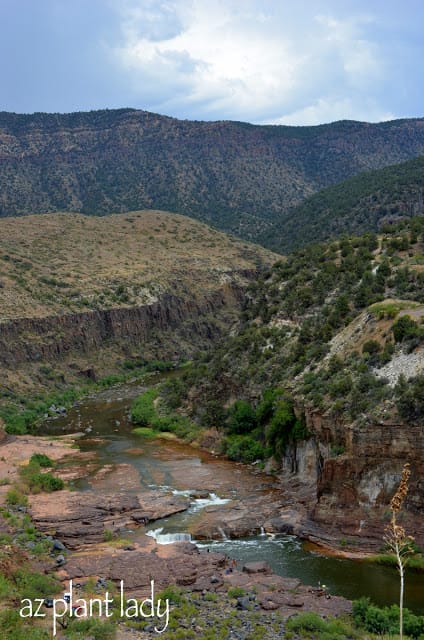 We got on the road and started heading east from Phoenix. The mountains of the high desert were beautiful along Salt River Canyon and we could see swimmers below.
Believe it or not, I have never been to the Eastern part of our state even though I have lived here for over 27 years.
Parts of the highway wound back and forth.
As we neared our destination, I began to see the pine trees that promised cooler weather.
Pinetop, Arizona
We finally arrived at the cabin that my mother had rented for us all to stay in.
It was quite big – 7 bedrooms and plenty of bathrooms to go around for 5 individual families.
We stayed on the bottom floor so that Kai could get around easily.
Pinetop, Arizona
A few of our mornings were spent going for walks.
Pinetop, Arizona
We love to walk outdoors, but in the summer it is tough because of the heat. So this was a real treat for us.
If I were at home, I would be busy writing, gardening, managing the kids and/or consulting instead of taking a walk outdoors on a beautiful morning. Pure heaven!
There were some beautiful gardens in the surrounding neighborhood.
This was my favorite garden.
Did you know that you can grow these flowering perennials in the desert? It's true. The only difference is that they will bloom in spring rather then in summer.
We didn't see any wild animals, but did pet a friendly cat and saw a horse getting new shoes.
This kids favorite house had a model train track set up throughout the entire front yard.
The kids were interested in the model trains and small buildings while I like to observe the miniature landscape plants.
This is one vine that you probably will not find growing in the low desert. This is a lovely Clematis vine and I have grown one before years ago when we lived in Phoenix. The problem was – it never flowered because it was too hot.
I haven't grown one since.
We passed this bountiful vegetable garden.
I love this terraced garden, don't you?
You don't have to rely solely on flowers for color in the landscape. I love the trailing ivy underneath these oak trees.
Besides our walks, there was fun to be had back at the cabin…
The kids had fun racing monster trucks down the driveway every evening after dinner.
It was nice for Kai to be able to participate in racing without having to run.
Gracie enjoyed sitting on the porch and reading her favorite book.
On rainy afternoons, grandma kept the kids busy with art projects.
During the week, each family was responsible for making dinner for everyone. It was nice only having to cook once the entire week.
After dinner, the big kids would carry Kai and his wheelchair upstairs to play.
They would 'charge' the bad guy armed with a plastic gun and a cushion for a shield.
They usually triumphed over the villain.
Of course, we made sure to spend time fishing.
My husband kept our fishing line untangled and our hooks baited.
We spent quite a bit of time enjoying the peace and quiet of fishing.
Unfortunately, there was a little too much peace and quiet since we didn't catch any. Not even a nibble.
On our last day, we hiked around the lake enjoying the beauty of the woods.
We had a wonderful trip and 2 days after we returned home, it was time for the kids to start school.
**Thank you for letting me take you along on our summer vacation.**
Salt River Canyon

https://www.azplantlady.com/wp-content/uploads/2013/08/DSC_0757.jpg
640
424
arizonaplantlady@gmail.com
http://www.azplantlady.com/wp-content/uploads/2018/10/favicon.png
arizonaplantlady@gmail.com
2013-08-07 14:00:00
2021-01-21 03:11:49
Getting Away From It All