(Desert Adapted Plants) Indian Mallow (Abutilon palmeri)
I always enjoy seeing well-designed landscapes that make use of many of my favorite desert adapted plants. A couple of months ago, I had the opportunity to explore lovely landscape areas that existed within an imaginary land with real plants that were used to provide a sense of reality to this fictional place.
I invite you to explore these areas along with me and look for clues as to where it is.
Globe mallow, Mexican honeysuckle, and Indian mallow
This is a gorgeous layering of three different shrubby plants. Indian mallow (Abutilon palmeri) anchors the background with its gray-green leaves and yellow flowers. In the middle stands Mexican honeysuckle (Justicia spicigera), which has lovely foliage and orange flowers that appear throughout the year. Globe mallow (Sphaeralcea ambigua) adds nice color contrast with its foliage and orange flowers in the foreground. All of these are drought tolerant and thrive in desert gardens.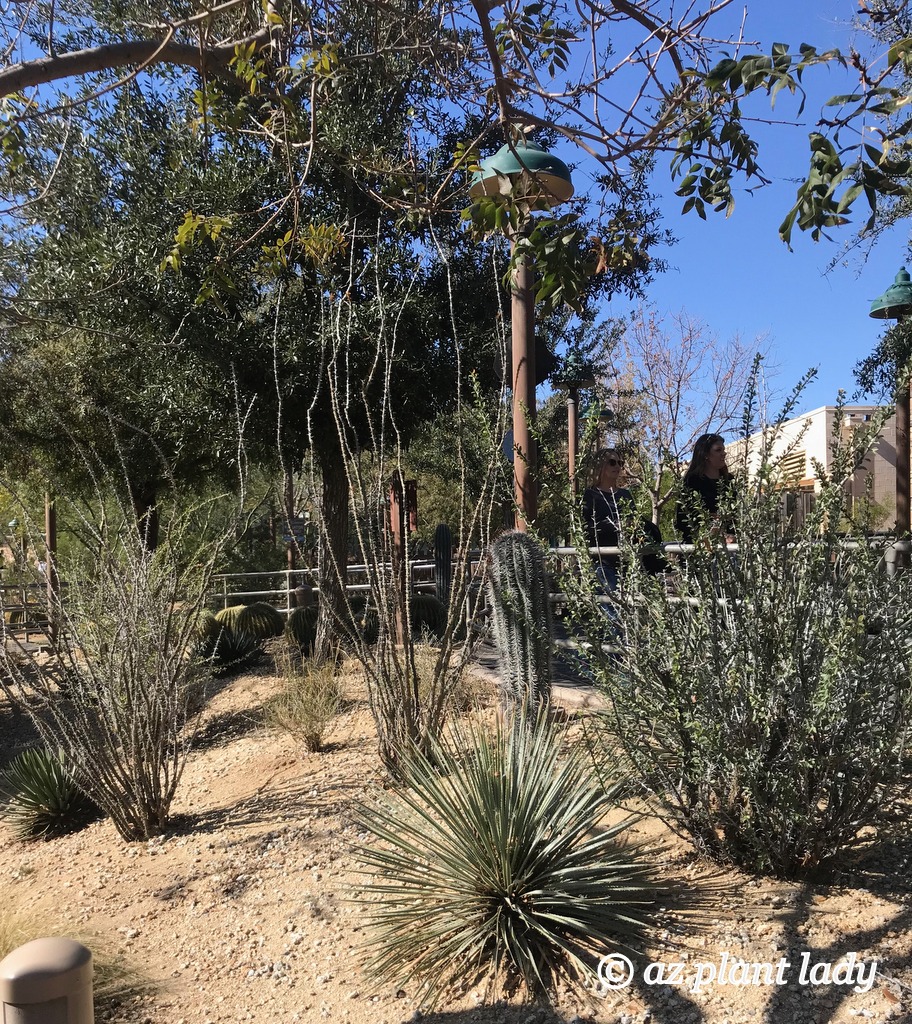 Continuing our exploration, we walk by a desert planting filled with young saguaro cactus, ocotillo, and a little yucca. It almost made me feel like we were in Arizona.
The beautiful green foliage of a jojoba shrub (Simmondsia chinensis) stood out against the reddish walls of a 'canyon'.
Mexican fence post cactuses (Pachycereus marginatus) along with other cereus cacti add a lovely vertical element.
Naturally-themed areas are filled with a plant palette that places you in the desert Southwest. But, we were several hundred miles away from the real desert.
Have you guessed where we were yet? Here is another clue:
Information signs reveal the different kinds of plants in this imaginary land. Your final clue is the name of the plants as well as the shape of the small prickly pear pad.
We were exploring the town of 'Radiator Springs' which came to life in the movie 'Cars' and its sequels. These are my favorite Disney movies because they take place in my own backyard.
I was pleasantly surprised at how well this imaginary town was constructed and the plants used to create a look of authenticity. However, there were some notable exceptions to having live plants throughout Radiator Springs.
Old-fashioned rear lights were used to create imaginary flowers at the Cozy Cone Hotel.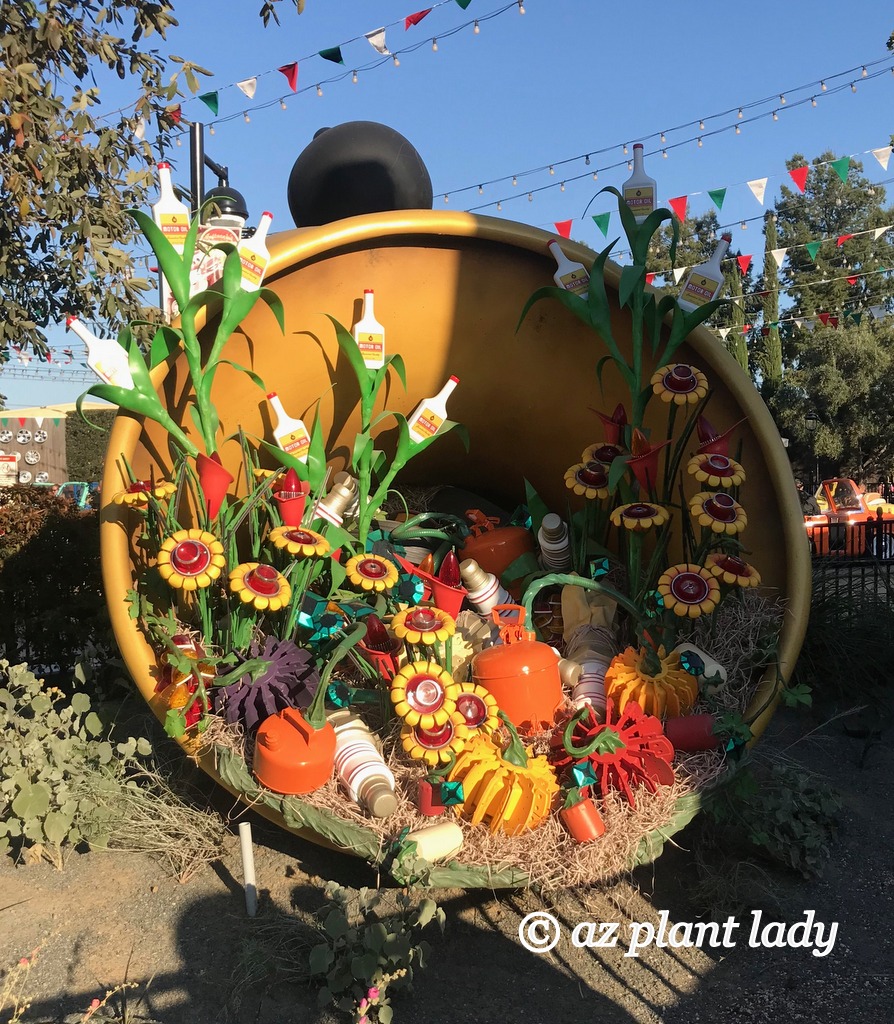 Other car parts serve as components of this cornucopia.
While I was distracted by both the real and imaginary plants, other visitors were thrilled by the appearance of the inhabitants of Radiator Springs.
Have you ever visited Cars Land at California Adventure? If you get the chance, you may be surprised to find inspiration for your desert garden.

https://www.azplantlady.com/wp-content/uploads/2018/04/globe_mallow_Mexican_honeysuckle_san_marcos_hibiscus_plants_Radiation_Springs_Disneyland.jpg
1024
768
arizonaplantlady@gmail.com
http://www.azplantlady.com/wp-content/uploads/2018/10/favicon.png
arizonaplantlady@gmail.com
2018-04-30 06:33:54
2020-12-18 08:46:10
An Imaginary Land With Real Plants