As summer begins to slowly fade and the heat begins to dissipate, the Southwestern garden comes alive.
Plants perk up in the absence of 100+ degree temperatures and people begin to venture outdoors (without their hats!) to enjoy their beautiful surroundings.
When people talk about their favorite season, many will tell you that spring is the time that they enjoy the most as their gardens come alive, spring forth with new green growth and colorful blooms.
Sky Flower (Duranta erecta)
While spring is a glorious time in the desert landscape with winter blooms overlapping with spring flowering plants along with cactus flowers – it isn't the only 'spring' that the desert experiences.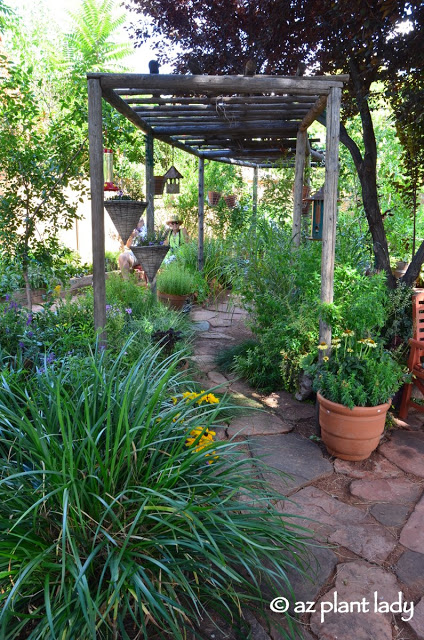 Fall is often referred to as the "second spring" in the desert southwest as plants take on a refreshed appearance due to the cooler temperatures with many still producing flowers. Many birds, butterflies and other wildlife reappear during the daytime hours in autumn.
Desert residents often find themselves making excuses to spend more time outdoors whether it's taking a longer walk or bringing their laptop outdoors where they can enjoy the comfortable temperatures and surrounding beauty of the landscape.
Fall is also a time where we take a look around our own garden setting and decide to make some changes whether it is taking out thirsty, old plants replacing them with attractive, drought tolerant plants or creating an outdoor room by expanding a patio or perhaps adding a pergola.
Flame Acanthus (Anisacanthus quadrifidus v. wrightii)
No matter what garden region you live in – fall is the best time of year to add new plants to the landscape as it provides plants with three seasons in which to grow a good root system before the heat of the next summer arrives.
**Thinking of making some changes to your landscape? Click here for a list my favorite drought tolerant plants that provide fall blooms.

https://www.azplantlady.com/wp-content/uploads/2015/09/Artist_Garden_Phoenix_Southwest_264Sep92C20152C9-36AM.jpg
424
640
arizonaplantlady@gmail.com
http://www.azplantlady.com/wp-content/uploads/2018/10/favicon.png
arizonaplantlady@gmail.com
2021-09-07 16:45:00
2022-09-11 06:44:29
Celebrating "Second Spring" in the Southwest Garden