It's about to get really cold…
Well, cold for this area of the Desert Southwest. Temperatures are predicted to dip into the 20's for a few days, which is quite cold for zone 9a.
As a result, I am being asked by quite a few people about what they should do to prepare their semi-tropical plants for the cold temperatures.
The best thing you can do is to cover your frost-tender plants. Do this in the evening and don't uncover them the following day until temperatures are 50 degrees or above. Recover them later in the day if another freeze is expected.
Earlier this week, I wrote about how to protect your plants during a normal winter freeze (30 degrees and above). You do have the choice to protect your plants or not. I mentioned that I only protect my high-profile Lantana near my front entry.
BUT, when temperatures are forecast to fall into the 20's for a few days, I start pulling out all my old linens, including my kid's old character bed sheets…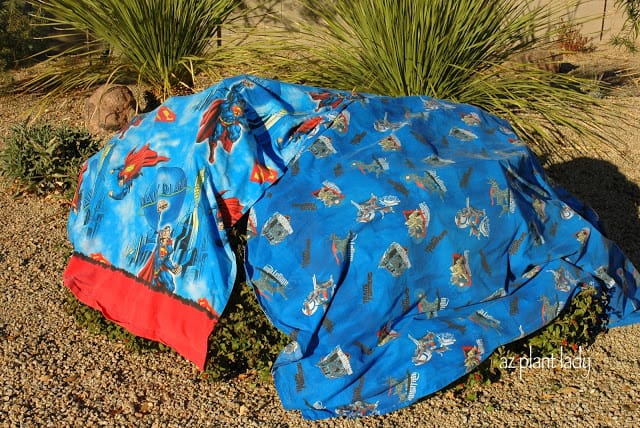 I cover most of my semi-tropical plants including my other lantana, young citrus tree, yellow bells, bougainvillea and pink trumpet vine.
The reason for this is that I don't want my plants killed to the ground by the frost, which can happen when temperatures dip into the 20's for a few days.
You see, frost damage can be cumulative with each additional night of freezing temps, creating more damage to plants.
So, if you have frost cloth – use it. If you don't, then start raiding your linen closet and pull out towels, sheets, tablecloths, etc. Believe it or not, even newspaper can provide some protection. Just anchor it down with rocks to keep it from blowing away. (I once used canned foods from my pantry to anchor frost blankets 😉
What you shouldn't use is plastic.
Also, if you want to protect your plants – you have do better then this person did…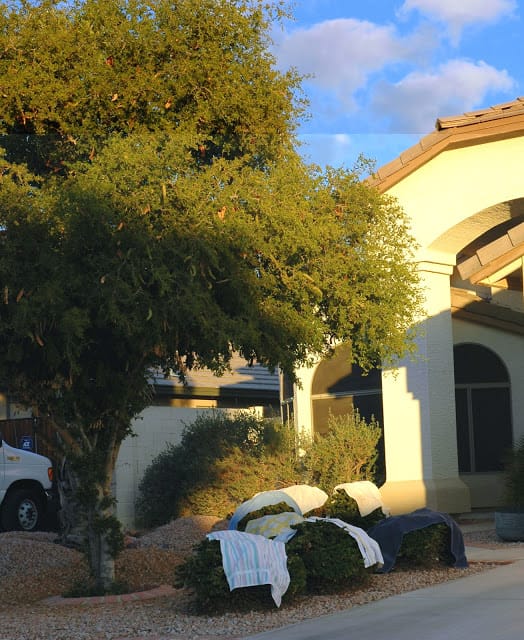 What they ended up with was plants with green areas, surrounded by brown, crispy frost-damaged growth. You need to cover the entire plant with no gaps.
Watering you plants at dusk also helps because water releases heat into the night.
If you have columnar cacti, then protect the ends using styrofoam cups.
Young citrus trees should also be protected….
So what do you do if you didn't protect your plants and they look like this afterward?
Relax, first of all. More then likely, it is still alive at the base and will grow back once spring arrives.
Whatever you do, DON'T prune them now! That can damage or even kill your plant. I know it is ugly, but it is only until spring when you can prune all the frost-damaged foliage away.
**Even if you protect your plants from frost, there can still be some frost damage that occurs. It all depends on the severity and duration of the cold. But, covering them increases the chance that they will recover once temperatures warm up in spring.
Cold Weather in the Desert ? Are You Kidding ?

https://www.azplantlady.com/wp-content/uploads/2013/01/DSC_0002.jpg
542
640
arizonaplantlady@gmail.com
http://www.azplantlady.com/wp-content/uploads/2018/10/favicon.png
arizonaplantlady@gmail.com
2013-01-11 20:24:00
2023-02-16 17:40:31
Prepping for a Deep Freeze…