*This blog post contains an affiliate link. If you click through and make a purchase, I may receive a commission (at no additional cost to you). Thanks for your support in this way.*
Winter Rose Pruning: A Guide to Keeping Your Roses Healthy
Understanding the Importance of Pruning in January
The Benefits of Winter Rose Pruning
January can be a difficult time for those of us who love to grow roses. Why may you ask? Because we have to prune them back, often when they are still blooming. Living in a mild winter climate means that roses continue to bloom and it is hard to go out and cut the bushes back to bare branches (canes). But, it must be done. 
My 'Olivia Rose' David Austin shrub rose before pruning in January.
Winter Rose Pruning Benefits
I am often asked why should we prune rose bushes back in winter in the desert while they may still be blooming. There are several reasons why.
Winter pruning helps to keep roses healthy by removing old, unproductive canes (rose stems/branches), gets rid of disease and over-wintering insects that can cause damage. It also helps them to produce MORE flowers than if not pruned.
It's this last fact that I repeat to myself over and over as I prune back my large, beautiful rose bushes in winter. Of course, I put any remaining blooms in a vase so I can enjoy them indoors.
My 'Olivia Rose' David Austin Shrub Rose After Pruning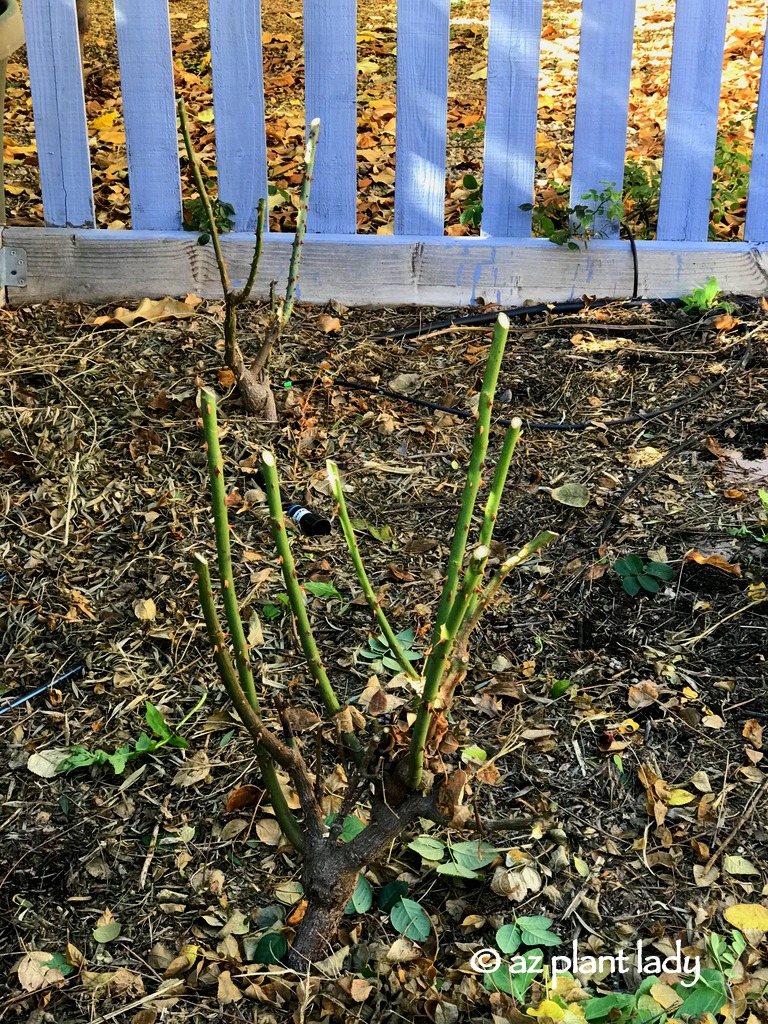 'Olivia Rose' after pruning.
Ugly isn't it? But, the pruning has done a lot of good things – I've gotten rid of small, twiggy growth as well as a few dead canes. I still need to clean up the fallen leaves, which is where fungal diseases like to lurk only to spread again when the weather warms again. Pruning also stimulates new growth that will produce lots of lovely roses in the coming months. I used my Corona hand pruners to prune back my roses.
Before you know it, my 'Olivia Rose' bush, as well as my other roses, will be in full bloom again.
Don't Fear Rose Pruning
Pruning roses isn't as hard as it looks and I encourage you not to be afraid of it and if you make a mistake, don't worry, roses are awfully forgiving of bad pruning. I've written how to prune roses in an earlier post that you can read here. 
If you are interested in adding some new roses to your garden, winter is the best time to do that in the desert garden.  
Have you pruned your roses back yet?

https://www.azplantlady.com/wp-content/uploads/2018/01/winter_rose_pruning_southwest_garden_desert_Arizona-002.jpg
1024
900
arizonaplantlady@gmail.com
http://www.azplantlady.com/wp-content/uploads/2018/10/favicon.png
arizonaplantlady@gmail.com
2018-01-17 14:05:00
2023-10-10 15:17:24
Winter Rose Pruning in the Southwest Garden