Tour of My Spring Garden, Firecracker Penstemon (Penstemon eatoni)
A Spring Garden Tour: Nature's Pleasant Surprises
Have you ever noticed that spring has a way of surprising you in the garden? This is what I considered as I walked through my front landscape this week.
After spending a week visiting my daughter in cold, wintery Michigan, I was anxious to return home and see what effects that a week of warm temperatures had done – I wasn't disappointed.
I want to take you on a tour of my spring garden. Are you ready?
Penstemon Parade (Penstemon parryi)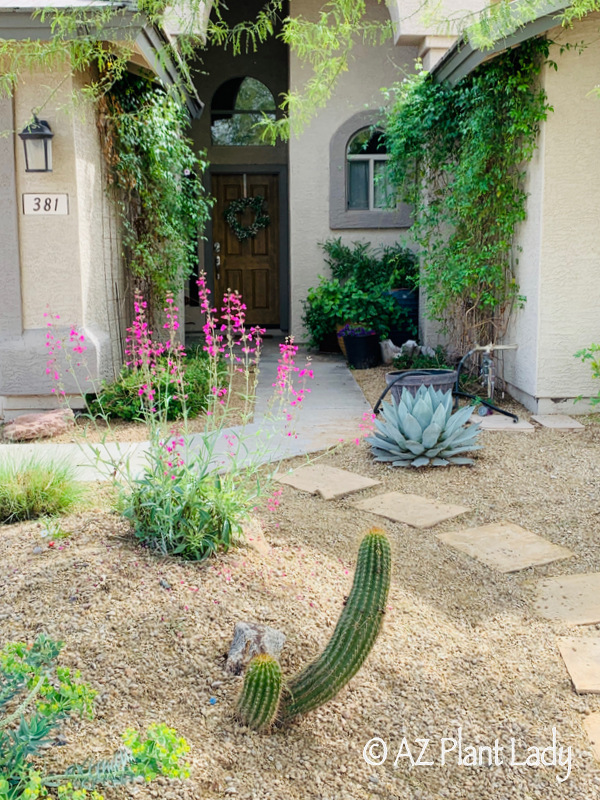 Parry's Penstemon (Penstemon parryi)
Penstemons play a large part in late winter and spring interest in the desert landscape, and I look forward to their flowering spikes.
Echinopsis Hybrid 'Ember'
Echinopsis hybrid 'Ember'
One of the most dramatic blooms that grace my front garden are those of my Echinopsis hybrid cactuses. I have a variety of different types, each with their flower color. This year, 'Ember' was the first one to flower and there are several more buds on it.
Shrubby Germander's (Teucrium fruiticans) Electric Blue Transformation
Shrubby Germander (Teucrium fruiticans)
Moving to the backyard, the gray-blue foliage of the shrubby germander is transformed by the electric blue shade of the flowers. This smaller shrub began blooming in the middle of winter and will through spring.
Red Powder Puff (Calliandra haematocephala)
Red Powder Puff (Calliandra haematocephala)
This unique shrub was a purchase that I made several years ago at the Desert Botanical Garden's spring plant sale. If you are looking for unusual plants that aren't often found at your local nursery, this is the place to go. This is a lush green, tropical shrub. It is related to the more common Baja Fairy Duster. Mostly it flowers in spring and has sizeable red puff-ball flowers. It does best in east-facing exposures.
Million Bells (Calibrachoa) in a Self-Watering Container
Million Bells (Calibrachoa)
I am trialing a new self-watering hanging container that was sent to me free of charge by H20 Labor Saver for my honest review. I must say that I am very impressed. Growing plants in hanging containers is difficult in the desert garden as they dry out very quickly. This is a self-watering container, which has a reservoir that you fill, allowing me to have to water it much less often.
In the container, I have Million Bells growing, which are like miniature petunias. They are cool-season annuals that grow fall, winter, and spring in the desert garden.
Resilient Yellow Bells on the Rebound
Yellow Bells recently pruned
Not all of my plants are flowering. My yellow bells shrubs have been pruned back severely, which I do every year, and are now growing again. This type of severe pruning keeps them lush and compact, and they will grow up to 6-feet tall within a few months.
Abundant Onions in the Vegetable Garden
Onions growing in my vegetable garden
This past fall, my daughters took over the vegetable garden. I must admit that it was fun to watch them decide what to grow. Guiding them in learning how to grow vegetables is a joy. Onions will soon be ready for harvest.
Meyer Lemon's Blossoming Promise
Meyer Lemon blossom
My Meyer lemon tree hasn't performed very well for me. In the four years since I first planted it, my Meyer lemon tree has been rather stingy with its fruit production. However, a recent revelation unveiled the root cause: insufficient watering. With this issue rectified, I'm absolutely thrilled to report that my Meyer lemon tree is now adorned with a profusion of blossoms. This promises an exciting abundance in the near future!
A Fragrant Welcome from Chocolate Flower (Berlandiera lyrata)
Chocolate Flower (Berlandiera lyrata)
Moving to the side garden, chocolate flower adds delicious fragrance at the entry to my cut flower garden. It does well in full sun and flowers off and on throughout the warm season.
Vibrant Verbena Blooms in the Cut Flower Garden
Verbena in bloom
In the cut flower garden, my roses are growing back from their severe winter pruning. The roses aren't in bloom yet. But my California native verbena is. This is a plant that I bought at the Santa Barbara Botanical Garden.
Promising Young Peaches
Young peaches
I have some fruit trees growing in the side garden including peaches! I can just imagine how delicious these will taste. They will be ripe in May.
Apple Tree Blossoms: A Desert Delight
Apple tree blossoms
My apple trees are a few weeks behind the peaches. It surprises people that you can grow apple trees in the desert garden and they will ripen in June – apple pie, anyone? I love the flowers.
I hope that you have enjoyed this tour of my spring garden. All of these plants are bringing me joy.
*What is growing in your garden this spring that brings you joy?

https://www.azplantlady.com/wp-content/uploads/2019/03/firecracker_penstemon_arizona_garden.jpg
600
800
arizonaplantlady@gmail.com
http://www.azplantlady.com/wp-content/uploads/2018/10/favicon.png
arizonaplantlady@gmail.com
2019-03-27 21:50:34
2023-10-04 14:56:19
Tour of My Spring Garden