I'd love to share with you the latest addition to my desert garden…
My Desert Garden
I am now the proud owner of two new apple trees.
It's hard to believe that you can grow apples in the desert, but you can!
Okay, I must confess that the photo above, is NOT from my new apple trees. It is a photo of one of my mother's apple trees that she grows in her Arizona garden.
'Dorsett Golden' Apple Tree
I realize that my apple trees are a lot smaller then my mother's, but it is healthy and will grow beautifully in my garden.
You might have noticed that I mentioned that I bought two apple trees. You may be thinking that I planted two because I wanted a lot of apples and you would be right.
BUT, there is another reason that I planted two apple trees.
**Most apple trees cannot 'self-pollinate' themselves.
So, what does the term 'self-pollinate' mean?
Remember way back to high school biology class…
Plants need to be pollinated to produce fruit and seeds. Some plants can self-pollinate themselves, but some plants need a little help from another plant.
The majority of apple trees need help in this area.
Thankfully, the solution is easy…
"Plant at least two different apple trees near each other."
What this means is to select at least two different varieties of apple tree. In my case, I planted a
'Dorsett Golden' apple tree
and a
'Anna' apple tree
These trees will pollinate each other and I will get lots of delicious apples in a few years.
My Desert Garden
Now, some apple trees can self-pollinate themselves but they will produce more fruit if there is another type of apple tree nearby.
**Both my 'Dorsett Golden' and 'Anna' apple trees are considered self-fertile, which means that they can pollinate themselves – but they won't produce as many apples as they would if planted next to a different variety of apple tree.
Both of these varieties are great for growing in warmer climates.
Apple trees should be planted in winter, before spring. They are available as bare root or in containers. If you are planting in March, then buy an apple tree in a container. Bare root fruit trees are best planted January – mid February.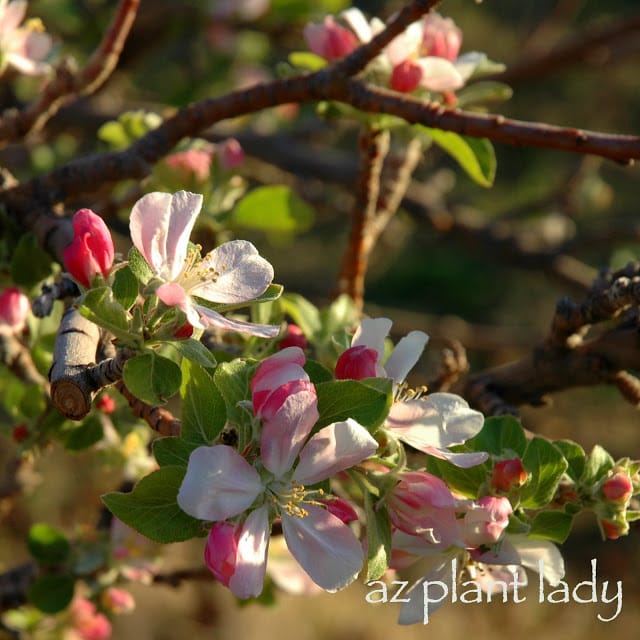 Again, not my tree – it's my mother's apple tree 😉
I do have a couple of apple blossoms on my trees. In a few years, they will soon look like my mother's trees.

https://www.azplantlady.com/wp-content/uploads/2013/03/Flowering-desert-apple-tree.jpg
426
640
arizonaplantlady@gmail.com
http://www.azplantlady.com/wp-content/uploads/2018/10/favicon.png
arizonaplantlady@gmail.com
2013-03-06 20:27:00
2021-01-30 07:52:16
New Addition to My Desert Garden – Apple Trees