Welcome to the second edition of "AZ Plant Lady  House Calls.  


Earlier this month, I shared with you a landscape dilemma that a homeowner needed help with. I was able to help her find a solution that would introduce color and herbs to a sunny corner of her garden.
Well, this same homeowner had another problem area.
Solution For a Shady Spot
This shady area lies next to her sliding glass door and she has had a tough time getting anything to grow in this area.
You can see some straggly Vinca minor and a raised container growing a few weeds. I have rarely seen nice-looking Vinca minor growing in our area – so it is not a plant I recommend.
The homeowner wanted a plant for her container that would flourish along with a flowering groundcover.
What would you do in this area?
Believe it or not, it can be hard to find a plant that can handle our hot, dry temperatures that can also do well in shady areas. But, there are a few.
Solution For a Shady Spot
Recommendation: Purchase an orange-colored container to add some color to this area and plant a Mother-in-law's Tongue (Sanseveria trifasciata) in the container.
For an extra decorative touch, you can add black pebbles on the top of the planting soil.
This tropical plant will add height and texture and is very easy to grow. *Protect from freezing temperatures by bringing them indoors.
Years ago, I worked for a golf course community that had large containers in full shade by the front doors of the clubhouse. After trying many different kinds of plants – this was the one that did the best.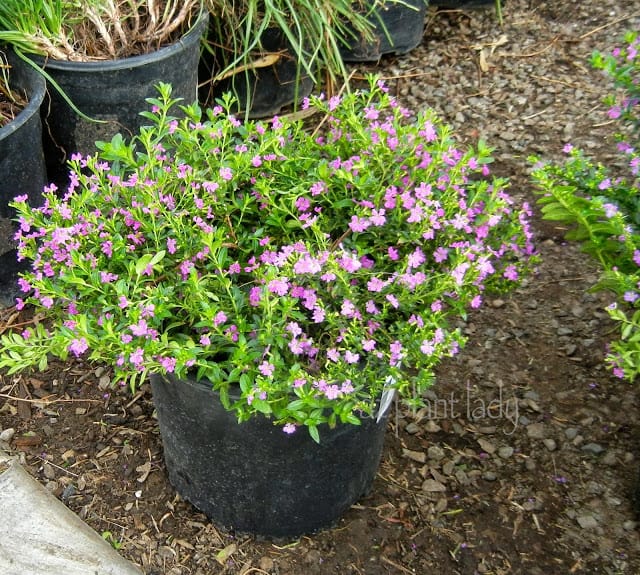 Around the base of the raised container, I recommended planting 5 Mexican Heather (Cuphea hyssopifolia).
These do great in light shade and bloom off and on all year. They grow well in zones 9 – 11.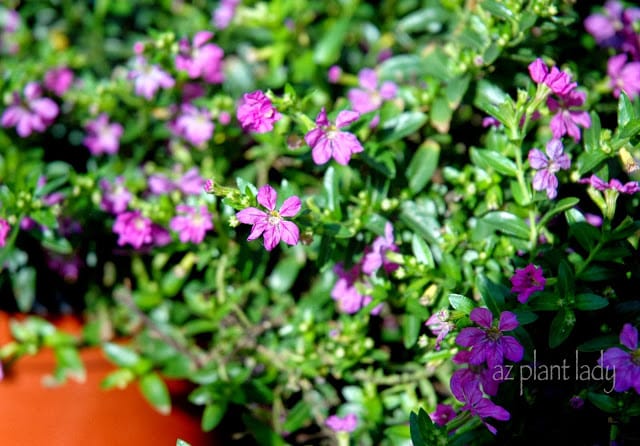 The leaves are small and so are the flowers on this groundcover that grows approximately 1 foot tall and 2 feet wide.
The purple flowers will provide great contrast to the new orange container.
Both the Mother-in-law's Tongue and Mexican Heather are low-maintenance and will flourish in this shady spot.
So, what do you think of this solution? Do you have a shady area where you have a hard time growing anything?
I hope you enjoyed the latest edition of "AZ Plant Lady Virtual House Call". I will be posting more in the future in the hopes that I can help you with an issue you may be facing in your own garden.

https://www.azplantlady.com/wp-content/uploads/2013/10/IMG_2398.jpg
640
478
arizonaplantlady@gmail.com
http://www.azplantlady.com/wp-content/uploads/2018/10/favicon.png
arizonaplantlady@gmail.com
2013-10-17 14:00:00
2021-01-18 02:13:06
AZ Plant Lady House Call: Solution For a Shady Spot