Well, we have had a wonderful time on our Midwest sojourn so far. Sunday morning, we left Holland, Michigan and started our trek down to Indiana. Now, the point of our trip was to get to know the Midwest – its people, towns and countryside. Well, you cannot get a good feel for a place if you stay on a busy highway, so we took rural routes which led us past small towns and beautiful countryside.
Below are some photos and observations from the past couple of days…
As we drove through Michigan, we went through a tiny town that didn't have any place to stop off and eat, except for this little ice cream parlor. So, we decided to indulge ourselves and order ice cream cones. We each ordered a small size ice cream. Imagine our surprise when they handed us a cone with 3 scoops of ice cream!!! Now I don't know about you, but that doesn't seem 'small' to me.
It was overcast and a bit cold, but the view from our bed and breakfast was just beautiful.
As we ate breakfast, we saw the Amish farmer who lived next door, out in his fields along with his 6 draft horses. Most Amish do not use power equipment for farming, so horses are necessary.
This old Amish farmer is fertilizing his field the old-fashioned way….with rotted manure from his cows.
His son was working hard too. They will be planting corn in this field.
The quilts are beautiful and you can buy them in town or at some Amish farms themselves.
Many residents are impatient for spring to arrive as you can see from the sign.
We visited this Amish farm to see their toy woodworking shop.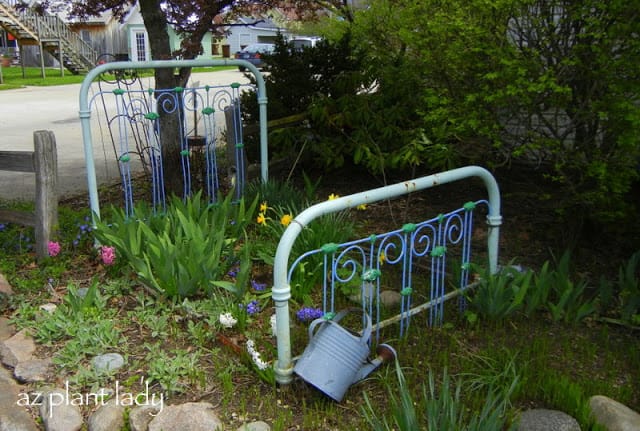 Isn't this a pretty bed for flowers?
What is it about 3 scoops of ice cream in this area?
I must admit that I am in love with Whoopie Pies. I had my first one last fall when I visited Amish country in Pennsylvania. I haven't had one since, but I told myself that if I saw any in Indiana Amish country, that I would get one. I confess that I have been eating one while I am writing this….
Corn harvested last fall that is fed to the livestock.
I just love these beautiful Magnolia trees.
Sheep and horses share the field at this Amish farm. Monday seemed to be the day for doing the wash. You could see Amish clothes hanging out on the line.
The Amish could be found in your regular stores. You did have to be careful where you stepped in parking lots and streets, just in case the horses left a little 'surprise'.
We had a marvelous time. The Amish community in Indiana is not as conservative as the one in Pennsylvania and as a result, you interact much more with each other.
THE OTHER EVENING, AS MY MOTHER AND I RETURNED TO OUR BED AND BREAKFAST, OUR HOST (A NON-AMISH WOMAN), HAD 3 OLDER AMISH WOMEN OVER AND THEY WERE WATCHING A TAPE OF THE ROYAL WEDDING.
IT WAS JUST SUCH A GREAT SCENE AND THEY WERE REALLY ENJOYING THEMSELVES VERY MUCH.
On our way out of Amish country, we stopped by an old-time pharmacy with a lunch counter in the back. My mother and I ate our lunch there surrounded by the local Amish and Mennonite people.
When I come away from visiting Amish country, I am struck at their simple way of life, their hard work and how they appreciate the little things in life.
*********************
We are off to our next stops in Central Indiana and then heading over to Springfield, Illinois.
We are having a great time!

https://www.azplantlady.com/wp-content/uploads/2011/05/Small-town-Michigan-Ice-Cream-Parlor.jpg
640
480
arizonaplantlady@gmail.com
http://www.azplantlady.com/wp-content/uploads/2018/10/favicon.png
arizonaplantlady@gmail.com
2011-05-03 11:59:00
2021-02-14 09:55:35
Greetings From Amish Country…