The Sunburn Experience: Not Just for Humans
Have you ever had a sunburn? Maybe a better question is, "Who hasn't?"
Well, did you know that many plants get too much as well?
Sunburned Citrus: A Common Concern
On a recent visit to a client who was worried about her newly planted citrus trees.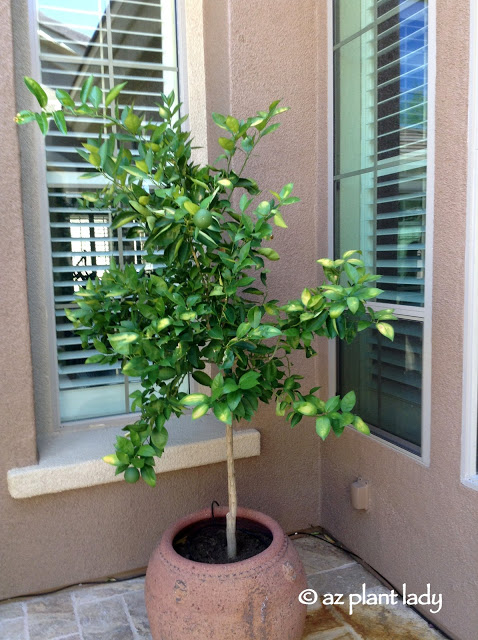 Sunburned Citrus
The Leaf Yellowing Dilemma on Citrus Trees
This particular client has a large courtyard with several new citrus trees in pots. Her citrus trees, planted in spring, showed yellowing as summer progressed.
Now yellow leaves can indicate a number of different problems.  In this case, the diagnosis was rather simple – her citrus tree has a case of sunburn.
Common Signs of Sunburned Citrus and Other Plants
– The areas of the leaf that are yellow are in the center and NOT along the tips or edges.
– Often, the yellow areas begin to turn brown.
– Signs normally occur in the summer months.
– The sunburned leaves are usually located on the south and west-facing parts of the plant.
– This particular citrus tree is in an area that receives reflected, afternoon sun.

How to Prevent Sunburned Citrus
In this case, the solution is simple. Move the citrus tree to another part of the courtyard that receives afternoon shade is all that is needed to prevent further sunburn damage. Another choice is to put 50% shade cloth on from mid-May through September.
Citrus do best when planted at least 10 – 15 ft. away from walls. Unfortunately walls absorb the heat of the day and re-radiate it out.
Avoid planting where they get the full force of afternoon sun.

https://www.azplantlady.com/wp-content/uploads/2015/07/sunburned_citrus_leavesJun302C20152C9-36AM.jpg
640
478
arizonaplantlady@gmail.com
http://www.azplantlady.com/wp-content/uploads/2018/10/favicon.png
arizonaplantlady@gmail.com
2021-07-06 07:48:00
2023-09-25 15:20:17
Sunburned Citrus: Common Signs of Sun Damage