Celebrating the Holiday Season and Family Traditions
A Journey through Downtown and a Special Ballet Performance
The holiday season is a cherished time, characterized by a delicate balance between the hustle and bustle of Christmas preparations and the moments of quiet reflection that are unique to this special time of year. In this regard, I'm delighted to share that this year has brought an unusual sense of accomplishment – I've already completed my gift shopping, with every carefully chosen present now meticulously wrapped and arranged under the Christmas tree. Additionally, gifts bound for distant loved ones are on their way, ensuring they will arrive in time to spread the holiday cheer.
Seasonal Joys and Garden Delights
This early completion of the gift list is a first for me, and while it's a welcome relief, it also carries a touch of disconcertment. It's as though I've checked off everything on my to-do list so swiftly that I'm left with a nagging feeling that I may have overlooked something vital in the midst of this newfound efficiency.
A Magical Outing to The Nutcracker
Last weekend, my mother treated us to an outing to The Nutcracker, by Ballet Arizona and the Phoenix Symphony Orchestra.
We arrived a bit early, which gave us the perfect excuse to walk through the downtown area. Years ago, I worked in a tall office building as a landscape designer, but it had been a long time since I had spent any time there.
Exploring Downtown Phoenix
I was delighted to discover a tall Christmas tree in the center of an ice-skating rink – yes, there is ice-skating in downtown Phoenix.
Walking further on, we saw a unique use of umbrellas as art.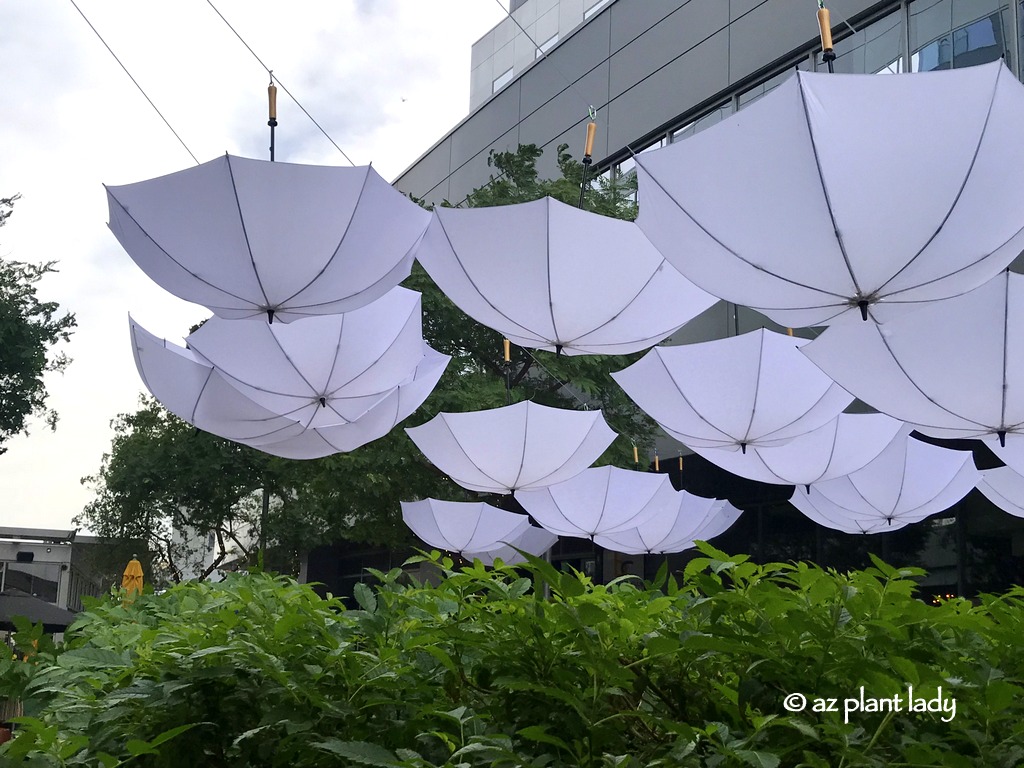 My younger daughters couldn't figure out why the umbrellas were hanging upside down, but I quite liked the artistic effect.
A row of yellow bell shrubs (Tecoma stans stans) added a welcome splash of lush green and yellow color. While you'll see them grown as a shrub, here they are pruned into small trees. Underneath is the groundcover yellow dot (Wedelia trilobata).
A Theatrical Delight in Phoenix
Once inside the Phoenix Symphony Hall, we admired the colorful Christmas trees. It was all quite festive, and my daughters were excited to watch their first ballet performance.
My mother and daughter, Gracie.
Although Gracie has autism, and many things cause her acute anxiety, she was doing very well as she had always wanted to see The Nutcracker.
My sister-in-law, daughters, and me!
Family and Ballet Holiday Season Fun
There is one thing about the performance that I haven't mentioned yet. My cousin's daughter is one of the dancers in this ballet. She is a 'snowflake' in Act 1, and a 'wildflower' in Act 2.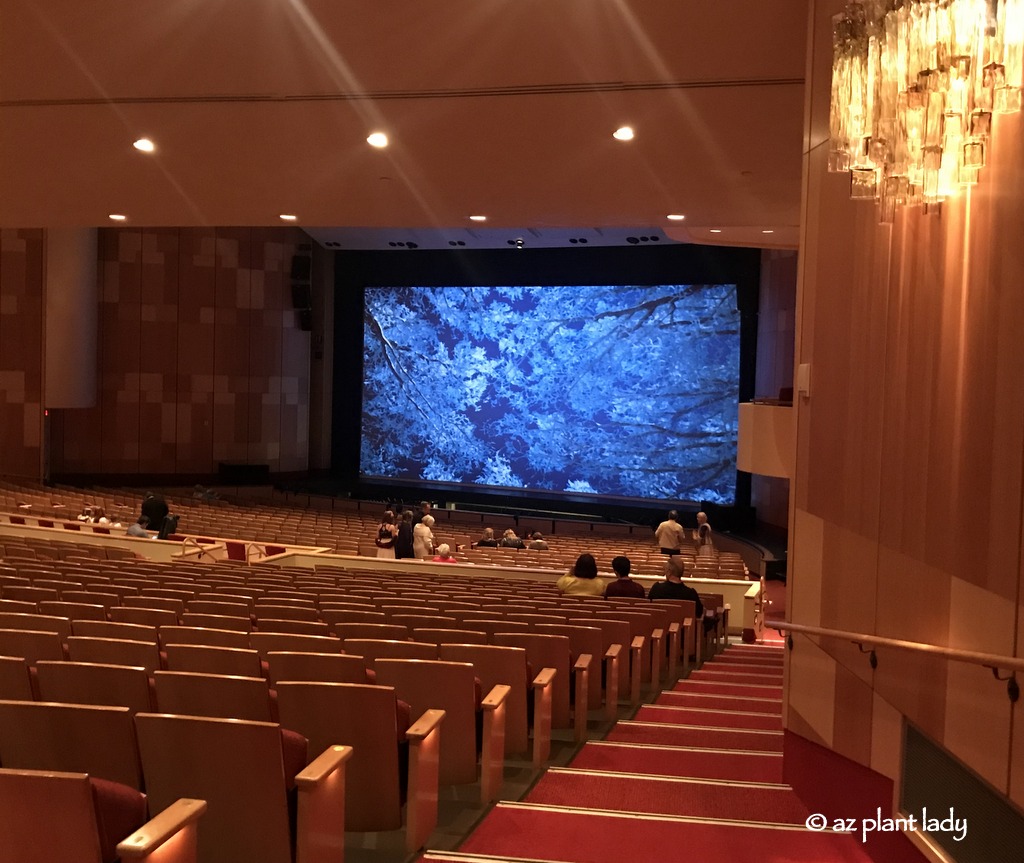 This is all I can show you of the stage as photos of the performance aren't allowed.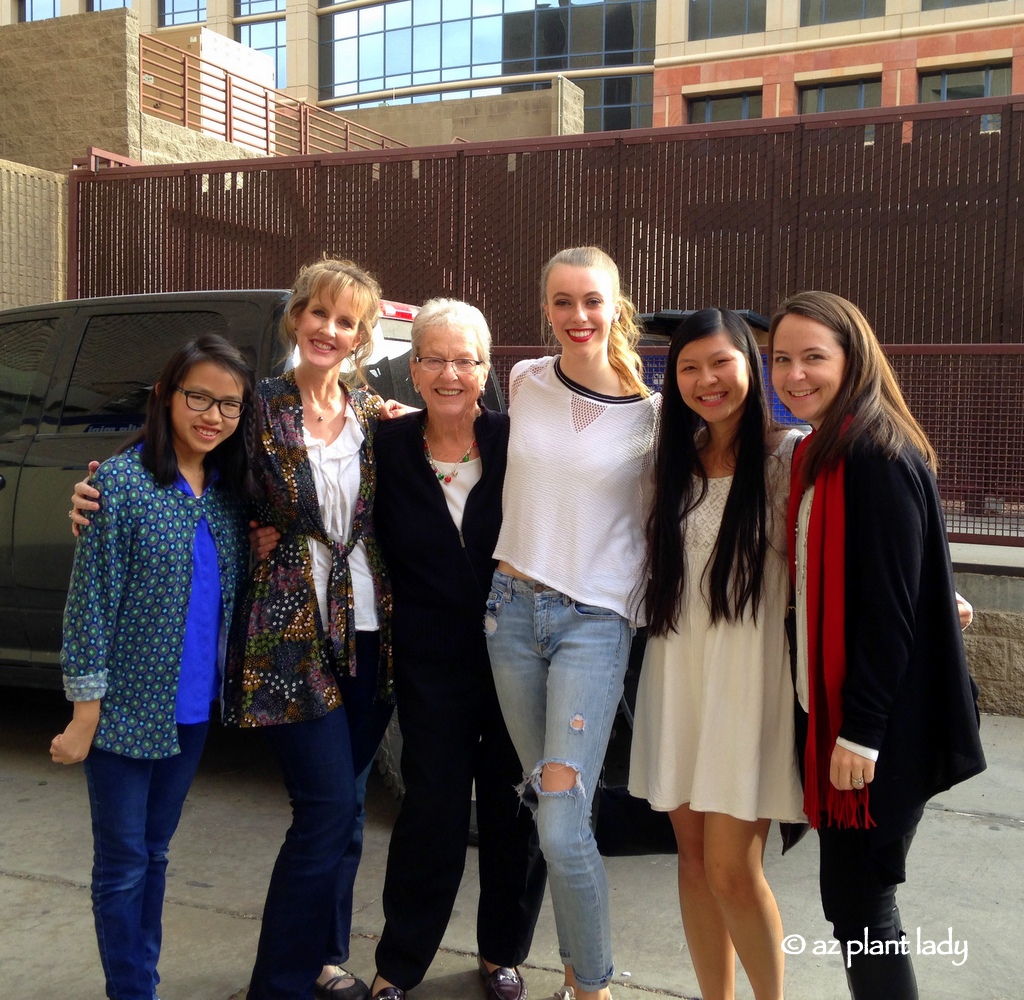 It was marvelous, and everyone enjoyed themselves. After the performance, we met my cousin's daughter at the stage door, (Gracie hoped that she would still have her costume on). She was so happy that we had come to see her performance and I was struck by the fact that all the dancing genes in the family went to her (as well as her mother) – I certainly didn't get any 😉
Wall Garden Discoveries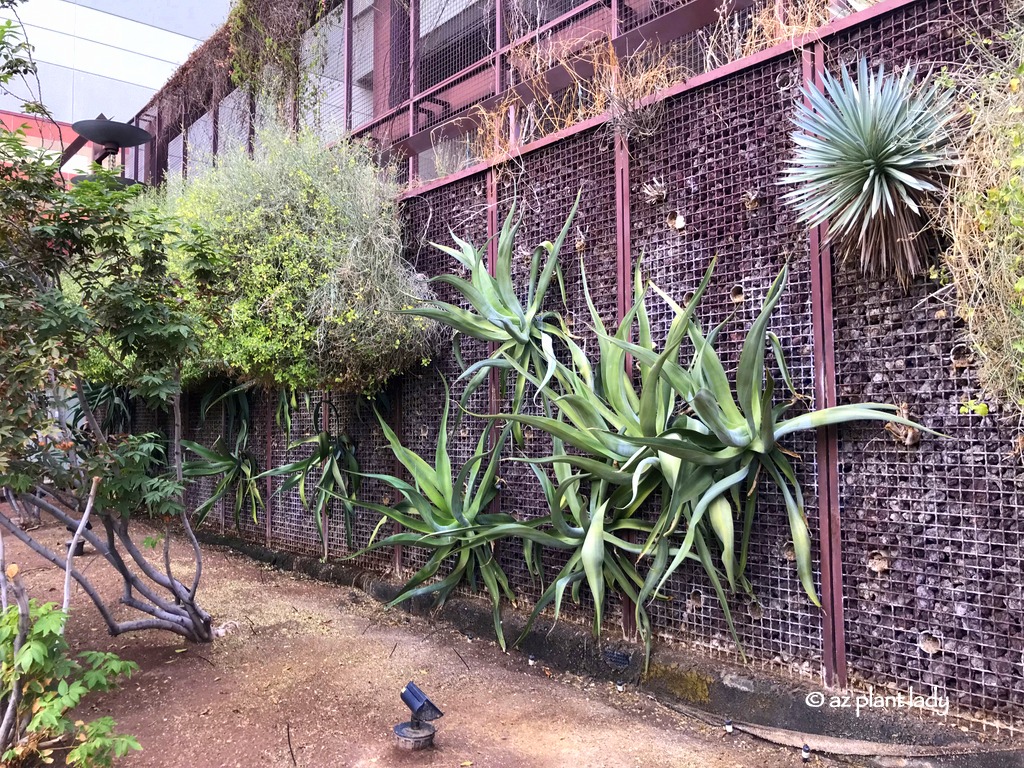 On our way back to the car, we passed by a striking vertical garden, filled with chuparosa (Justicia californica), octopus agave (Agave vilmoriniana), and yucca. Even though the chuparosa was a bit too overgrown, the overall effect was lovely.
Garden Visitors and Holiday Season Baking
Back home, things are rather quiet in the garden, with one exception: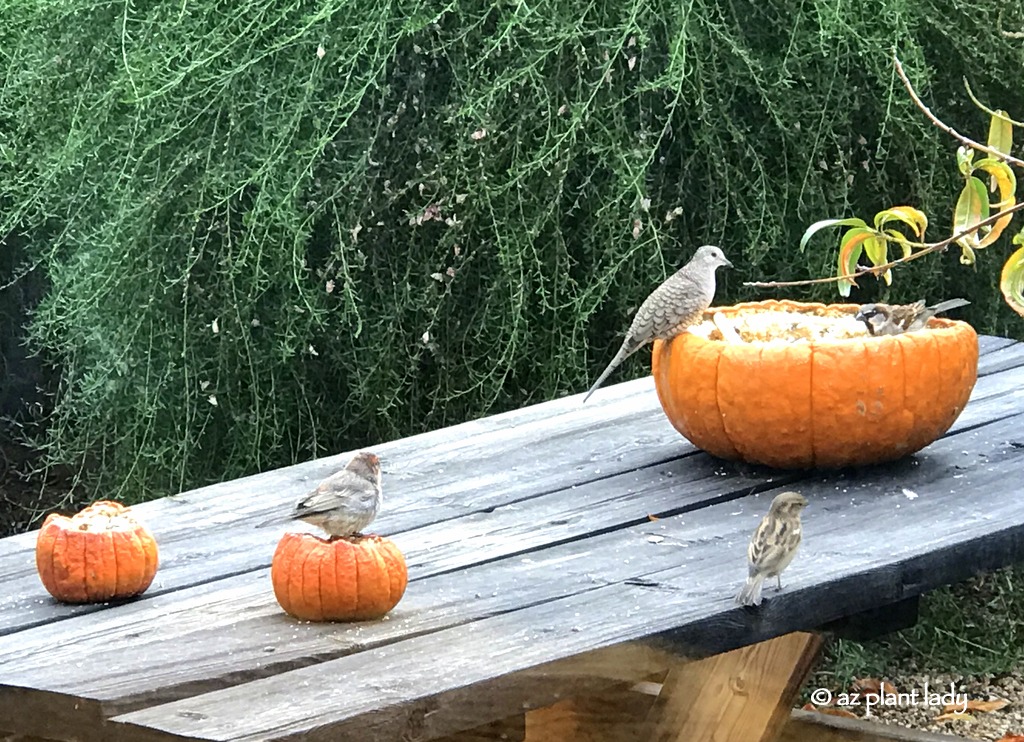 My Halloween pumpkins that I filled with birdseed are still creating quite a buzz with the neighborhood birds. We have had Alber's towhees, curved bill thrashers, finches, Inca doves, and sparrows come for a visit. It's been a real treat watching them out the kitchen window. The pumpkins will probably have to be thrown out in another week, but it's been nice to find a way to reuse them.
The Best Snickerdoodle Recipe Ever
Lastly, we've been busy baking cookies for upcoming holiday events as well as to give to friends and neighbors. Snickerdoodles are by far our favorite, and they are so easy to make with ingredients that you probably already have in your pantry.
The recipe I use is an old one. I received it at my wedding shower, back in 1986, from a college friend. It has never failed me and cookies are delicious. I've had many requests to share it, so here it is: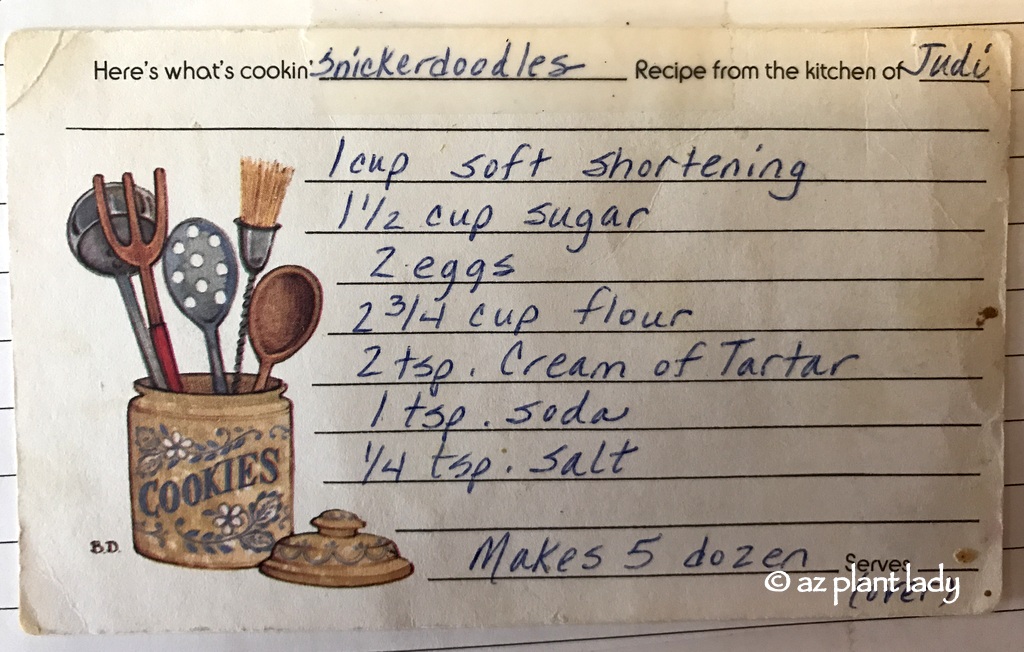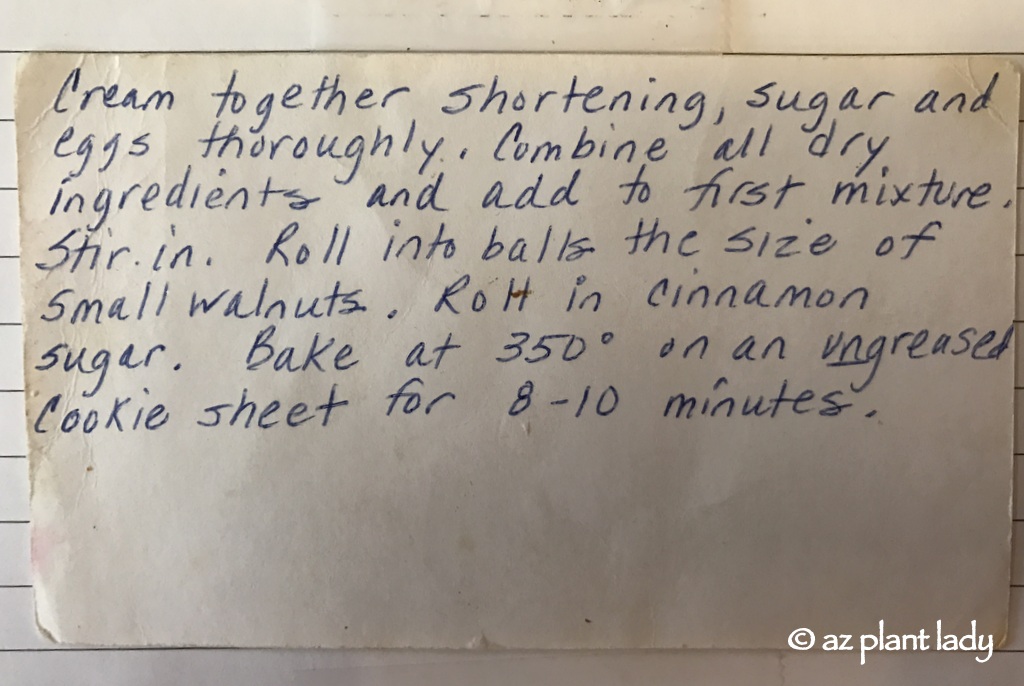 *Please feel free to print it out and start your own annual Snickerdoodle cookie tradition.
December In The Garden….Sit Back And Relax

https://www.azplantlady.com/wp-content/uploads/2017/12/Christmas_Agave-003.jpg
1024
679
arizonaplantlady@gmail.com
http://www.azplantlady.com/wp-content/uploads/2018/10/favicon.png
arizonaplantlady@gmail.com
2017-12-18 13:48:07
2023-10-10 16:09:06
December Happenings: Ballet, Sideways Agave, Pumpkins, and Snickerdoodles