February is what I like to call a 'bridge' month. In regards to work, it is a transition month for me. It is the month between January, when work slows down as it's cold with not much is growing and March, when the weather is delightfully warm and everybody seemingly wants to redo their landscape. If I could choose the perfect month in terms of work load, it would be February.
Landscape Dilemma ,Colorful Container Before and After Landscape
Last week, I was visiting one of my favorite clients whose landscape has been a work in progress. The backyard was finished last year and now, it was time to pay attention to the front. Of course, I took a few minutes to see how things were doing in the back and my attention was immediately drawn to this colorful container filled with colorful succulents. The orange stems of 'Sticks on Fire' Euphorbia adds welcome color to the garden throughout the year while elephant's food (Portulacaria afra) trails down the side of the pot.
I am a strong proponent of using colorful pots filled with low-maintenance succulents in the garden. Why mess with flowering annuals if you can enjoy vibrant color without the high maintenance?
Full disclosure: I do have a couple of pots filled with petunias, but the vast majority are filled with succulents 😉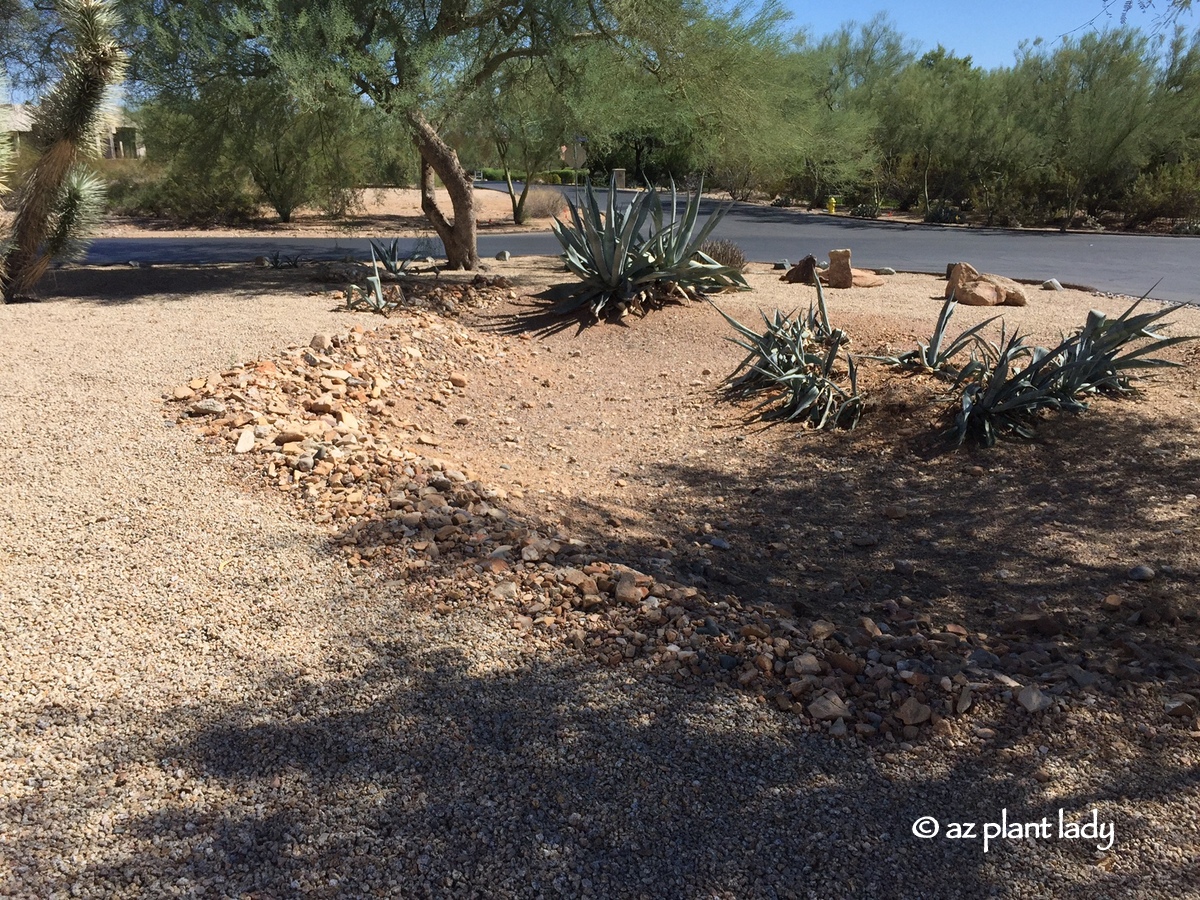 Landscape Dilemma
One of the most rewarding parts of my job is assisting my clients with their landscape dilemma.  Often, the solution is much simpler than the client imagined.  Last fall, I visited this home which had a large, shallow depression that was filled with dying agave.  The interesting thing was that there was no obvious reason for its presence as no water drained into it.  It definitely wasn't what the client wanted in this high-profile area.
So what would be a good solution for this area? The client wanted to plant a large saguaro cactus in this area, but didn't want to add a lot of plants. My recommendation was to get rid of the dying agave and turn the depression into an attractive feature of the garden.
This is what it looks like now. Filling the area with rip-rap rock, adds both a texture and color contrasting element to the landscape. Well-placed boulders with a century plant (Agave americana), Mexican fence post (Stenocereus marginatus), and golden barrel cactus (Echinocactus grusonii) help to break up the large expanse of the shallow depression with their spiky and globular shapes. Finally, a saguaro cactus was added, which stands sentinel over this renovated area.
One would never imagine that this part of landcape hadn't been planned this way when it was first planted years ago.
Lastly, February is all about Valentine's Day. I sent my granddaughter a care package filled with goodies for Valentine's Day. Dinosaur cards for her classmates, a little craft, a hanging mobile, stickers, and of course chocolates – all with a Valentine theme.
For me, Valentine's day comes with mostly great memories. As a child, I looked forward to handing out Valentines to my classmates and getting them in return. During teenage years, there was one particularly memorable one when I was 17 years old. My boyfriend didn't get me anything, however, another boy gave me a card and a flower, which was some consulation. And to finish off that infamous Valentine's Day, I came down the chicken pox that very day. Guess who also got the chicken pox? The boyfriend who forgot Valentine's Day. Now, I look forward spending the 14th with the main man in my life, who after 31 years, still makes me feel special.
*What do you do to celebrate Valentine's Day?
Cactus Flowers Color the Desert Landscape

https://www.azplantlady.com/wp-content/uploads/2017/02/Sticks_on_fire_euphorbia_container_portulacaria_afra.jpg
1200
889
arizonaplantlady@gmail.com
http://www.azplantlady.com/wp-content/uploads/2018/10/favicon.png
arizonaplantlady@gmail.com
2017-02-10 17:50:16
2020-12-24 08:06:18
Colorful Container, Before and After, and Valentines