After spending a fun-filled morning in Ojai, exploring the secret Taft Gardens, we traveled north toward the small town of Los Olivos, which is located approximately 35 miles north of Santa Barbara.
On our way out Ojai, we sat at an intersection where the traffic light was visible between the branches of an old, oak tree.
I love that the value of the tree was taken into consideration, and it was allowed to stay.
After leaving Ojai, our journey took us through picturesque, winding roads through the mountains, many of which, were dotted with avocado trees.
Some of the avocado groves were planted on very steep mountainsides. I wouldn't want to be the one to pick them – I'd probably fall down the mountain.
Los Olivos is located in the Santa Ynez Valley, near the Danish town of Solvang. It is home to a large number of wineries along with famous celebrities who like the peace and privacy while being within a few hours drive of Hollywood.
Upon entering Los Olivos, we drove by the entrance to a very famous (or infamous) property.
This is the entrance to 'Neverland', which is Michael Jackson's former estate. The last I heard, it was listed for sale for a mere $100 million dollars.
We decided to pass on buying this property and drove onto the main street in Los Olivos.
Small restaurants, wine tasting rooms, stores offering olive oil tasting and a smattering of gift shops dot the main road.
While I was enjoying the wares for sale in the stores, my attention was drawn to the plants that decorated the main street.
Mexican bush sage (Salvia leucantha) with Mexican feather grass (Stipa tenuissima)
A large Lady Banks rose rests on a dead tree trunk.
Spanish lavender and white Iceberg roses
White Iceberg roses are frequently used throughout many areas in Southern California. I've seen it in parking lots, along roadways, and by storefronts. It's easy to grow and resistant to pests and disease.
Before leaving Los Olivos, we had to stop by a nursery that my mother had visited numerous times.
The majority of the nursery was filled with a large variety of succulents, many of which, were combined with garden art elements including fairy gardens.
A variety of Echeveria adds a whimsical touch to this fairy house.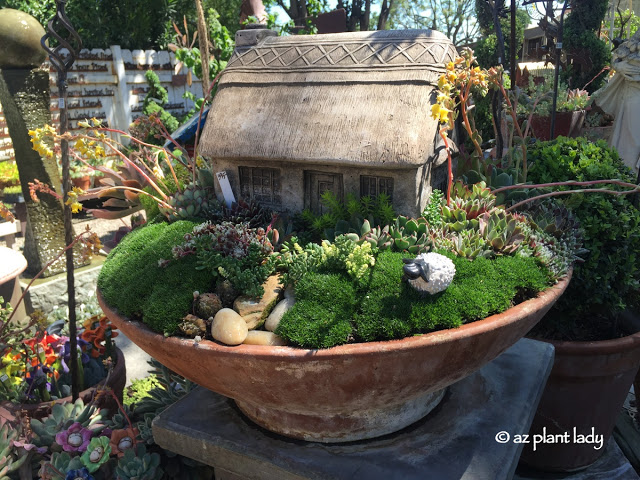 A combination of moss and succulents help create this fairy farm.
The fairy gardens were created by one person who was truly talented. Most of the gardens were quite large and out of my price range, typically costing between $200 – 600. But, at least I could appreciate them and take pictures 🙂
Spider Web Hens and Chicks (Sempervivum arachnoideum)
A plant rack made from metal pipes.
There was such a large selection of garden art that I was sorely tempted to buy something, but there were too many choices so I contented myself with taking pictures of those that I liked. What's even better, is that taking photos is free!
Blue is one of my favorite colors to add to the garden, and I often recommend to my clients to add pieces of garden art in vibrant shades of blue. The reason for this is, is that blue creates dramatic color contrast, and there aren't many plants that produce blue flowers.
This was my favorite fairy garden. The whitewashed building reminded me of the homes on the Aran Islands, my husband I saw in Ireland. I also enjoyed the geese hiding among the succulent plants. It's hard to tell from the photo, but the container that holds this miniature garden is at least two ft. wide.
After spending the afternoon in Los Olivos, it was time to travel south to Santa Barbara, which has been described as "America's Riviera".
Santa Barbara holds a special place in my life. As a child, my grandparents, aunts, uncles and cousins all lived in Santa Barbara, so I spent a lot of my childhood there.
It is also the place where I went to college and met my husband.
We drove by the house that my grandparents used to live in. Memories of this home include Christmases past and summer dinners in the backyard.
The late 1970's
Today
I was happy that I was able to recognize the house right away, even after almost 40 years.
The end of our day was nearing, and we drove to my aunt's house on the other side of Santa Barbara. My uncle, who is an architect, built this house in 1976, and I have memories of visiting the work site and later spending weekends there with my cousin, who was the same age.
The house is perched on the side of the hill; that overlooks the ocean and the Channel Islands.
It was so nice to be able to step into a welcoming home with family and a home-cooked dinner instead of staying in a hotel that night.
Then it was time to sleep and prepare for our next day's adventure, which would involve exploring Santa Barbara further, including a historic mansion and its gardens in nearby Montecito.
Thank you for taking time out of your day to come alongside us as we journey up the coast of California 🙂

https://www.azplantlady.com/wp-content/uploads/2016/04/IMG_2573.jpg
640
480
arizonaplantlady@gmail.com
http://www.azplantlady.com/wp-content/uploads/2018/10/favicon.png
arizonaplantlady@gmail.com
2016-04-18 04:35:00
2022-10-16 03:38:52
California Road Trip: Day 2.5 – Avocado Trees, Fairy Gardens, Wineries and Family Dinner