Have you ever embarked upon an unexpected adventure?
I recently did.
It all started with an email from the folks at Troy-Bilt who asked me to partner with them and review their outdoor power products in return for my honest opinion.
I had heard of Troy-Bilt company before and knew that they made high-quality gardening equipment. But, I was curious about why they were contacting me.
It turns out that I was asked to be one of their six garden bloggers known as the 'Saturday6'.
The 'Saturday6' is a group of six garden bloggers brought together by Troy-Bilt to share their gardening knowledge via their gardening newsletter, how-to videos and by reviewing Troy-Bilt equipment.
Troy-Bilt brought all of us together for an event-filled weekend in Scottsdale, AZ.
Five members of the 'Saturday6' flew in from destinations like Minnesota, Florida, Massachusetts, Tennessee and North Carolina. I, however, just hopped into my truck and drove the 30 minutes to the hotel.
Our adventure started with a tour of the Desert Botanic Gardens in Phoenix.
Although, I have visited the gardens numerous times, it was quite nice to have a guided tour and see the gardens through the eyes of those who are unfamiliar with desert plants.
It was so nice to experience the gardens with fellow plant lovers (dare I say 'plant fanatics?). We bonded over our shared love of plants and stopped constantly to take photos.
The evening hours were spent enjoying a delicious dinner where we soon found ourselves immersed in our own 'special' language that all gardeners share.
I loved hearing about Dave's Tennessee vegetable garden and how we enjoyed growing many of the same things. Dave Townsend from Growing the Home Garden shared about his Tennessee vegetable garden and I found that we enjoyed growing many of the same things.


Steve Asbell of The Rainforest Garden had written for many of the same publications that I had. What I didn't know was that he is an incredibly talented illustrator and is currently writing a book.

Foreign concepts such as 'winter sowing' were explained to me by Amy of Get Busy Gardening who gardens in Minnesota. Because she lives in very different climate from mine, it was fun to hear about some of the different ways we do things in the garden.
I was very blessed to spend time with Helen Yoest from Gardening With Confidence who is a 'wiz' at social media and has a new book. She was very helpful in helping me to improve my mediocre social media skills.
Matt Mattus of Growing With Plants told me about the 30-year old Troy-Bilt rototiller that he uses on his 100-year old family farm in central Massachusetts. He has a huge greenhouse where he grows tropical plants including South African bulbs.
Our first morning together was spent at a golf course, where we tested the many Troy-Bilt products and learned more about the company.
The equipment laid out for us to try out, including both push and riding lawn mowers.
Troy-Bilt had their regional trainers on hand to show us how everything worked.
Helen learns the finer points of driving this small-sized riding lawn mower, which fits through a standard garden gate, making it a great option for the smaller landscape.
The riding lawnmowers were the most popular piece of equipment we tested.
Steve tries out the push mowers.
The push mowers were fun to try as well.


Next, it was time to try out the leaf blower, which is a very popular tool here in the desert southwest.
You might wonder why I'm wearing a rain coat on a sunny day? You'll see why later…
I am tough on gardening equipment and if it is confusing to use or does not work well – I don't endorse it. The hand-held leaf blower was easy to hold and a breeze to pull-start.
Dave learns about the features of Troy-Bilt string trimmers and how you can switch attachments like a cultivator, pole chainsaw, blower, etc.
I like digging dirt…especially with this small-sized rototiller. I could use this to make another vegetable garden.
Matt liked the larger rototiller.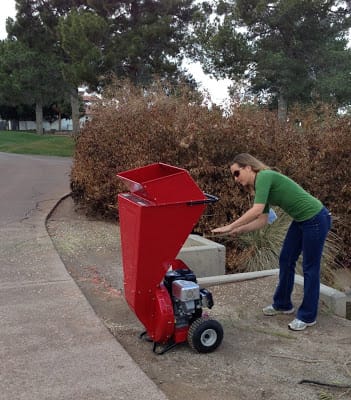 Amy feeds branches into the chipper.
In addition to testing the equipment, we also had some fun…
Lawnmower races, anyone? Our testing was finished and we paused to take a group photo.
As we went indoors to learn more about the equipment and the company, the skies began to darken…
Then the skies opened up and it began to hail, a lot…
It looks like snow, doesn't it?
Watching 'crazy' golfers trying to finish their game through the hail and thunder.
I don't think my fellow bloggers expected a cold, wintery day in the desert.


After our training, we spent another evening together, enjoying dinner with the Troy-Bilt team. It was fun to swap stories about our gardens with their challenges and successes.

Spring training is 'big' in Arizona. So, I was excited that the next day's events included a spring training game between the Cleveland Indians and the Chicago Cubs.
We enjoyed bratwurst, hamburgers, peanuts and Cracker Jacks in the Budweiser tent.
You would think that we would be focused on the baseball game, but you'd be wrong.
The camaraderie we built was evident as we spent the entire time just talking. Occasionally, we were distracted by a home run, but didn't keep track of who was winning.
At the end of our event-filled weekend, I was even more excited to be a part of the 'Saturday6' and share what I know about gardening as well as having the opportunity to test Troy-Bilt products.
I must admit that I'm in love with this small Neighborhood Rider.
I wonder if I can convince my husband to give up our push lawn mower?

https://www.azplantlady.com/wp-content/uploads/2013/03/Saturday-6.jpg
118
400
arizonaplantlady@gmail.com
http://www.azplantlady.com/wp-content/uploads/2018/10/favicon.png
arizonaplantlady@gmail.com
2013-03-25 05:01:00
2021-01-30 06:55:11
The 'Saturday6' and a Fun-Filled Weekend