Do you have friends with whom you share a common interest?


I do.


My friend and fellow blogger, Amy Andrychowicz of Get Busy Gardening loves gardening as much as I do. Amy and I have spent time together in Arizona and later in Florida.
Last week, while on a road trip through the Midwest, I made sure to make a stop in Minneapolis to visit with Amy and see her garden in person.
You may be wondering what a gardener from a hot, dry climate would have in common with one from a cold, temperate climate?
My winter temps can get down to 20 – 25 degrees in my desert garden while Amy's goes all the way down to -30 to -25 degrees. That is up to a 50 degree difference!
But, believe it or not, there are a large number of plants that can grow in both climates.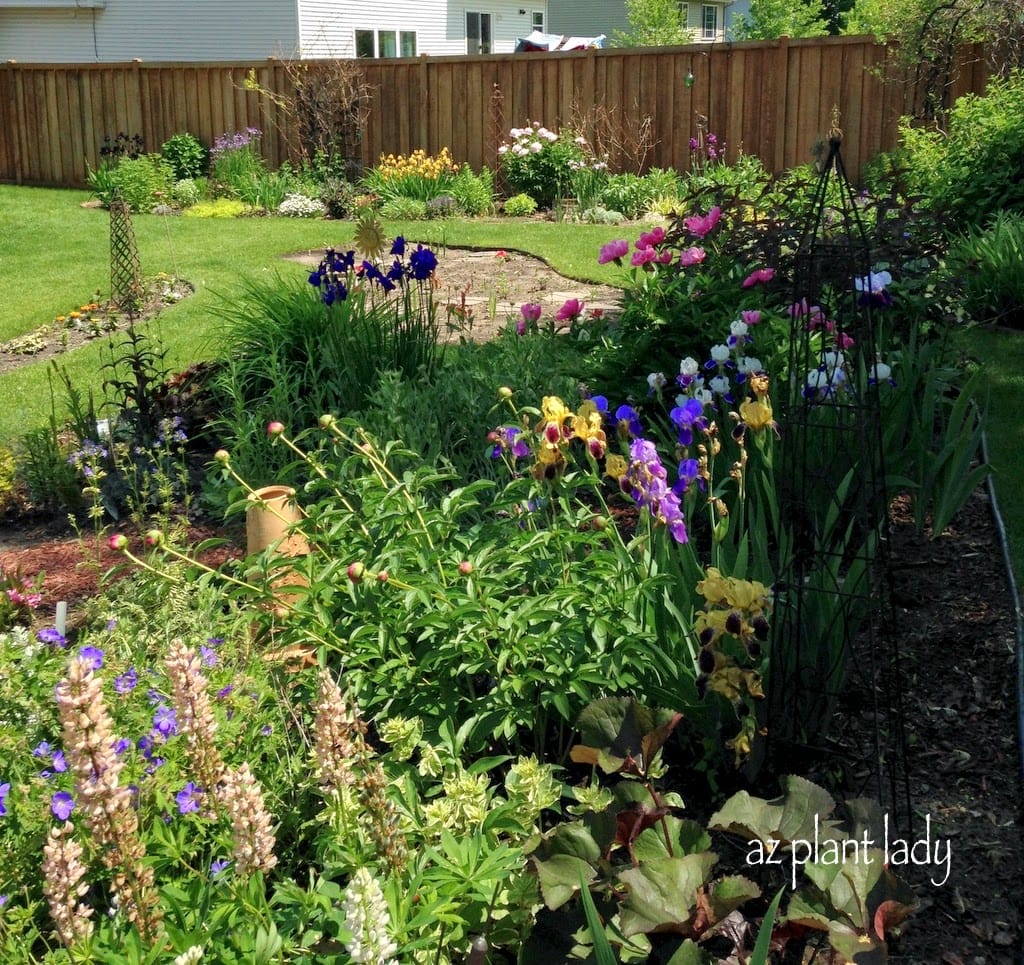 Entering Amy's back garden, my attention was immediately drawn to her large beds filled with colorful perennials.
I love iris!
I am always taking pictures of iris throughout my travels. While they can grow very well in Arizona, I have never grown them myself.
The major difference between growing irises in the Southwest and the Midwest is the time that they bloom. Iris will bloom earlier in the spring while their bloom won't start until late spring in cooler regions.
After seeing Amy's in full bloom, I may need to rethink planting these beautiful plants in my own garden.
Succulents aren't just for the warmer regions. I have encountered prickly pear cacti in some unexpected places including upstate New York.
Here, Amy has a prickly pear enjoying the sun flanked by two variegated sedum 'Autumn Joy' that produces reddish flowers in late summer to early autumn.
This plant also can grow in desert gardens, but does best in the upper desert regions or in the low desert in fertile soil and filtered shade.
You might not expect to see water harvesting practiced outside of arid regions. But you can see examples of water harvesting throughout the United States.
This is Amy's rain garden. The middle of the garden is sloped into a swale that channels and retains rainwater allowing it to soak into the soil. Plants are planted along the sides of the swale who benefit from the extra water.
A water feature was surrounded by low-growing plants including one that caught my eye.
This ground cover had attractive, gray foliage covered with lovely, white flowers. I wasn't familiar with this plant and asked Amy what it was.


I love the name of this plant, 'Snow in Summer' (Cerastium tomentosum). While it thrives in hot, dry conditions, it does not grow in warmer zones 8 – 11.
Enjoying the shade from the ground cover was a frog.
I always enjoy seeing plants that aren't commonly grown where I live. I have always liked the tiny flowers of coral bells (Heuchera species). It blooms throughout the summer in cooler climates.
Do you like blue flowers? I do. I first saw Brunnera macrophylla 'Jack Frost' growing on a visit to the Lurie Gardens in Chicago.
This lovely perennial won't grow in my desert garden, so I'm always excited to see it during my travels.
Amy had two beautiful clematis vines just beginning to bloom.
I must admit to being slightly envious of her being able to grow these lovely, flowering vines. Years ago after moving to Arizona, I tried growing clematis. While it did grow, it never flowered. Clematis aren't meant to be grown in hot, dry climates.
Aren't these single, deep pink peonies gorgeous?

While I am usually content with the large amount of plants that I can grow in my desert garden, peonies are top on my list of plants that I wish would grow in warmer climates such as mine.
Amy's garden was filled with beautiful, flowering peonies of varying colors.
I took A LOT of pictures of her peonies.
There was even a lovely bouquet of peonies decorating the dining room table.
Amy's back garden is divided up into individual beds and one entire side of the garden is filled with her impressive vegetable garden.
You may be surprised to find that growing vegetables is largely the same no matter where you live. The main difference is the gardening calendar. For example, I plant Swiss chard in October and enjoy eating it through March. In Amy's garden, Swiss chard isn't planted until late spring.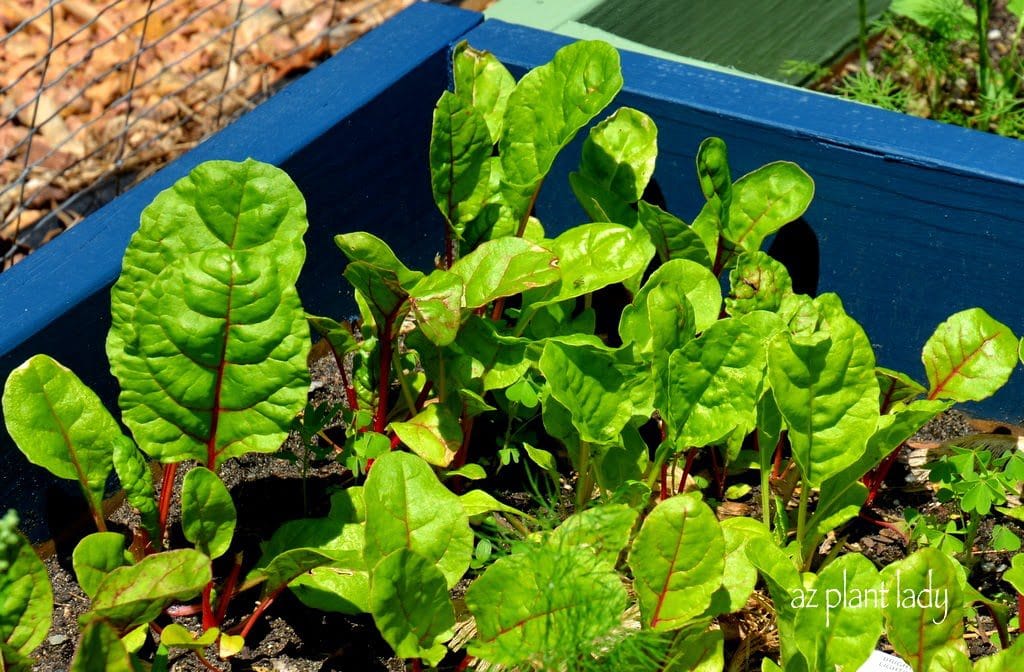 Swiss chard
The raised vegetable beds were painted in bright colors, which contrasted beautifully with the vegetables growing inside. Even when the beds stand empty, they still add color to the landscape.
Green Beans
Kale
Young pepper plants took advantage of a hot, sunny location in which they will thrive.
One thing that is different in vegetable gardening is the practice of 'winter sowing'. When Amy first told me about this method of sowing and germinating seeds, I was fascinated.
Basically, seeds are planted in containers with holes poked on the bottom for drainage. The containers are then covered with plastic tops also covered with holes.
In mid-winter, the containers are set outside. Snow and later, rain water the plants inside the containers and the seeds germinate once temperatures start to warm up.
Amy has a great blog post about winter sowing that I highly recommend.
As we got ready to leave, we walked through the side garden, which had a wooden bridge.
Different varieties of thyme were planted amount the pavers for a lovely effect.


Thyme can make a great ground cover in areas that receive little foot traffic.
In the front garden, I noticed the characteristic flowers of columbine growing underneath the shade tree.
I don't often see red columbine. Amy's reseeds readily, so she always has columbine coming up.
This is a sweet, pink columbine that has smaller, but more plentiful flowers.
I had visited Amy's garden through her blog, Get Busy Gardening for a long time and it was so wonderful to be able to see it in person. It is beautiful!
I encourage you to visit Amy's blog, which is filled with a lot of helpful advice – even for those of us who live in the Southwest.

https://www.azplantlady.com/wp-content/uploads/2014/06/birdhouse-2.jpg
1024
856
arizonaplantlady@gmail.com
http://www.azplantlady.com/wp-content/uploads/2018/10/favicon.png
arizonaplantlady@gmail.com
2014-06-19 20:13:00
2021-01-11 12:26:58
Colorful Midwestern Garden of Amy, Get Busy Gardening