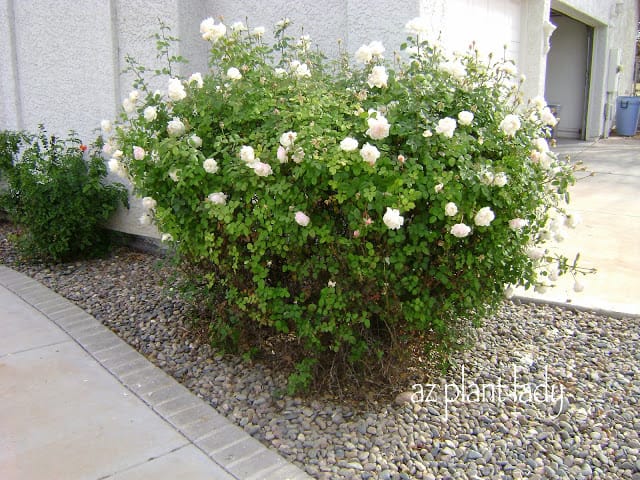 This gardening story is all about one particular rose bush which is located at our small family farm, affectionately called 'Double S Farms'.
I first posted this story about an overgrown, nameless rose 2 years ago.
Since it is time in areas with warm winter climates, to prune back your roses, I thought you would enjoy this story as much as I do 🙂
*************************************
This poor rose had not been fertilized, deadheaded or pruned for a few years. Personally, I think it looks fantastic considering the lack of care it has received. The residents of Double S Farms, (my mother, sister and her family), had only recently moved to the farm, so this rose had been neglected by the previous owners.
I decided to focus on this rose because I wanted to show how to prune a rose and I don't have any roses that need pruning right now. So, my mother and sister (residents of Double S Farms) graciously granted me permission to prune their rose bush. Actually, they were more then happy to have me do it so they would not have to 😉
I had no idea what variety this rose was. I was pretty sure that it was a shrub rose and it had a lot of old, unproductive growth that needed to be removed. When finished, it would be rejuvenated and ready for the beginning of it's new life with it's new homeowners.
So I got started….
My tools – hand pruners, pruning saw and loppers. Oh, I almost forgot – gloves! I also recommend wearing a long-sleeved shirt as well to protect your arms from being scratched from the thorns.
First, because there is so much thick growth, I just started to cut branches in order to make a 'hole' like this, which made it easier for me to reach inside with my pruners to remove the interior wood. It is much easier for me to remove the larger branches at the beginning of the process instead of making multiple cuts of the smaller branches and working my way down.
Normally, I remove about 1/2 of the height of the rose bush. But, in this case, I decided to remove quite a few of the large, old branches (canes) at the base of the rose as they no longer produced as many newer branches and roses as the newer canes do. This neglected rose bush has a lot of old growth that had to be removed, so I would be pruning it back by 2/3.
First, I removed the old and dead canes. Then I selected the green, healthy canes that I wanted to keep and pruned back to an outward facing bud and cut at a 45 degree angle.
Okay, you may be wondering why I am included this gross picture of a borer cut in half. Well, borers burrow into the center of the rose canes, causing damage as you can see in the cane to the right.
My son thought it was so cool….he likes anything that is gross.
*To help prevent borers in the future, simply apply some wood glue to the top of the newly pruned canes, which helps seal them out.
Surprise! As I continued pruning, I discovered that there were actually two rose bushes which had grown together.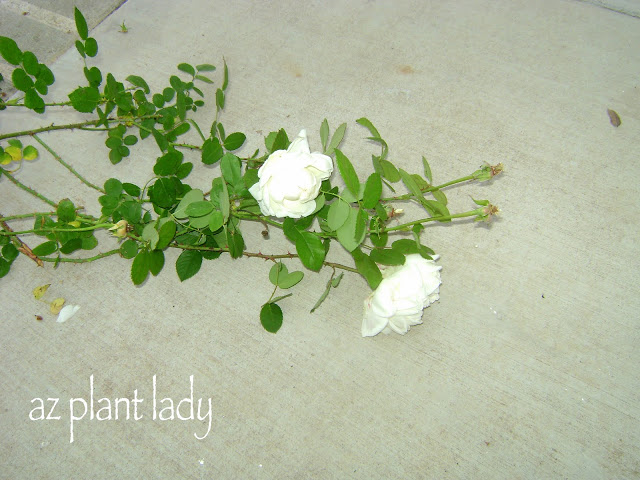 Every January, it just kills me to prune back roses and watching all the beautiful blooms fall to the ground. But, beauty hurts and pruning will ensure that there will be more beautiful blooms for these rose bushes in the spring.
Here is an example of a cane that has been pruned incorrectly long ago, (I told you this rose bush had been neglected and mistreated). You can see where it turned brown and died. When pruning the canes, be sure to prune back to a bud or back to the base of the larger cane.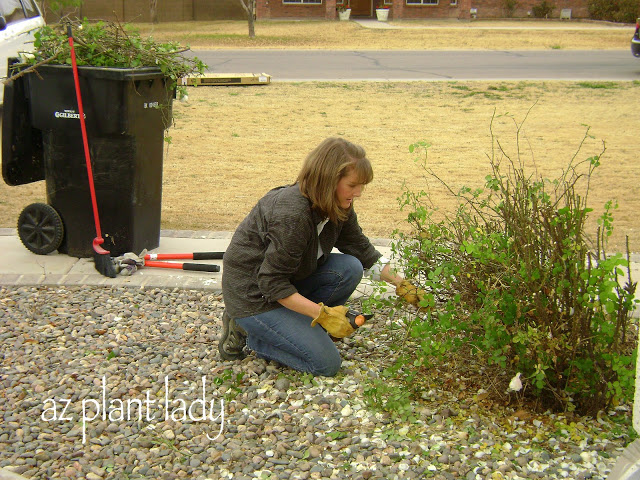 I really did the pruning myself and am not just taking credit for someone else's work 😉
I was almost done. I continued cutting away all the remaining small canes and dead growth with my hand pruners. I used my loppers for the large canes that need to be removed.
I enjoy pruning very much, but I hate this part….
But, I was lucky. I was able to bribe my son and daughter to help me clean up.
Now all I had left to do was to remove all leaves remaining on the roses and clean up any leaves lying around the area surrounding the roses. I do this because the leaves can harbor fungal diseases that will reinfect the new rose leaves.
Guess what? I found the old tag from when the rose bushes were planted. It is a 'Glamis Castle', which is a David Austin English Rose. I put the tag back on one of the rose bushes.
I finally finished. The roses were no longer "Nameless, Overgrown or Neglected". Pastor Farmer (my mother) came outside to see what I had done to her roses. She was a bit dismayed to see so little left of her rose bushes. But I assured her that they would be happy and healthy and covered with blooms in spring.
Fast forward a few months, and these formerly neglected rose bushes were thriving again!
And the flowers were so beautiful and fragrant…
It never ceases to amaze me how pruning, done the right way, can bring new life to an old, neglected rose bush.

https://www.azplantlady.com/wp-content/uploads/2015/01/DSC02885.jpg
480
640
arizonaplantlady@gmail.com
http://www.azplantlady.com/wp-content/uploads/2018/10/favicon.png
arizonaplantlady@gmail.com
2015-01-09 13:34:00
2021-01-05 11:20:08
A Neglected, Overgrown, Nameless Rose….