Have you ever paused in the shade of a mesquite tree (Prosopis spp.) and noticed that its branches grow every which way?
I was reminded of this when I was visiting a client earlier this week and was advising him on how to care for his mesquite tree. I looked up and saw a cluster of branches growing up, down, sideways, and in curvy pathways.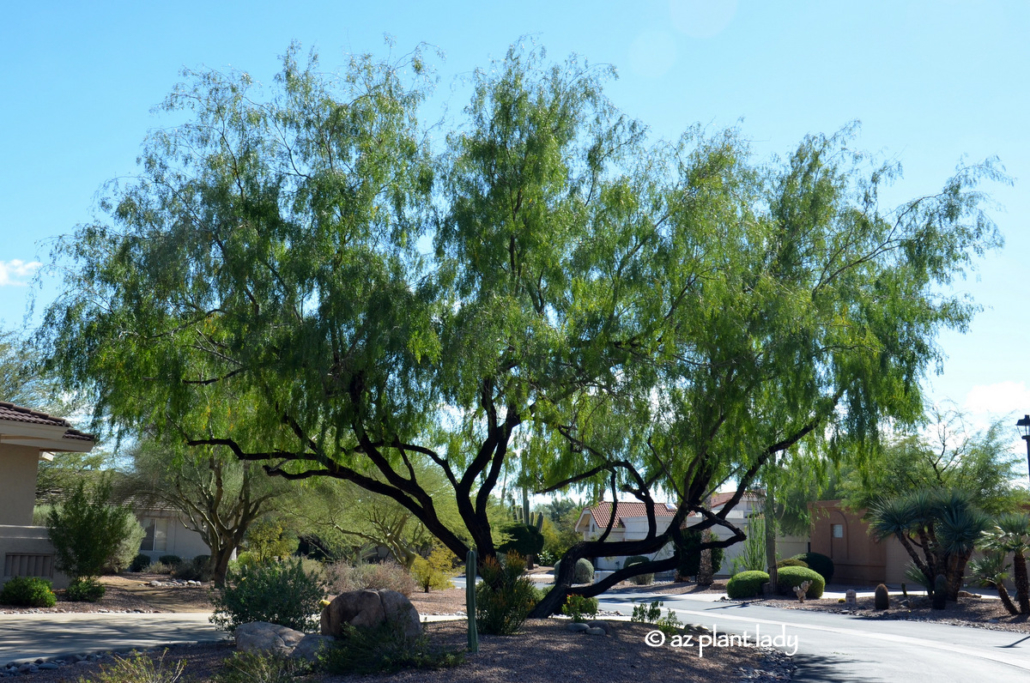 Texas Honey Mesquite (Prosopis glandulosa)
In an ideal situation, mesquite trees resemble the shape of more traditional tree species, as shown above. However, they don't always turn out this way.
Have you ever wondered why mesquite trees grow in such crazy ways?
The answer is quite simple – in nature, mesquites grow as large shrubs. The branches of shrubs grow in all directions, up, down, sideways, etc., and so do mesquites.
The problem arises when we train them up as trees, and their branches don't always behave as trees do. Because of this, mesquites that have been pruned into trees, do best being pruned by a professional, particularly when they are young and certain branches are being chosen to remain while others are pruned off.
Of course, this doesn't always happen, and you can see the results of bad pruning practices in many places.
I do love the shade that mesquite trees provide and I must admit that I enjoy a good chuckle when I see the unusual shapes that some mesquite trees have taken.
How about you? Have you ever seen a mesquite tree with crazy branches?

https://www.azplantlady.com/wp-content/uploads/2017/05/Prosopis_glandulosa_Honey_Mesquite_Southwest.jpg
796
1200
arizonaplantlady@gmail.com
http://www.azplantlady.com/wp-content/uploads/2018/10/favicon.png
arizonaplantlady@gmail.com
2020-05-14 07:00:45
2022-09-17 04:43:42
Mesquite Trees and Crazy Branches