Working on golf courses provided me with many opportunities to interact with our native wildlife. Now, most of my interactions were welcome – roadrunners, jackrabbits, even baby raccoons. Some encounters were unexpected – snakes, tarantulas and coyotes. But there was one animal with which I waged a constant battle…the Javelina, also know as the Wild Pig.
Javelina (Collard Peccary) Photo by Wing-Chi Poon
Now Javelina are not actually pigs, but are pig-like mammals that are native to the Southwestern region of the United States, ranging southwards into Central and South America.
Okay, first of all, you can smell them before you can see them. There is no polite way to state this – they stink. They travel in small herds and love to eat just about anything. They can eat cactus out in the desert, but will ignore that in exchange for what is growing in your garden.
My personal battle with javelina was due to the fact that two of the golf courses I worked at had 36 tee boxes and each were planted with flowers. In the summer, I would plant Lantana, which was beautiful and the Javelina did not touch. But, in the winter, they loved to eat whatever type of annual flower I planted, leaving torn up plants and dirt as proof that they had been there.
Purple Petunias planted at the tee box.
Believe it or not, Petunias, Pansies and Geraniums are listed on the Javelina Resistant Plants list. But, evidently, the Javelina did not read this list because they happily ate all of mine.
Now, I knew I had to do something besides replacing annuals up to three times a week. The members of the golf courses wanted flowers and I was tired of making endless trips to the nursery in order to pick up replacement plants and it was eating into my budget. So, I did some research.
Pink Petunias with Eremophila 'Valentine' in the background.
Some people swore that putting shavings of "Irish Spring" soap would keep them away. Others said that human hair would do the trick. I honestly did not try any of these because I had seen them fail before. But, there are some products that have had some limited success. The first are coyote urine products that seems to help keep them away, (I didn't want to try this one for obvious reasons). The second is Liquid Fence, which must applied frequently and the third is Dr. T's Squirrel Repellent.
I used Dr. T's Squirrel Repellent with some success. It did not eliminate the problem, but it did help decrease the amount of flowers being eaten by the Javelina.
*I did discover that the favorite thing the they would eat, was citrus fruit. So in the winter, when citrus fruit was plentiful on the trees, the Javelina would mostly ignore my flowers. In the summer, they would eat the seedpods from the Mesquite trees.
Geranium Flower
There are plants that Javelina are less likely to eat, but if they are hungry enough, they will eat anything. For years, they never ate the Geraniums I had planted on the golf course. But, one year, they came in and ate them all. So, no plant is completely resistant to them. The following link will send you to a list of plants that are somewhat resistant to Javelina – be sure to cross out Petunia, Pansy and Geraniums off of the list ;-).
*Annuals that are usually resistant to Javelina include Euryops Daisy, Bacoba, Snapdragons as well as Fern Leaf Lavender.
So the outcome was that I did win some battles, but the Javelina ultimately won the war….
Thankfully, the planters were removed during a golf course renovation and now perennials are now planted in their place, which are ignored by the Javelina. Unfortunately, this occurred after I had left….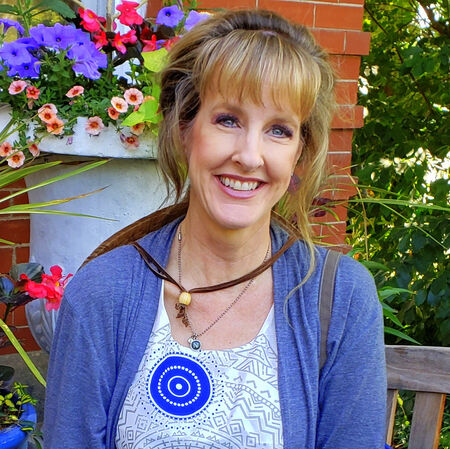 Noelle Johnson, aka, 'AZ Plant Lady' is a author, horticulturist, and landscape consultant who helps people learn how to create, grow, and maintain beautiful desert gardens that thrive in a hot, dry climate. She does this through her
consulting services
, her online class
Desert Gardening 101
, and her monthly membership club,
Through the Garden Gate
. As she likes to tell desert-dwellers, "Gardening in the desert isn't hard, but it is different."
https://www.azplantlady.com/wp-content/uploads/2010/01/Running_Javelina.jpg
425
640
arizonaplantlady@gmail.com
http://www.azplantlady.com/wp-content/uploads/2018/10/favicon.png
arizonaplantlady@gmail.com
2010-01-13 16:55:00
2021-03-21 09:12:52
Face Off With Wild Pigs