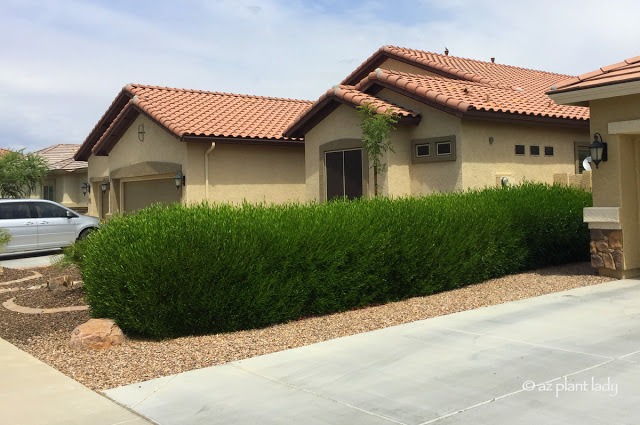 This morning, I was on my way to a landscape consultation for my fellow Arizona gardener, Claudette, who blogs over at Gilbert Garden Girls.


As I always do before driving to an appointment, I entered the address into my car's GPS and was pleased to see that it would only take 20 minutes to get to her house from mine.

However, as I drove down her street, the addresses did not match up with hers. So, I took out my phone and brought up my trusty Google Maps app and found that my car's formerly reliable GPS had misdirected me. Luckily, I was only 1 mile away and so I was only a couple of minutes late, which truth be told, is normal for me.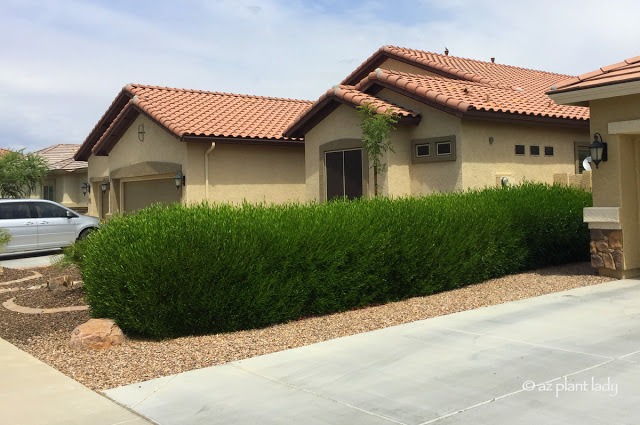 My unanticipated detour did have a silver lining, though.
I drove by a house that had a beautiful hop bush shrub (Dodonaea viscosa).
This evergreen, drought tolerant shrub does wonderfully in our southwestern climate, and it is a frequent addition to landscapes that I design.
Hop bush is quite versatile and relatively fuss-free, especially if maintained by pruning every 6 months or so, as shown above.
Here is another example of a hop bush shrub that has been pruned more formally, which it handles well.
Of course, you can always let it grow into its more natural form as a large shrub.
For more information on hop bush including what its flowers look like and why it's becoming a popular substitute for oleanders, you can read my earlier blog post – "Drought Tolerant and Beautiful: Hopbush the Alternative to Oleanders."
Have you ever seen this shrub where you live? How was it maintained? As a shrub, hedge or small tree?

Noelle Johnson, aka, 'AZ Plant Lady' is a horticulturist, certified arborist, and landscape consultant who helps people learn how to create, grow, and maintain beautiful desert gardens that thrive in a hot, dry climate. She does this through her 
consulting services
, her online class 
Desert Gardening 101
, and her monthly membership club, 
Through the Garden Gate
. As she likes to tell desert-dwellers, "Gardening in the desert isn't hard, but it is different."
https://www.azplantlady.com/wp-content/uploads/2016/05/Dodonaea_viscosa_hedge_Hopbush.jpg
425
640
arizonaplantlady@gmail.com
http://www.azplantlady.com/wp-content/uploads/2018/10/favicon.png
arizonaplantlady@gmail.com
2016-05-19 13:30:00
2020-03-04 11:57:20
An Attractive, Drought-Tolerant Hedge for Southwestern Gardens: Hop Bush