Design Notes From the Field: A New Build, Metal Art, Weeds, and Shade
I'm back with design notes from the field, where I share observations and recommendations from my work as a landscape consultant. This edition features a new build, metal art, weeds, and shade. I hope that you can pick out helpful tips that you can use in your landscape.
Up first, is a new house that is being constructed in east-central Phoenix. The home that used to stand on this lot was taken down to the foundation and an energy-efficient home is coming up in its place. I was hired by the architect to design a landscape that will fit its clean, modern lines.
Several years ago, I solely worked as a landscape designer, working with homebuilders, creating new landscapes from scratch with a blank palette. Nowadays, as a landscape consultant design is just one aspect of what I do as part of an overall plan within an existing landscape, which also includes maintenance recommendations. Now and then, I create one for new homes, and this one has some fun challenges.
The look the architect wants is simple and uncluttered with room for the new homeowner to add to it if desired. So, I am concentrating on using plants to create a framework. This includes two trees in the front along with two along the west-facing side to provide screening from the road and protection from afternoon sun.
Foundation plants will soften the base of the house while taller shrubs will soften the corners. Ground covers will add low-level interest along with a few agave and cactuses for an accent.
A splash of color will be added by the front entry with the placement of a large, colorful pot filled with an easy to care for succulent.
Often, I am asked for advice on what to do in somewhat unique situations. In this case, the homeowner needed advice for what to do for the wall behind the BBQ, which keeps turning black after grilling.
I tend to look at problems like this as opportunities for adding more interest to the outdoor space. In this case, I recommended adding garden art in the form of rusted metal botanical panels. There is a local artist in Phoenix who creates metal panels with plant shapes cut out of them. He offers standard pieces but also does custom work.
The rusted metal garden art will add welcome interest behind the BBQ as well as disguise any blackened area on the wall.
Here is an example of the metal botanical panels from another client's home, which was where I first encountered the work of this artist. You can learn more about this metal artist here.
Weeds will always be a problem in the landscape, like these I saw at a client's home growing through the patio. The solution to this area is to slowly pour boiling water on weeds growing through the cracks, which will kill them. For travertine, only do this if the stone is sealed.
To wrap our design notes, here is a landscape where the homeowner wanted to concentrate on plants up close to the house and not add any further out. Now if this front yard didn't have any trees, the absence of plants would cause it to look barren and washed out. However, the patterns from the branches of the 'Desert Museum' palo verde add beautiful patterns on the ground, so you can get away with leaving it bare, which draws attention to the lovely shadows of the branches.
I hope you have enjoyed this latest session of design notes. I'll have more for you in the future.
**Stay tuned for a special announcement that I'll be making the beginning of September. I'm working on a new project that will enable me to help you even more to create, grow, and maintain a beautiful outdoor space in the desert. I've been working on it for a while and am so excited to share it with you soon!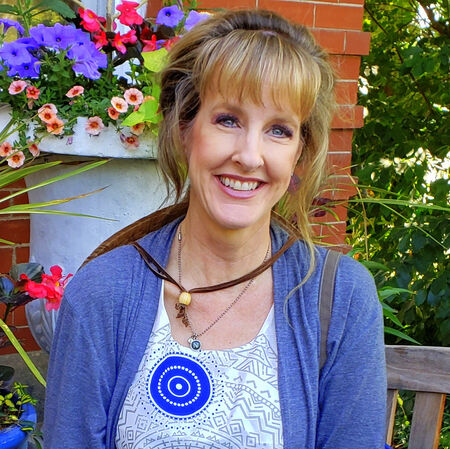 Noelle Johnson, aka, 'AZ Plant Lady' is a author, horticulturist, and landscape consultant who helps people learn how to create, grow, and maintain beautiful desert gardens that thrive in a hot, dry climate. She does this through her
consulting services
, her online class
Desert Gardening 101
, and her monthly membership club,
Through the Garden Gate
. As she likes to tell desert-dwellers, "Gardening in the desert isn't hard, but it is different."
https://www.azplantlady.com/wp-content/uploads/2018/08/new_build_landscape_Phoenix_landscape_design.jpg
648
1024
arizonaplantlady@gmail.com
http://www.azplantlady.com/wp-content/uploads/2018/10/favicon.png
arizonaplantlady@gmail.com
2018-08-11 07:52:10
2020-12-17 09:21:06
Design Notes From the Field: A New Build, Metal Art, Weeds, and Shade