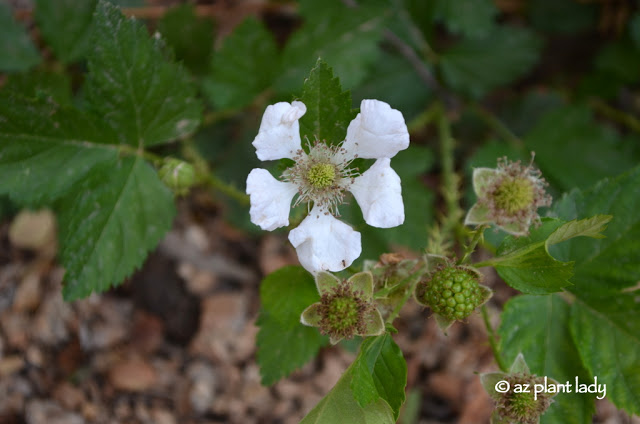 Do you grow fruit in your garden?
For those of us who live in warm, southern climates, you'll often see a citrus tree or two in the growing in the backyard.
While I do have a lemon and orange tree growing in my garden, that is just the beginning of my fruit crop. I also have a pair of apple and peach trees that generously provide us with fruit in late spring.
The final fruit crop that I grow isn't found on a tree but rather on bushes.
Ever since I was a child in Southern California, I have loved blackberries. We had a line of blackberry bushes growing along the back wall of our suburban home and it was often a race between us and our dog 'Smitty' to see who would get to them first.
Now, I have my own blackberry bushes growing in my side garden, which are located right behind my apple trees.
While I enjoy eating fresh fruit, I also like to make jam so that I can enjoy the fruits of my garden throughout the entire year.
Last month, I made several batches of peach jam and last week, it was time to make my first batch of blackberry jam.
It took a few weeks to get all of the blackberries picked from the bushes. The reason for this is that not all the berries ripened at once, so we would freeze them after picking until the entire bush was clean of berries.
My 13-year-old son asked if he could help me make the jam. I was pleasantly surprised that he would want to help me, but I will take any opportunity I can to spend time with my son.
We gathered supplies – canning jars with lids, sugar, powdered pectin and a canner.
The first step involved mashing the blackberries in a large pot before adding the powdered pectin.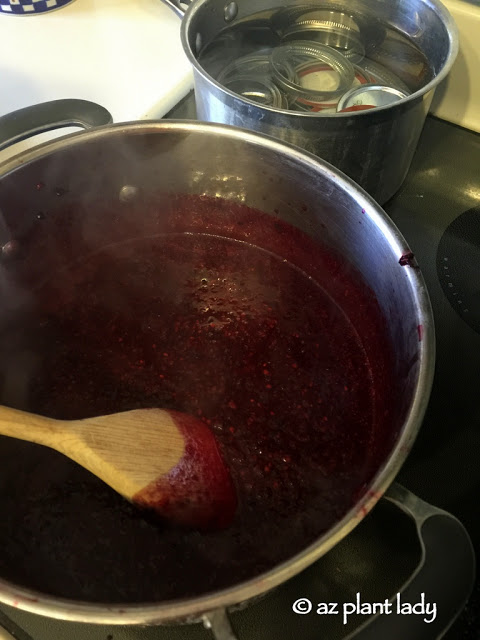 The blackberry mixture had to be heated to a high temperature until it began to boil.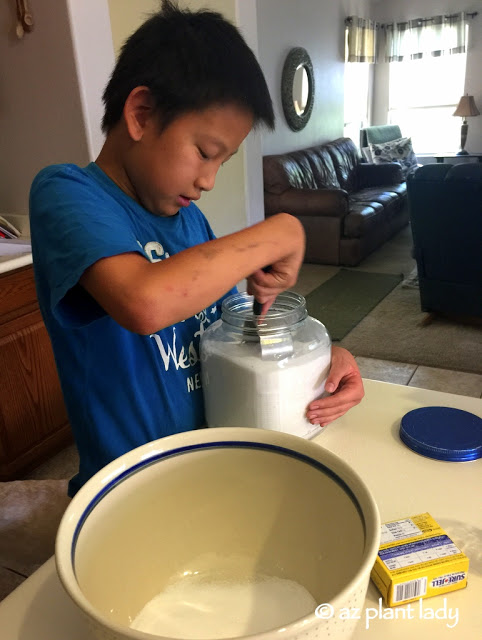 Then it was time to add the sugar. Jam takes a lot of sugar, but I don't like mine overly sweet, so I decreased the amount of sugar by 1 cup.
It helps to have the sugar pre-measured before boiling the fruit mixture.
After adding the sugar, we needed to heat the mixture back up to boiling. It was nice to have a helper, since you have to stir the entire time. Once it begins to boil, you have to let it continue for 1 minute before taking off the heat.
Take a couple of minutes to scoop off any foam that accumulated on the top of the blackberry jam before filling sterilized jam jars.
We carefully added the hot blackberry jam mixture into the jam jars. It smelled so good that we were tempted to try some, but decided against it since we didn't want to burn our mouths.
Using the handy magnet utensil that came with my canning kit, I carefully put on the lids.
At this point, you can allow the jam to cool and then enjoy it on toast or English muffin. But, you will need to refrigerate the jam unless you want to preserve it by processing it by water bath canning.
A hot water canning bath involves submerging the jars of jam in boiling water for several minutes. This will preserve the blackberry jam and allow it to last over a year on the pantry shelf.
Canning kits include a large pot, metal insert, funnel, magnet utensil for lids and tongs. They are relatively inexpensive and can be found at Walmart or Amazon. I have even seen them in my local Ace Hardware store.
After a 10-minute boiling water bath, the jam was ready to be taken out carefully with tongs.
We let them sit overnight to cool before eagerly tasting the fruits of our labors.
It is hard to compare the delicious taste of homemade jam that was made from fruit from your own garden. In fact, I find myself tempted to make a second piece of toast just so I can enjoy some more delicious blackberry jam.
Of course, you don't have to grow your own fruit to be able to make jam – simply buy some fruit at your local grocery store or farmers market. Earlier this month, I saw 1/2 pint containers of blackberries on sale for 97¢.
While I make jam every year, this was the first time I've made blackberry jam and I can't wait until next year to make some more.
Thankfully, I have eleven jars to last me through the next year.
***********************
Want to learn more about canning?
If you are lucky, maybe your grandmother, mother, or aunt can teach you.  5 years ago, my mother taught me how to make jam and I've never stopped.
If you don't have anyone to teach you, a simple Google search can help you find a class offered nearby or you can learn how to online.

https://www.azplantlady.com/wp-content/uploads/2015/06/blackberry_flower.jpg
424
640
arizonaplantlady@gmail.com
http://www.azplantlady.com/wp-content/uploads/2018/10/favicon.png
arizonaplantlady@gmail.com
2015-06-02 13:00:00
2022-10-23 09:55:22
Blackberries, Jars and a Young Helper