This week is off to a busy start. My husband and kids went on a camping trip, leaving me alone for 24 hours.
I had great plans for what I would do while they were gone.
I would work on writing blogs….
Work in the garden….
Plant seedlings indoors for a instructional video coming up….
Work on our taxes….
AND get a Redbox movie to end the day.
Well, I did achieve writing a blog and I did get our taxes done, but that was about it. My oldest daughter asked me to watch my granddaughter for a few hours, which I was happy to do. However, she had just returned from the doctor after getting her shots, so she was not too happy. So I just held and cuddled her.
Then my daughter brought lunch over and we visited for awhile. So I got started on my taxes a bit late. I do like using tax software, but I don't like having to get all my receipts together.
I ended the evening eating dinner at 8:00 and watching TV.
As I sat in my very quite house, I remembered where I was one year ago to the day.
We were on a cruise of the Caribbean with in-laws. They had treated us all to the cruise, which was to be a great time to build memories while we still had my father-in-law with us.
My in-laws always had their grandkids sitting their table. My father-in-law couldn't smile or speak anymore, but he was able to communicate through his iPad.
We had a fabulous time.
Our first visit was to St. Maarten. I had my camera with me and along with taking photos of the family, I also took pictures of the tropical plants.
I didn't know my husband was taking a picture 😉
At first, I was shocked at how blue the water was. (I am from Southern California, where the ocean is gray blue).
St Maarten
The plants were very colorful and I recognized some….
Bougainvillea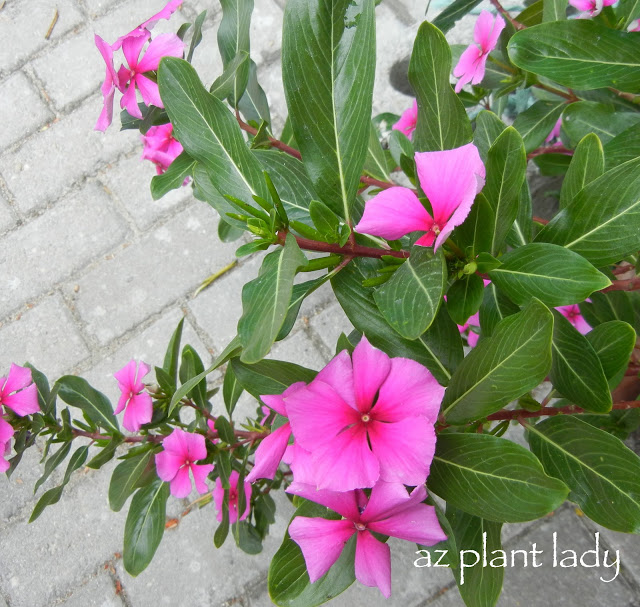 Vinca
There were other plants that I had no idea what they were….
This plant is rather unusual.
St Maarten
You know, it didn't matter that I didn't know what all the plants where.
It was enough to know that they were beautiful….

https://www.azplantlady.com/wp-content/uploads/2012/03/DSCN0307.jpg
480
640
arizonaplantlady@gmail.com
http://www.azplantlady.com/wp-content/uploads/2018/10/favicon.png
arizonaplantlady@gmail.com
2012-03-14 12:30:00
2021-02-07 11:30:54
One Year Ago…