Have you ever had something happen to you that was such a coincidence that it was hard to believe? Recently, I had one such experience.

It all happened on a beautiful, sunny morning in August…
But first, a little background:
Those of you who have been reading my blog for a long time may remember me sharing about my past job as a landscape designer. I wrote about my adventures that you can read about, here.
There were things that I enjoyed about my job and others things that I did not.
However, I did enjoy working with clients and helping design the landscape of their dreams.
*Okay, back to my amazing 'coincidence' story.
It was a beautiful, sunny day and I was on my way to an appointment for a landscape consult – (I work for myself now).
As I got off the freeway and started driving through the residential streets, I realized that I had designed a landscape there years ago when I worked for the landscape design company.
As I got closer to my destination, I saw that I was in the same neighborhood. I promised myself that I would try to find the same house after I was finished with my appointment.
My GPS directed me down the street where my ultimate destination was and soon I found myself sitting in front of the SAME house that I had originally designed back in 2008.
Hard to believe?
My first reaction was "I can't believe it!"
I had designed hundreds of landscapes and the chances of being called back to the same one by a different owner was so small.
The second reaction was, I hope they don't hate their existing landscape – if they did, I wasn't sure I would tell them that I was the original designer.
But then I remembered that my client had told me via email that she and her husband had just moved into their new home and wanted to learn about the plants in their landscape and how to take care of them – they had no idea that I was the original designer.
I knocked on the door and my client greeted me and proceeded to take me into their backyard.
Now
The first thing I saw was the pathway made up of broken concrete (called 'urbanite') that was had already been present the first time…
Then
I did have pictures of the landscape when it had been newly installed in 2008.
The new homeowner told me that she and her husband had bought the home because they loved the relaxing backyard landscape.
I then told her that I had been the original designer. She couldn't believe it either!
Now
As we walked into the backyard, the details of the design came flooding back.
Would you believe that there used to be a swimming pool in this backyard?
Then
Back in 2008, we filled in the pool and added mounds, boulders, drought tolerant plants and a palo verde tree.
Now
The original owners wanted to get rid of their pool, which they hardly used to convert it into a drought-tolerant landscape with a seating area underneath a tree.
I had designed a meandering path from the patio which ended in a seating area made from flagstone.
Then
You can really tell how much the tree and other plants have grown over the past 7 years.
Now
While the overall landscape looked good and I was happy with how the design turned out – but there was an issue.
Most of the plants were brown and straggly – not very attractive and showing signs of under watering.
The new homeowner provided me with the irrigation schedule that the original homeowners had been using and it was easy to see why some of the plants were a bit small for their age and didn't look great – they were getting too little water.
Then
I helped her adjust her irrigation schedule and assured her that her plants would soon improve in appearance.
Although some of the original plants had been lost due to under watering, I remembered what they were and was able to give her a list of replacements to buy.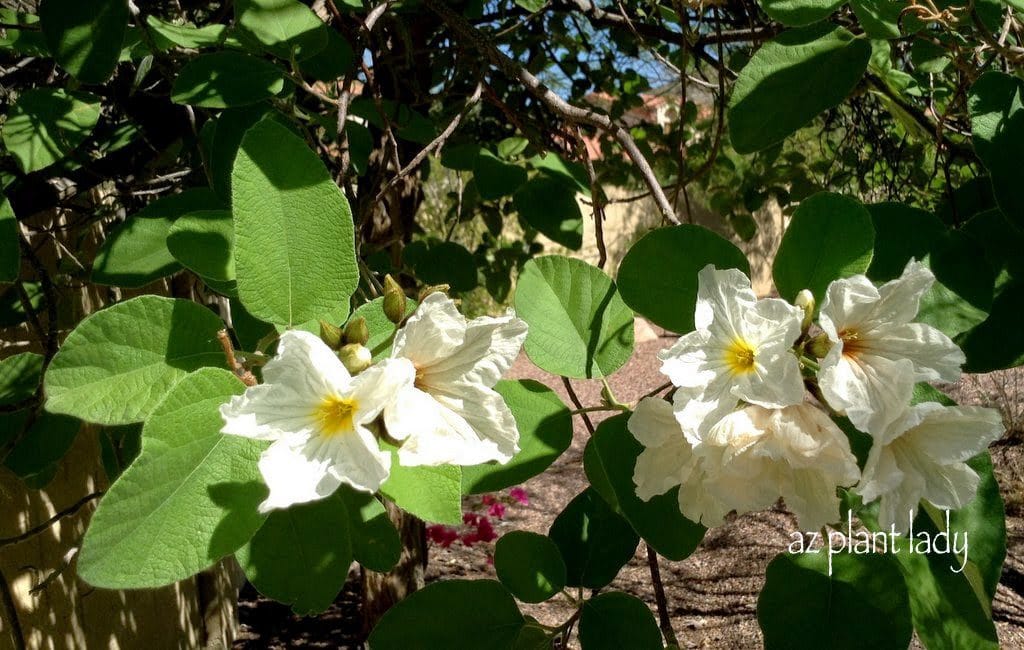 As I got ready to leave, the homeowner told me that she couldn't wait to tell her husband that by sheer coincidence, their landscape consultant turned out to be the original designer.
I drove away with a huge smile on my face because it isn't often that a residential landscape designer gets to see their designed landscape a few years later.
It made my job feel very rewarding that day 🙂
**For information on watering guidelines for the low desert including how to avoid over & under watering, click here.

https://www.azplantlady.com/wp-content/uploads/2014/09/LandscapeDesignSouthwest-1.jpg
1331
1600
arizonaplantlady@gmail.com
http://www.azplantlady.com/wp-content/uploads/2018/10/favicon.png
arizonaplantlady@gmail.com
2014-09-19 13:30:00
2021-01-06 11:37:21
Coincidence? Hard to Believe!