I don't have a favorite tree….I actually have quite a few favorites. But, if I had to pick one that I like most of all, it would be the 'Desert Museum' Palo Verde (Parkinsonia x 'Desert Museum').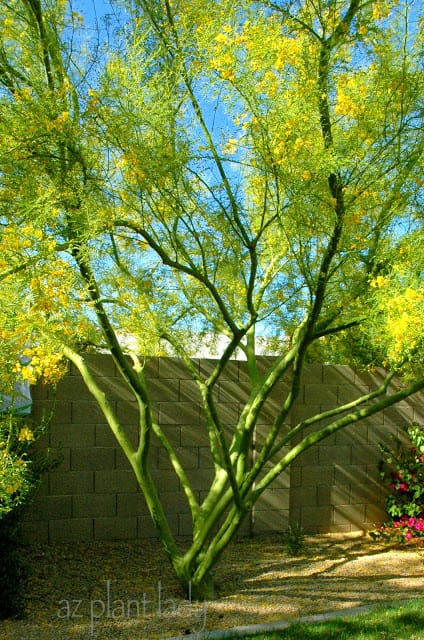 Remarkable Hybrid Origins of the 'Desert Museum' Palo Verde
This Palo Verde is natural hybrid, resulting from 3 other Palo Verde tree species – Mexican Palo Verde (Parkinsonia mexicans), Blue Palo Verde (Parkinsonia florida) and Little Leaf Palo Verde (Parkinsonia microphylla) trees.
I have grown this tree in commercial settings as well as in my own landscape with great results.
Best Qualities of the 'Desert Museum' Palo Verde (Parkinsonia x 'Desert Museum')
1. Drought Tolerance
The 'Desert Museum' Palo Verde is renowned for its exceptional drought tolerance. This hardy tree thrives in arid desert conditions, making it a perfect choice for water-efficient landscaping.
2. Striking Aesthetic Appeal
With its vibrant yellow flowers that burst into bloom during the spring, the 'Desert Museum' Palo Verde is a visual delight. Its green bark adds to its aesthetic charm, making it an iconic feature in any desert landscape.
3. Low Maintenance
This desert tree requires minimal maintenance, making it an excellent choice for homeowners and landscapers looking for easy-care options. Its adaptability to harsh desert environments means less fuss and more enjoyment.
4. Fast Growth
The 'Desert Museum' Palo Verde is thornless and known for its relatively fast growth rate. It quickly establishes itself, providing shade and beauty to your landscape in a shorter time compared to many other trees.
5. Long Blooming Season
With a lengthy blooming season extending from late spring through early summer, this Palo Verde tree provides an extended period of vibrant yellow blossoms, attracting pollinators and adding life to your garden.
6. Wildlife Attraction
This tree attracts various wildlife, including birds and pollinators, making it an excellent choice for creating a biodiverse and vibrant ecosystem in your yard.
7. Low Water Requirements
Ideal for water-conscious gardeners, the 'Desert Museum' Palo Verde has low water requirements once established, reducing the need for irrigation and conserving precious water resources.
8. Heat Tolerance
It thrives in scorching desert heat, maintaining its vitality even during the hottest summer months, ensuring a consistent and appealing appearance throughout the year.
9. Pest and Disease Resistance
This Palo Verde variety is relatively resistant to common pests and diseases, reducing the need for chemical interventions and promoting an eco-friendlier garden environment.
10. Versatile Landscaping
Its versatility allows it to be used in various landscaping settings, including as a shade tree, focal point, or as part of a xeriscape design, adding both beauty and functionality to your outdoor space. 'Desert Museum' Palo Verdes do great in full sun and areas with reflected heat such as a parking lot or in a west-facing exposure.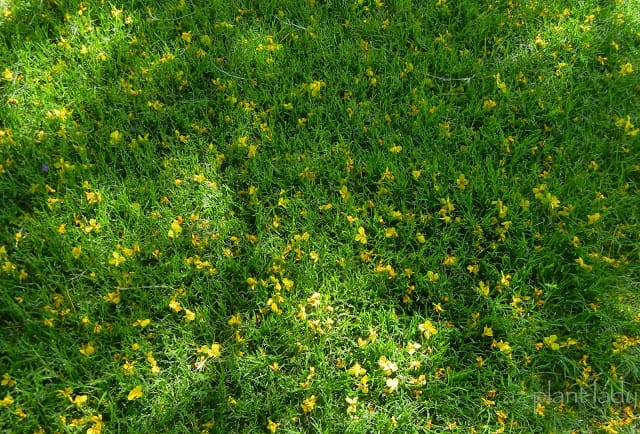 I love how beautiful flowers in spring, when they bloom. I also think they are pretty when they blanket the ground.
If you are somewhat of a neat and tidy gardener, then you may not enjoy the flowering season as much as I do.
Don't waste your money on a large-size tree. Because they grow fairly quickly, a 15-gallon is a good size to start out with. Once planted in the ground, a 15-gallon will grow more quickly then a larger-size container. The reason is that smaller trees are younger and handle transplant stress better.  So save yourself money and go with the smaller tree.
My Desert Museum Palo Verde and an Unfortunate Event

https://www.azplantlady.com/wp-content/uploads/2013/09/PV-8.jpg
640
424
arizonaplantlady@gmail.com
http://www.azplantlady.com/wp-content/uploads/2018/10/favicon.png
arizonaplantlady@gmail.com
2013-09-28 15:00:00
2023-09-04 10:41:21
The Best Palo Verde Tree Variety