Unique Plant Nursery
Have you ever thought of a nursery as more than just a place to buy plants?
How about one with secret corners where visitors are invited to sit and eat their lunch or read a book?
Or have you visited a nursery that is nestled underneath a 50-year-old, flowering tree that shades everything below?
On a recent visit to California, I came upon a most unique plant nursery.
I hadn't planned on visiting a nursery on this particular day, but I noticed a large floss silk tree (Chorisia speciosa) dominating the blue skyline with its dark pink flowers. It took me a moment to notice the nursery tucked underneath the branches.
The gate leading into the nursery had decorative wooden signs describing what was yet to be discovered within.
I was greeted by a large jade plant, which if you've ever traveled to California, must be the 'unofficial' succulent plant of this beautiful state – everyone seems to have one growing in a pot somewhere in their garden.
Walking little ways in, I immediately noticed a small pathway leading into the depths of the nursery, beckoning the visitor to discover where it led.
Flanking the shady path were a variety of tropical plants, succulents, and garden ornaments.
A galvanized container held a variety of wooden garden signs.
I decided to take the signs literally and to be on the lookout for gnomes 😉
Reaching the end of the pathway, visitors discover worn, yet comfortable garden furniture, inviting you to take a break and enjoy the shade on a warm summer's day while being surrounded by the beauty of the plants.
Throughout the entire nursery were hidden corners filled with chairs and comfortable cushions.
Visitors are encouraged to bring their lunch and eat in the garden or bring along a favorite book.
If I lived near this nursery, I would be tempted to spend a lot of time here where I would be able to enjoy two of my favorite things – plants and books!
The branches of the floss silk tree extended their shade over a large number of plants.
Floss silk trees have a very unique trunk. It is green, much like the palo verde, but they have very large thorns.
As I continued my journey of discovery through the nursery, I found that it was hard to reconcile this place with your typical nursery.
Oh, they did have basic gardening supplies such as organic fertilizers, peat moss, compost, and pots – but it was the lack of obvious organization and the randomness that I found throughout.
Small garden rooms were filled with an assortment of succulents, palms, and unusual flowering plants.
White icicle lights were strung throughout the nursery, which made me wish that I had a chance to visit in the evening hours.
Plants could be found in a variety of sizes. There was no plant signage or pricing information that could be easily seen.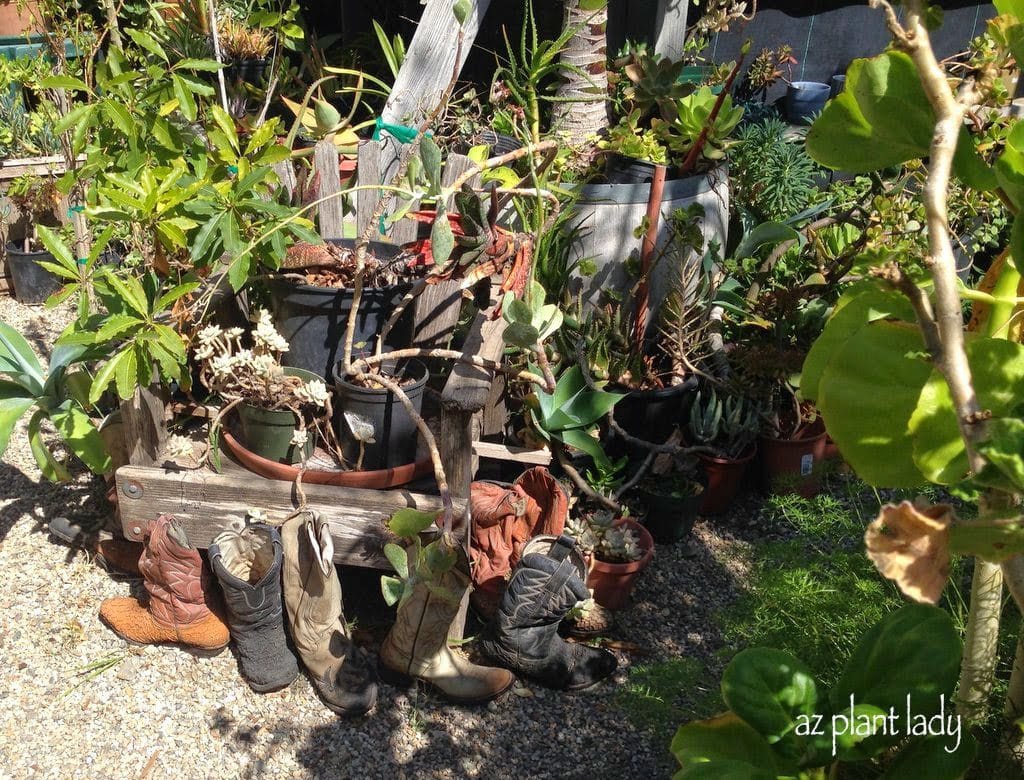 Everywhere you would turn, there would be something new and unexpected to discover.
A row of old cowboy boots sat, ready to be used as planters.
A container made from grape vines in the shape of a swan held a variety of succulents.
A pair of rusty enamelware bowls sat empty on a plastic crate – maybe they will be filled with some succulents someday? Hopefully sooner than later before the bottom rusts out.
While enjoying the unusual things throughout the nursery, there were some more traditional areas with flowering plants available for sale.
Colorful begonias and fucshia plants beckoned California gardeners.
I found a corner filled with adeniums, which I must admit that I am fascinated by.
I just love this delicate, pink adenium flower, don't you?
I must admit that there were so many different things that I loved about this little nursery – its lack of organization, the fact that it looked more like a garden than a nursery, the hidden seating areas where you could read a book, the unique garden art (junk) and perhaps most of all was that the focus was on enjoying your visit to the nursery whether you bought anything or not.
The roof of the little garden shop was decorated by a row of potted Yucca gloriosa and more icicle lights.
As I got ready to leave, I took a few minutes to talk to the woman who worked there. She directed my attention toward the flowering canopy of the floss silk tree and told me that 5 hummingbirds make their home in its branches.
Male hummingbirds are extremely territorial, but the tree was so large that they all are able to live in it somewhat peaceably. I was told that each hummingbird has a specific section of the tree that belongs to them and if one oversteps his section then there are little arguments.
I enjoyed my visit to this 50-year-old, unique plant nursery/garden and can't wait to have a chance to come again.
**If you are ever near Carpinteria, California, I encourage you to take some time to visit the Carpinteria Landscape Nursery – but, be ready for a rather unorthodox nursery experience.
Shopping for Plants California Style

https://www.azplantlady.com/wp-content/uploads/2014/09/CarpenteriaLandscapeNursery-002-1.jpg
744
1024
arizonaplantlady@gmail.com
http://www.azplantlady.com/wp-content/uploads/2018/10/favicon.png
arizonaplantlady@gmail.com
2014-09-15 13:00:00
2022-11-03 22:57:12
A Unique Nursery Nestled Under a Huge Tree