There is a gardening task that I both enjoy and dread when I have to do it twice every year.
Now, I am not only doing it for myself, but also for my mother-in-law.

So what it is this task?
The seasonal task of changing out flowering annuals or in this case perennials, that are treated as annuals.
I had to this last Sunday when we stopped by for dinner. Since my father-in-law's death in September, we come over with the kids every Sunday and help around the house and garden and then have dinner.

My mother-in-law hasn't felt like cooking much and likes the idea of having us trying a different kind of pizza each week in order to determine what restaurant makes the best. So far Papa John's and Pizza Hut are our favorites….but there are still more to try. The kids especially enjoy eating pizza every week 🙂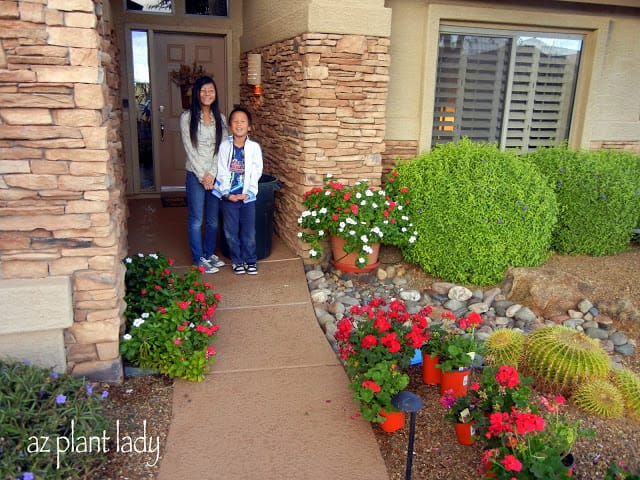 Getting ready to pull out the Vinca and plant Red Geraniums
I blogged earlier about searching 3 different nurseries for plants to replace those that had died in my mother-in-law's garden. But, I also had to buy Geraniums (Pelargoniums) as well.
Now, I couldn't buy just any Geraniums….I had to buy red ones – not orange and definitely not pink. You see, my mother-in-law wants the garden to look the exact same as it did when my father-in-law was alive and did the work himself.
I must admit, that I was a bit late in doing this – I usually wait until late October to change out my warm-season flowering plants for cool-season ones. But, there was still plenty of time before the cold weather settled in.
Okay, here is that part that I dread….
Flowering annuals
It is so hard to pull out beautiful flowering plants.
Now I realize that technically, I could leave them in their pots and these Vinca would survive our winter as long as they were protected from frost and would flower again in spring.
Or, I could transplant them elsewhere and overwinter them in an out of the way place.
But the majority of people just rip them out and throw them out (or put them on their compost pile) since they are relatively inexpensive.
I admit that I pulled them out and threw them out (please don't hate me for pulling out perfectly good plants 😉
Now it was time to plant the red Geraniums (which are really Pelargoniums, but everyone including the nursery calls them Geraniums, so I will too).
There was a potential problem, however. You see, my mother-in-law was used to my father-in-law planting huge, red Geraniums in full bloom. But, I could not find large red Geraniums, much less ones in full bloom…
Flowering annuals
From a horticulturist's point of view – it is better to select flowering plants that have few flowers in the nursery because the transplanting process is stressful for plants and those in full flower will soon drop their flowers. When buying those that haven't bloomed yet, you give the plant more resources to grow roots and will soon be rewarded with blooms that will last longer.
I was tempted to tell my mother-in-law this, hoping that it would make her feel better about the lack of blooms. But it turns out that she didn't mind, so I didn't tell her.
I sprinkled slow-release fertilizer before I planted the Geraniums and will follow-up in a couple of weeks with a liquid fertilizer, just like my father-in-law did.
Of course, you can go the organic route if you prefer. There are plenty of products available at your local nursery and even stores like Home Depot and Lowes are carrying organic fertilizers.
In addition to the red Geraniums, I also had to plant Bacoba around the potted Geraniums. It can be hard sometimes to find Bacoba and of course I had trouble too.
But, I found a solution. I found a decorative container filled with Verbena and Bacoba at the nursery, so I bought it and used the Bacoba in the container.
And then my husband planted the Verbena, which replaced the one that died in their front garden last year…
So I killed two birds with one stone (although I would never literally kill a bird 😉
**********************************
On a personal note….life is crazy, but good.
I will update you soon on the happenings in my personal life.
I hope you are all enjoying this fall season 🙂

https://www.azplantlady.com/wp-content/uploads/2011/11/Changing-out-annuals-1.jpg
480
640
arizonaplantlady@gmail.com
http://www.azplantlady.com/wp-content/uploads/2018/10/favicon.png
arizonaplantlady@gmail.com
2011-11-18 17:00:00
2021-02-11 05:41:28
Changing Out the Old for the New…