I don't have a favorite tree….I actually have quite a few favorites. But, if I had to pick one that I like most of all, it would be the 'Desert Museum' Palo Verde (Parkinsonia x 'Desert Museum').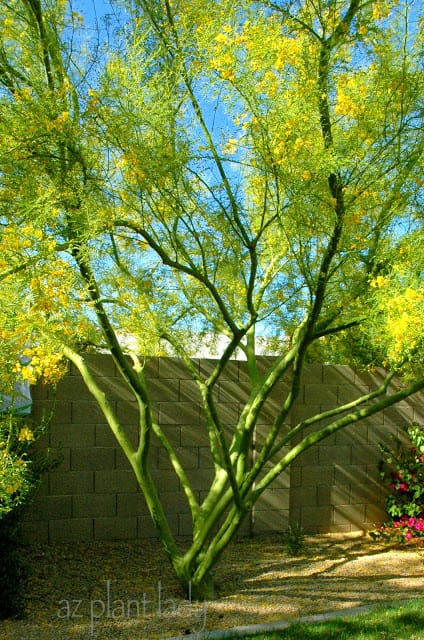 This Palo Verde is natural hybrid, resulting from 3 other Palo Verde tree species – Mexican Palo Verde (Parkinsonia mexicans), Blue Palo Verde (Parkinsonia florida) and Little Leaf Palo Verde (Parkinsonia microphylla) trees.
I have grown this tree in commercial settings as well as in my own landscape with great results.
They grow quickly, are thornless, and flower over a longer period of time then other Palo Verde species.
'Desert Museum' Palo Verdes do great in full sun and areas with reflected heat such as a parking lot or in a west-facing exposure.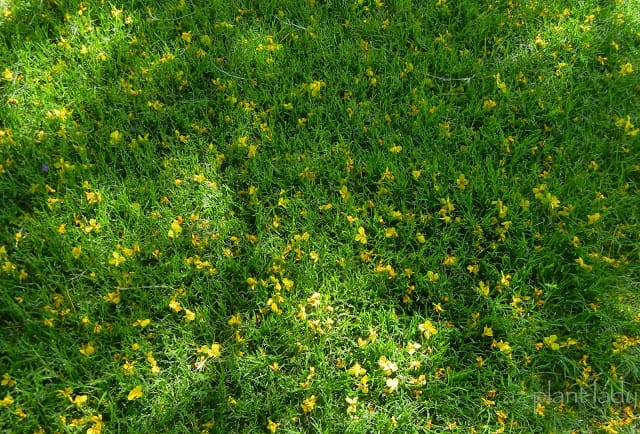 I love how beautiful flowers in spring, when they bloom. I also think they are pretty when they blanket the ground.
If you are somewhat of a neat and tidy gardener, then you may not enjoy the flowering season as much as I do.
Don't waste your money on a large-size tree. Because they grow fairly quickly, a 15-gallon is a good size to start out with. Once planted in the ground, a 15-gallon will grow more quickly then a larger-size container. The reason is that smaller trees are younger and handle transplant stress better. So save yourself money and go with the smaller tree.
Want to learn more about this fabulous tree?
Check out my latest plant profile on Houzz.com…
My Desert Museum Palo Verde and an Unfortunate Event

https://www.azplantlady.com/wp-content/uploads/2013/09/PV-8.jpg
640
424
arizonaplantlady@gmail.com
http://www.azplantlady.com/wp-content/uploads/2018/10/favicon.png
arizonaplantlady@gmail.com
2013-09-28 15:00:00
2021-01-20 07:50:18
A Palo Verde Tree That Rises Above the Rest